Gluten Free Chocolate Cake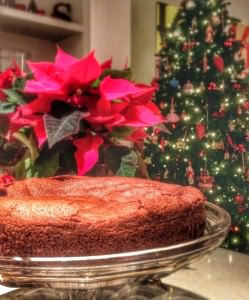 Recipe type:
Chocolate Cake
200 gr butter
200 gr brown sugar
200 gr dark chocolate
4 eggs
Preheat the oven to 180°C.
Butter aspring baking tin and dress it with baking paper.
Melt the chocolate and the butter in a pan over boiling water (au bain marie) and stirr well.
Beat the egg yolks with the brown sugar untill the the mixture becomes thick and gets a beige color.
Beat the egg whites untill stiff. I always turn the bowl over the head of one of my kids. They really love it and luckily they have never ever gotten egg whites all over their heads.
Fold the butter-chocolate mixture in with the eggyolk-sugar mixture.
Gently fold in the egg whites. Don't over mix this, you need the air in your batter.
Pour the mixture in the baking tin and bake for 30 minutes.
When the cake becomes too dark on top just put some aluminium foil or baking paper on top of it.
Let the cake cool down completely before you open the baking tin.
Recipe by
Must Be Yummie
at https://mustbeyummie.com/chocolatecake/