Chocolate Chip Cookies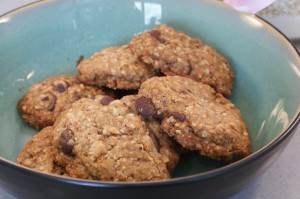 50 gr (gf) rolled oats
150 gr brown sugar
100 gr white sugar
300 gr (gf) baking mix (regular or home made)
2 tbsp (gf) baking powder
120 gr chocolate chips
150 gr (lactose free) butter or coconut oil
pinch of salt
50 gr chopped pecans
2 eggs
Preheat your oven to 180°C.
Mix the dry ingredients with the wet ingredients.
Make a large sausage like form from your dough and wrap it in plastic foil.
Put in the fridge for at least 30 minutes or freeze for later use.
Make small balls from the dough (golf ball size) and leave at least 2 cm between the cookies.
Bake for 10 minutes in the heated oven.
Cool down and keep in an airtight container.
You can also freeze the cookies. Mr Husband prefers the frozen version of the cookies.