Chicory Tarte Tatin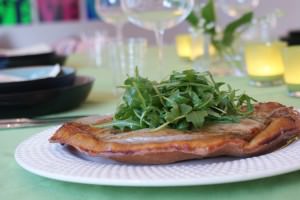 6 stalks of chicory
1 package of puff pastry (gluten free if needed)
olive oil to bake the chicory
1 tbsp brown sugar or mascobado sugar
pepper and salt for seasoning to your liking
Preheat the oven to 190°C
Clean the stalks of chicory and slice them in half lengthwise
Heat some olive or coconut oil in a frying pan and gently bake the stems of chicory.
Season with pepper, salt and the sugar.
Sear until the stems are softened but make sure they stay in one piece (10 min max).
Place the stems in an baking tin nicely next to each other, the flat part pointing up.
Cover the stems with the puff pastry and tuck in at the edges.
Carve a small cross in the middle of your pastry and put it in the oven for 20 minutes.
Take out of the oven and gently flip your baking tin and tarte tatin upon a baking tray and bake for 5 more minutes.
If you wish to serve later, you can skip this step and reheat the tarte tatin for 5 minutes in the oven just before serving.