Ceviche with shrimps and mango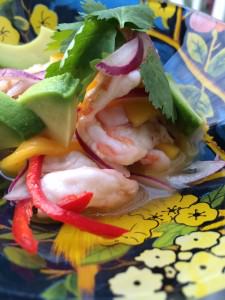 300 gr shrimps/ 300 gr garnalen
- 1 avocado in small pieces/ 1 avocado in kleine stukjes
- 1 small red pepper in fine pieces/ 1 kleine rode peper in fijne schijfjes gesneden
- 1 handfull of fresh cilantro/ 1 handvol verse koriander
- Juice of 4 limes / Sap van 4 limoenen
- 3 tbsp olive oil or more to your liking / 3 el olijfolie of meer naar smaak
- Pepper and salt / Peper en zout
- 1 mango- sliced / 1 mango in fijne schijfjes
- 1 red onion - sliced / 1 rode ui in fijne schijfjes
- 1 roasted sweet potato in small cubes ( to roast the potato drizzle the cubes with olive oil and roast them for 15 minutes in the oven at 200°C untill soft) / 1 geroosterde zoete aardappel in kleine blokjes (besprenkel de aardappelblokjes met wat olie en zet ze 15 minuten in de oven op 200°C tot de blokjes zacht zijn) - optioneel
Peel the shrimps and cut in halves.
Pour boiling water on the shrimps and let them be for 5 minutes.
Put the drenched shrimps in a bowl with all the other ingredients except the mango, avocado and sweet potato.
Season with salt and pepper and let this marinate for at least 15 minutes.
Add the avocado, mango and sweet potato right before serving.
Pel en kuis de garnalen en snijd ze doormidden.
Overgiet ze met kokend water en laat dit 5 minuten staan.
Doe de garnalen in een kom en voeg rode ui, rode peper, limoensap, olijfolie en koriander toe. Kruid met peper en zout en laat dit minstens 15 minuten marineren.
Voeg voor het opdienen de mango, zoete aardappel en avocado toe.
Recipe by
Must Be Yummie
at https://mustbeyummie.com/ceviche-2/