Geroosterde venkelsoep met tomaten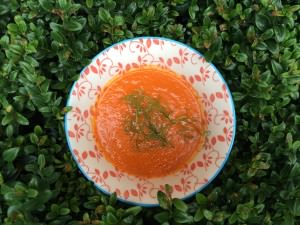 2 bulbs of fennel finely chopped
10 cloves of garlic peeled and finely chopped
3 large tomatoes, I peel them because I like my soup to be smooth
1 can of tomato puree
Pepper and sea salt
Olive oil
Preheat the oven to 180°C. Drizzle the fennel and garlic with some olive oil and season with pepper and salt.
Spread the vegetables over a baking tray you have covered with baking paper and roast for 20 minutes in the oven or until fennel is softened.
Heat 1 tablespoon of olive oil in a large skillet and add the fennel, garlic and tomatoes.
Add the tomato puree after 2 minutes and let it stew for 5 minutes before adding 1l of water.
Let this soup simmer for 15 minutes and then mix it with a blender of mixer. If this soup is too thick, you can always add some water.
Enjoy!
Serving size:
4 appetizers
Recipe by
Must Be Yummie
at https://mustbeyummie.com/venkelsoep/