Shrimp ceviche with cucumber and green beans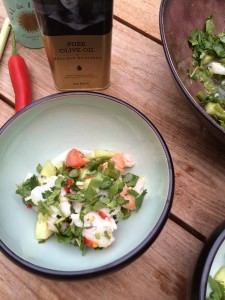 Handful of cooked and chopped green beans
1 stem of lemon grass cut very fine
1 red pepper without the seeds and chopped finely
1 red onion finely chopped
Juice of 3 limes
Zest of 1 lime
1 cucumber cut into dices of +/- 1 cm
200 gr shrimps: defrosted, peeled and cleaned
Pepper and salt
1 handful of coriander, chopped
2 tbsp olive oil
Put shrimps into small plate and pour some cooking water over them. Leave for 2 minutes then drain.
Add all the ingredients together and season to your liking.
Let the ceviche marinate for 30 minutes and enjoy your meal!
This is so quick an easy. The shrimps will cook through the acids of the lime juice. So great and refreshing!
Recipe by
Must Be Yummie
at https://mustbeyummie.com/shrimp-ceviche/