Cinnamon waffles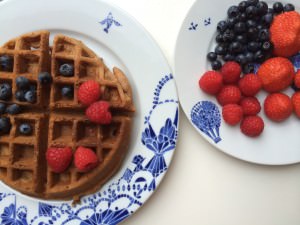 250 gr (gluten free) flour or the flour mix mentioned above
¼ tsp xanthan gum
2 tsp (gf) baking powder
100 gr coconut oil (you can use butter if you wish)
2,5 tsp gr ground cinnamon
1 tsp of ground ginger
100 gr of mascobado or brown sugar
2 eggs
125 ml of milk – I use Alpro Coconut Original or Provamel Rice Almond Milk
75 ml of water (or even milk but then you get really heavy waffles)
Mix your dry ingredients in a separate bowl then whisk in the milk and eggs.
Melt the coconut oil or butter and mix it well with the rest of the dough.
Heat your waffle iron and let dough rest for 10 minutes.
Bake your waffles one by one. They will be brown on the outside and fluffy on the inside.
Enjoy!
Serving size:
6 big waffles