Granola Bars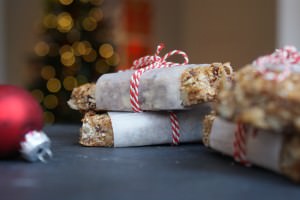 Recipe type:
Granola Bars
3 tbsp brown sugar
45 gr of coconut oil
4 tbsp of honey
2 tsp vanilla extract
¼ tsp salt
2 tbsp peanut butter
250 gr home made granola
90 gr chopped almonds
½ tsp grounded cinnamon
Preheat the oven to 180°C and grease a baking pan or line it with baking paper.
Combine sugar, honey, coconut oil, honey, vanilla extract, salt and peanut butter in a saucepan over medium heat. Stir occasionally until everything is well combined and melted.
Add the granola, almonds and cinnamon and stir well to combine.
Pour this onto the baking sheet, distributing it evenly. Press down.
Bake this for 7 - 10 minutes in the preheated oven.
Let the mixture cool down completely (preferably overnight in the fridge) and then cut into pieces.