Gingerbread cookies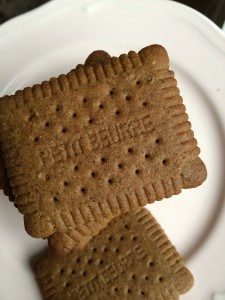 1 egg
115 gr brown caster sugar
60 gr almond butter (you can make your own or buy it at for example Albert Heijn)
3 tbsp molasses
60 gr butter or ghee (I used the butter replacement by Alpro) at room temperature
¾ tsp grounded ginger
½ tsp grounded cinnamon
¼ tsp nutmeg
¼ tsp salt
½ tsp bicarbonate of soda or gluten free baking soda
280 gr gluten free flour mix
Start by preparing the flax egg if you are using it or start by whisking the egg.
Add the butter, molasses, almond butter, caster sugar, salt, baking soda and herbs and mix this all very well.
Pour in the flour mix and knead this with your hands or with an electric mixer. I prefer kneading it into a ball with my hands. Make a big ball of the dough and wrap it in plastic foil and store in the fridge for at least 30 minutes.
But a baking sheet on your kitchen counter and put ½ of the dough on top of it. Cover it with a baking sheet and start rolling it out.
Preheat the oven at 180°C and cove r a baking tray with baking paper and sprinkle with some extra flour.
Cut out your cookies in the desired forms and put them on the baking tray, leave 1 cm between them and bake them for 8 to 10 minutes. Watch them closely, you don't want them to burn.
Take the cookies out of the oven and put them on a rack to cool down.
Store in a dry place or enjoy them right away!