Almond crust quiche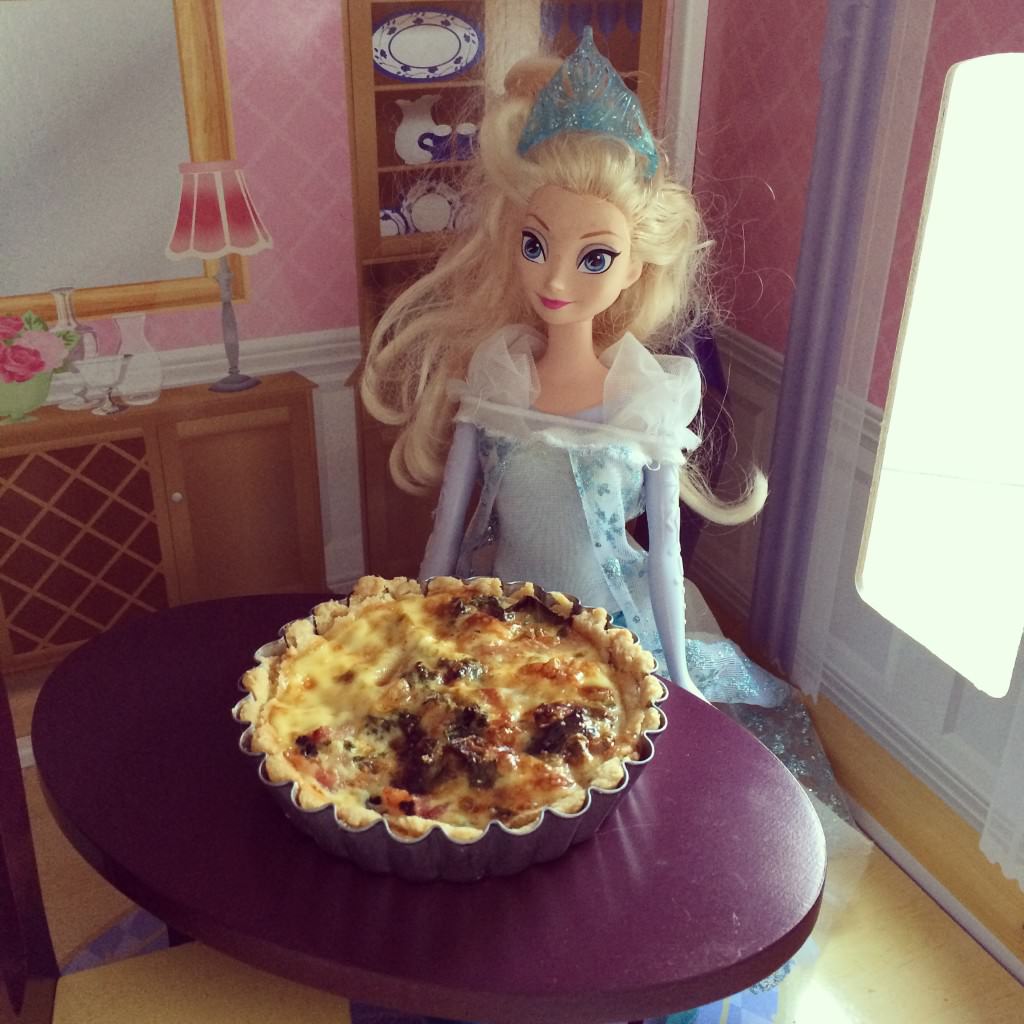 Dough
105 gr chickpea (garbanzo bean) flour
120 gr almond flour
3 tbsp corn starch
a pinch of sea salt
½ tsp dried thyme
½ tsp ground black pepper
5 tbsp coconut oil
7 tbsp ice cold water
Filling:
coconut oil for baking (+/- 1 tbsp)
1 clove garlic finely chopped
180 ml coconut milk or (dairy free) milk if you don't like the taste of coconut milk.
4 eggs, beaten
1 handful mushrooms, sliced
1 handful spinach
a pinch of nutmeg or more to your liking
First prepare the dough by mixing the almond flour and chickpea flour with the salt and thyme and corn starch.
Melt the coconut oil and add this to the mixture. Then one by one add the spoons of water. Mix well after every spoon of water. If necessary use your hands to do so.
The dough must be firm, not too wet, no too crumby.
Remember it is a gluten free dough so it will always stay a little more crumby then 'normal' dough.
Make a ball and wrap it up in plastic foil and cool it in the fridge for at least one hour.
Preheat the oven to 180°C.
Take the dough out of the fridge and dress up your pie tin. I still dream of a Le Creuset tin, but in the meanwhile my Hema version works fine! For the little ones I uses Dille & Kamille baking tins.
I cut small slices of the dough and put them next to each other in the tin and then use the warmth of my fingertips to blend the slices together. The first time this will be hard, but once you get the hang of it it is easy peasy!
You can also use small pie tins and prepare different quiches.
Make sure the dough is evenly spread across the cake tin. Bake them now or save for later use in the fridge or freezer.
Bake for 10 minutes in the preheated oven.
For the filling start by frying the garlic in the coconut oil. Fry for two minutes and then add the mushrooms and spinach. Bake for 5 minutes until the mushrooms are tender.
Season with pepper and salt.
Mix the eggs with the coconut oil, pepper and salt and nutmeg and pour this over the vegetables.
Spread this evenly over the pre-baked dough.
Bake this for about 35 minutes in the preheated oven.
Let the quiche cool down a bit before serving.
Serve with a salad.