Snacktime: soy glazed sunflower seeds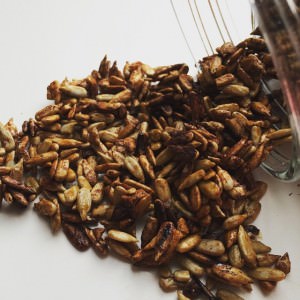 500 gr sunflower seeds
1 tbsp of sunflower oil or coconut oil (if you are using coconut oil you need to melt it before using it)
4 tbsp tamari soy sauce
¼ tsp Nanami Togarashi (his is Japanese red pepper) or cayenne pepper - you can add more to your liking
1 tbsp of honey
Preheat the oven to 160°C.
Mix all the ingredients well together so that all the sunflower seeds are coated.
Put a baking sheet on your oven tray and spread the sunflower seeds evenly.
Bake the sunflower seeds for 10 to 15 minutes until they are brown and crisp. You might want to stir from time to time to make them bake evenly.
When they are ready get them out of the oven and push them on your baking tray with the backside of a spoon of you like clumps.
Let the sunflower seeds cool down completely and store in a dry and dark place.
Enjoy your next aperitif with this snack, sprinkle it on a salad or just keep a bag in your handbag....whatever you like!
Recipe by
Must Be Yummie
at https://mustbeyummie.com/snacktime-soy-glazed-sunflower-seeds/