Baked asparagus with chervil coulis and salmon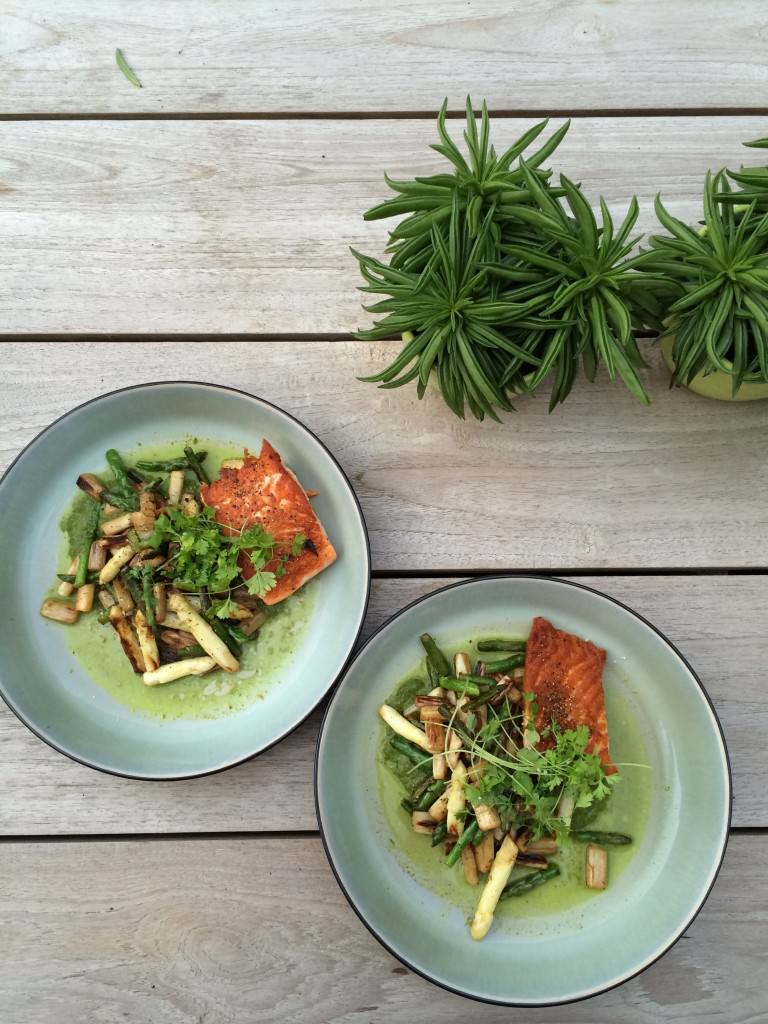 a bunch white asparagus
a bunch green asparagus
50 gr fresh chervil - keep a few sprigs aside
2 salmon steaks bio
pepper
sea salt
olive oil - 1 tbsp for the coulis and more for baking the asparagus and salmon
juice of ½ lemon
Start by preparing the coulis. Put on a pot with water and bring it to boil and then cut the heat. Add the chervil and lt it stand for about 2 minutes. Drain and squeeze well so there is no excessive water. Put this in a blender and add 1 tablespoon of olive oil and 2 tablespoon of lemon juice, pepper and salt and blend well. You can add more juice to your liking. Put aside until use.
Peel the white asparagus and cut into 1,5 cm pieces - keep the tops aside.
Wash the green asparagus and cut into 1,5 cm pieces - keep the tops aside.
Season the salmon steak with pepper.
Heat some olive oil in a non stick skillet and bake the asparagus until al dente, then add the tops. Season with pepper and sea salt. The asparagus pieces need to be a little crisp, so try pricking them with a fork while baking. It took me about 9 minutes.
In the meanwhile bake your salmon steak in a very hot skillet so you get a nice crust or you can also bake it on the barbecue.
I love my salmon still a little raw on the inside.
Start dressing your plates now: first but some coulis, on top of the the asparagus and then the salmon. Finish with some of the chervil sprigs you have put aside.
Recipe by
Must Be Yummie
at https://mustbeyummie.com/baked-asparagus-with-chervil-coulis-and-salmon/