3 times tomato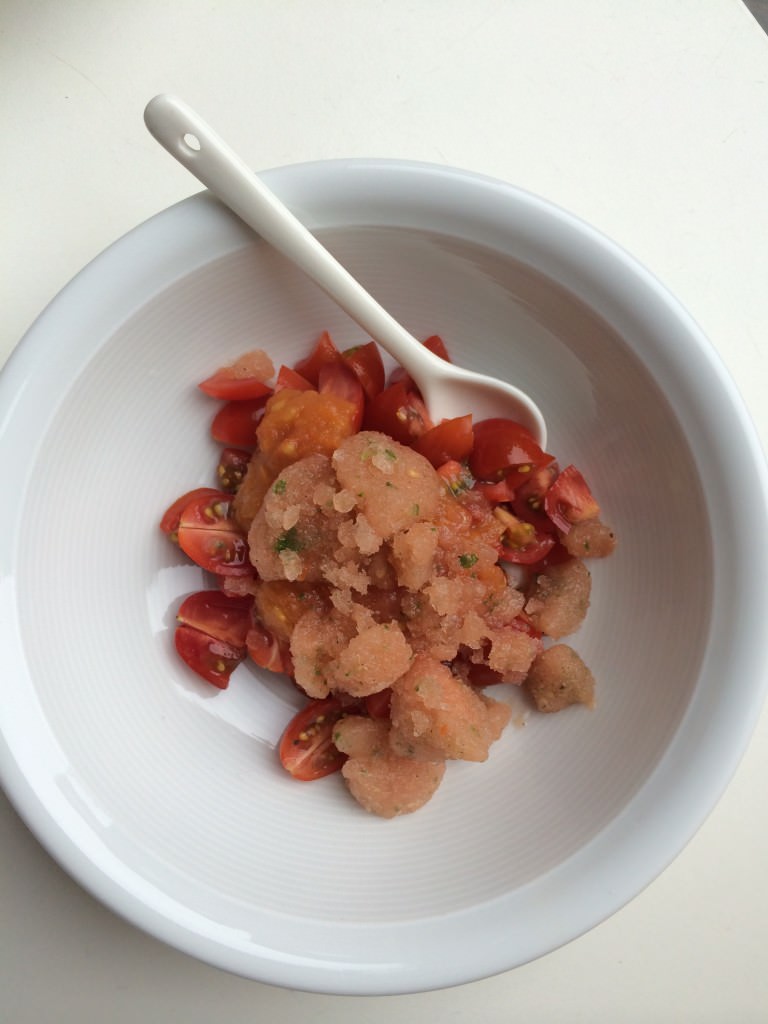 Recipe type:
Tomato and tomato
For the granité:
1 big fleshy tomato without peel and seeds
4 leaves of basil
1 tsp of extra vergin olive oil
pepper and sea salt
For the tomato sauce:
4 roma tomatoes, peeled
1 clove of garlic peeled
1 tbsp of olive oil
1 tsp of white sugar
For the concassé:
2 handsfull of different cherry tomatoes cut into small pieces
pepper and seasalt
extra vergin olive oil to season
Optional: mozarella, chickpeas, pasta, aragula, basil...
Start with the granité by mixing all the ingredients and putting them in a small plastic bag. Put this bag in the freezer and squeeze every 10 minutes for the desired effect - small grits of tomato granité.
While the concassé is in the freezer you can start by preparing your tomato sauce. Put the tomatoes with the garlic and olive oil in a frying pan with a lid. After 5 minutes add the spices and sugar and let it simmer for about 10 minutes. Squeeze the tomatoes into a puree and let them cool down.
Chop the tomatoes for the concassé and spice them with olive oil, pepper and salt.
When dressing your plates start with the concassé, top with the tomato sauce and finish with the granité.
Add you optional servings and enjoy your meal!!