Layered cake with cashew vanilla pudding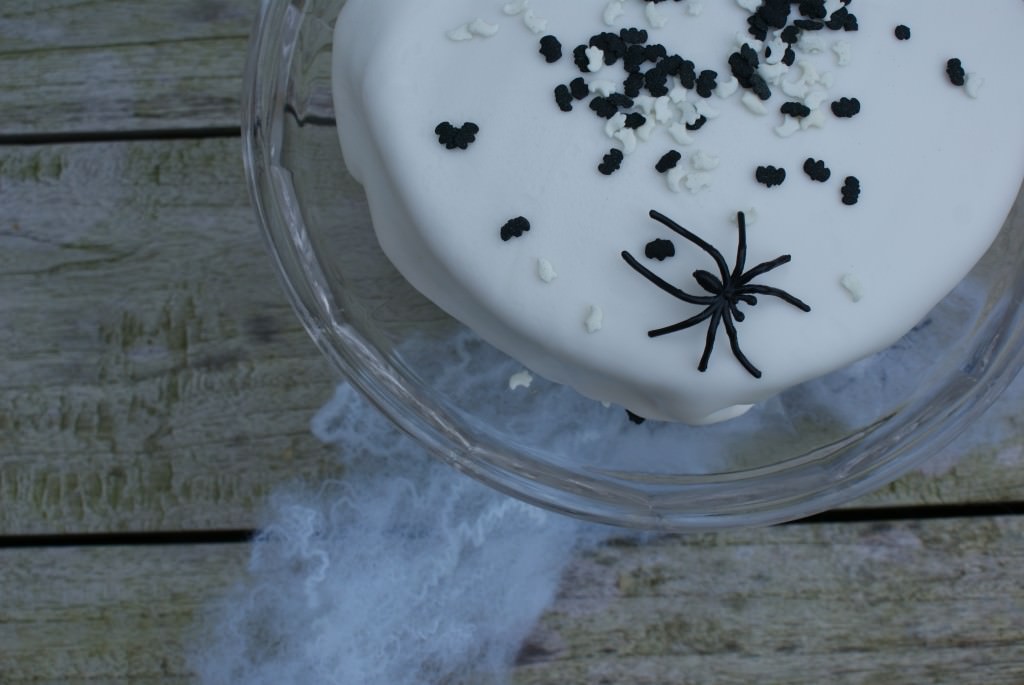 For the sponge cake:
250 gr (gf) flour
200 gr (dairy free) butter at room temperature
1 tsp (gf) baking powder
1 tsp (gf) baking soda
250 gr white sugar
4 eggs
For the cashew cream:
250 gr cashews
a pinch of salt
For the vanilla pudding:
1 bag Imperial vanilla pudding powder
800 ml plant based milk (I used Provamel Almond Milk)
For the decoration:
1 package of rolled out white sugar fondant
sugar spiders, bats and ghosts for the Halloween theme
Start by preparing the sponge cake.
Preheat your oven to 180°C and grease 3 round baking tins (23cm diameter, preferably spring tins) with some vegetable oil or baking spray.
Whisk the egg whites with 2 tbsp of sugar until firm.
Whisk the egg yolks with the rest of the sugar, then gently add the butter and the flour.
Add the milk and then gently fold in the egg whites. Don't beat this to hard.
Pour the mixture in the baking tins and fill to ⅔. If you only have one baking tin you have to bake the cake in 3 batches, no problem.
Bake this for about 15 to 20 minutes in the oven or until a tooth pick comes out clean.
Take the cake out of the oven and let it cool down for 5 minutes. Gently take the cake out of the baking tin and let it cool down even more. Repeat the process if necessary until you have three cakes.
When the cake is in the oven prepare the pudding as suggested on the package.
You may see that I use 50 ml extra milk to get a more liquid pudding.
For the cashew cream you need a very strong food processor.
Put the cashews in the machine and start mixing. Mix for about 10 minutes. You will see the nuts pass all kinds of stages: from crumbled till oily till very smooth. You just have to be patient.
You can keep the cashew cream or butter in an airtight container for two weeks and use it on a toast or in a smoothie if you like. My kids like it on their sandwiches for school - just an idea.
Mix the vanilla pudding with the cashew butter until you have a smooth cream.
You can prepare the cakes and cream a day in advance and then finish the cake at least 2 hrs before you are serving it.
Now start building your cake.
Put the first cake on a plate and cover with 3 tbsp of the cream. Add the next cake and repeat this process. Then finish with the 3rd and last cake.Cover the top and the sides of the cake with the cream and then gently put the sugar fondant on top of the cake and press it slightly so there is no more air between the cake and the fondant. Tuck the rest of the fondant under your cake like a little package and then let the cake rest in the fridge for at least 2 hrs.
Finish by decorating your cake with spiders, ghosts or anything else according to your theme.
Enjoy!
Recipe by
Must Be Yummie
at https://mustbeyummie.com/layered-cake-with-cashew-vanilla-pudding/