Steak / Mushroom / Shiitake / Spinach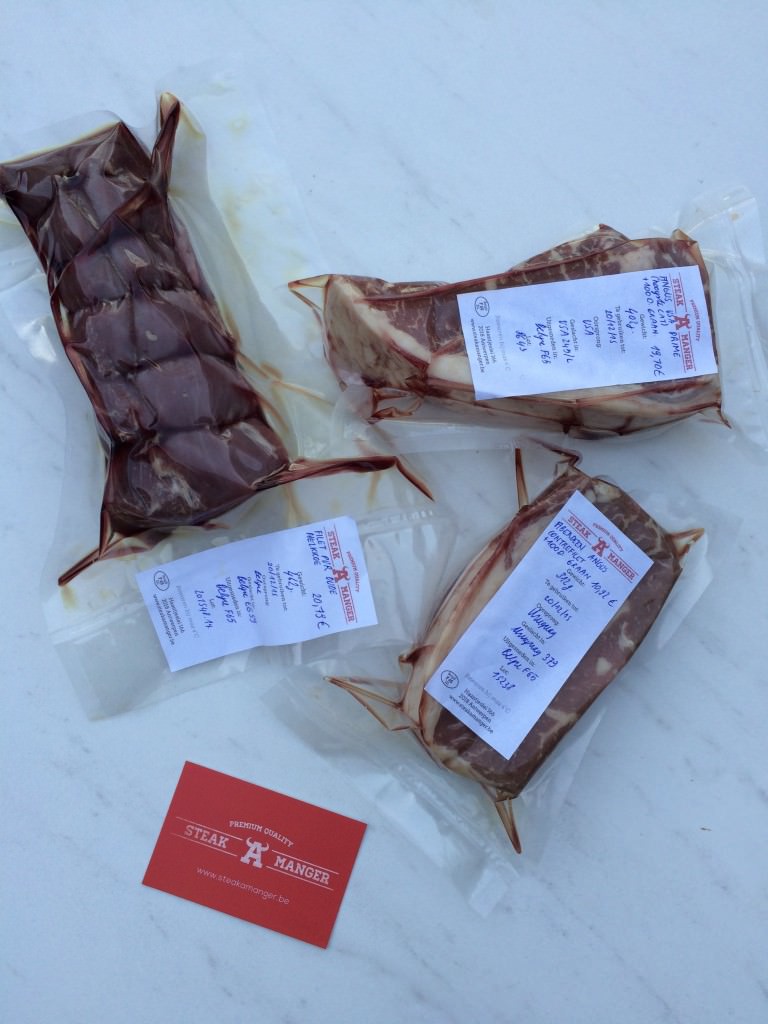 100 ml vegetable broth (I use Belfond)
50 ml soy sauce (I use Tamari because it is gluten free)
10 gr freshly grated ginger
2 cloves of garlic (1 in a whole and 1 finely chopped
1 stem lemon grass
100 gr shiitakes
200 gr ratte potatoes - brushed and cooked for 8 minutes
4 tbsp olive oil
pepper and salt
4 sprigs fresh rosemary
2 sprigs thyme
200 gr fresh spinach
250 gr parisian mushrooms
80 gr chestnut mushrooms
Start by preparing the marinated shiitakes. Bring the vegetable broth to boil with the soy sauce, ginger, the whole clove of garlic and lemon grass. Add the shiitakes and then let this marinate for at least 4 hours.
Preheat the oven to 170°. Put the potatoes in an oven tray and sprinkle them with olive oil, add the rosemary and season with pepper and salt. Bake the potatoes until they are tender. Try pricking it with a fork. (it took 20 minutes, we had tough potatoes)
Heat a pan with olive oil and add the Parisian Mushrooms, the chestnut mushrooms, the potatoes, the chopped garlic and the thyme. Add the spinach after 2 minutes and let this simmer for a minuter or 5.
Put all these veggies on a tray and add the shiitakes. Drizzle some of the marinade on the vegetables and serve the rest in a separate bowl.
Enjoy!
Recipe by
Must Be Yummie
at https://mustbeyummie.com/steak-mushroom-shiitake-spinach/