Chocolate Brownie Cake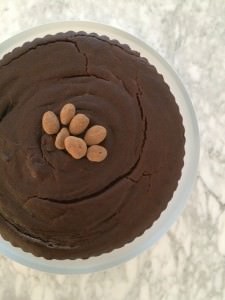 1 can chickpeas - drained
200 gr dark chocolate
80 ml maple syrup
6 tbsp coconut milk
1 tbsp cocoa powder
1,5 tbsp (gf) baking powder
2 large eggs or 3 small eggs
Preheat the oven to 180°C.
Blend the chickpeas, coconut milk, maple syrup, eggs, cocoa and baking powder until you get a very smooth result. (5 min)
Melt the chocolate 'au bain marie' and add this to the mixture.
Pour the blend in a greased baking tin (18 cm) and bake for 35 minutes at 180°C.
Au bain Marie is a French term for a warm water bath where you put a pot with water on your stove and you put another pot on top of that one to for example melt chocolate or beat egg whites with indirect heat. I prefer this technique for melting chocolate because the chocolate can't burn and melts evenly.