Quinoa Cookies/Burgers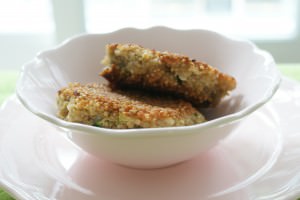 150 gr quinoa - cooked in water or vegetable broth
1 zucchini - peeled (so the little ones can't find greens) and grated
3 eggs, lightly beaten
½ teaspoon fleur de sel
15 g finely chopped fresh chives
1 yellow or white onion, finely chopped
3 cloves garlic, finely chopped
1 tbsp of chopped basil (optional)
½ teaspoon turmeric
1 teaspoons baking powder
80 g rice flour of gluten free bread crumbs
olive oil or coconut oil to bake your quinoa burgers
Mix the eggs with the quinoa, zucchini, herbs and gluten free breadcrumbs or flour.
Mix well and heat some oil in a frying pan.
If the mixture is to fluid you can add some more flour or breadcrumbs.
Bake 4 quinoa cookies/burgers at the time, make sure you don't burn them, better to be a little patient and wait for the cookies/burgers to bake and dry out a little before flipping them over.
You can freeze these cookies or keep them in the fridge in an airtight container.