Broccoli quinoa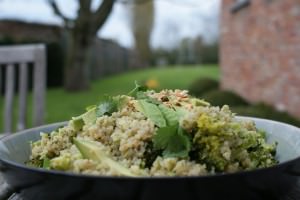 1 broccoli - cleaned and cut into stems
2 cloves of garlic, cleaned and cut into pieces
4 tbsp soy milk
2 tbsp olive oil
a pinch of salt
ground pepper
80 gr of roasted almonds
handful of fresh basil
400 gr cooked quinoa (or rice or bulgur)
to serve: a few leaves of basil and a hand full of roasted almonds
optional: 1 sliced avocado
Start by steaming or cooking your broccoli stems.
When cooked, set half of them aside and let it cool of.
Put the other half in your blender together with the almonds, basil, olive oil and soy milk. Season with salt and pepper and blend well.
Pour this mixture on top of the quinoa or rice and stir well.
Serve with the rest of the broccoli, some roasted almonds and some fresh basil.
Enjoy!