When I used to think about Ibiza, the first thing that came to mind were really loud and drunk Englishmen and Germans partying on booze and drugs…Remember the Venga Boys and their hit Going to Ibiza? Ok they are all still there, but there is so much more to this beautiful island: pristine beaches and bays, great beachclubs, very good restaurants, beautiful views, good music, nice people….. This is by far the most beautiful island in Europe I have visited yet.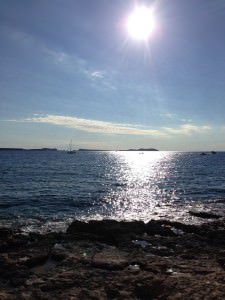 We have visited the Island last month for a long weekend. Conclusion:  we need to go back! 3, days is way too short to visit the island and discover all the great places. Next time it will be in a rented villa for a longer period so we can discover everything at ease…or every year a long weekend won't be too bad either…though choice!
What you must know is that we have visited Ibiza with two little kids (ages 6 and 4) so we have passed on the marvelous sunsets (mainly due to the clouds and not due to the kids – I must stay honest), famous clubs and nightlife.
Our stay
We stayed at a beautiful finca (bed & breakfast) – 10 minutes drive from Ibiza town- in the middle of nature called Can Guillem. Upon arrival and each morning after we were greeted by Juan the janitor and Salvador the owner of the finca and the house dog Mia. The kids just loved her. We stayed in a renovated barn, kind of bungalow with a double bed and divan bed and a large deck so we could stay out at night when the kids were sound asleep.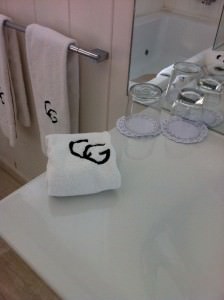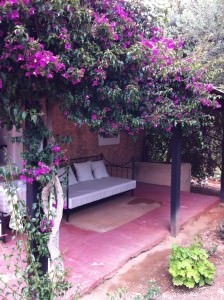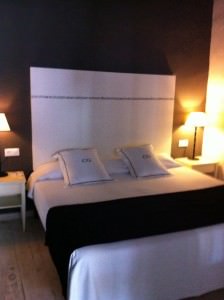 Breakfast was great: fresh O.J., fresh fruits, cereals, bread, pan con tomate, cured meat and cheeses and eggs cooked to your liking all served under a beautiful canopy.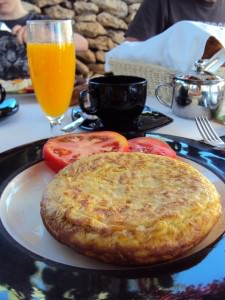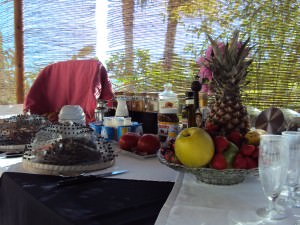 Can Guillem hosted a free spa treatments day  at the pool performed and offered by Monica Chiarella and her team of therapists from Ibiza Body Harmony. During the busy summer season they perform treatments in villas, on boats and in hotels. Their motto is to bring the spa to the clients. I enjoyed a relaxing cranio sacral massage combined with sweet osteopathy  while some other guests enjoyed manicures, massages and oriental water therapy. They even offer facials, acupuncture and other therapies. A great way to start your day.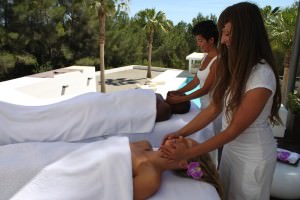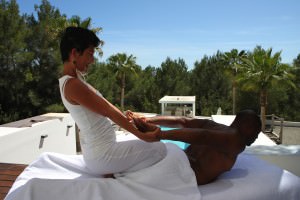 Beach Clubs
We have visited 4 beach clubs during our stay. The first day we dined at Experimental Beach club at Cap des Falco known for it's beautiful sunsets but due to the cloudy weather no sunset to be seen. The drive up there is great, you drive through Las Salinas, the beautiful salt fields.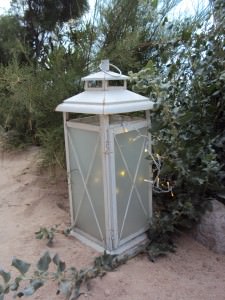 I'd recommend this place for an aperitif only, because there are better places to dine in Ibiza with better service. Also the sand was really sticky and dirty so I wouldn't recommend passing a day here with kids. Beautiful views and great cocktails.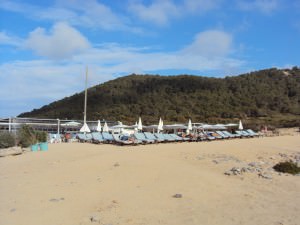 Cala Bassa Beach Club is a great place to relax for a day. We had a reservation in the main restaurant but ended up lunching at the beach. The beach boys set up a little table with tablecloths and all so we could enjoy the great view, kids could keep on playing in the sea until lunch was served and we had lunch with our feet in the sand! Grilled squid, Caprese salad and for the kids spaghetti with tomato sause and chicken nuggets. Great first day! Make sure to reserve your sunbeds.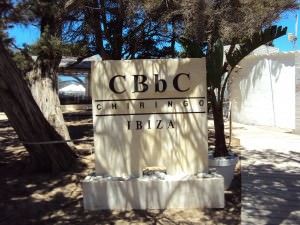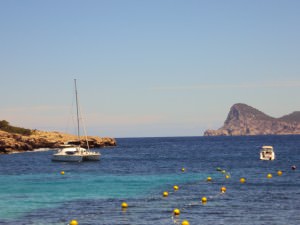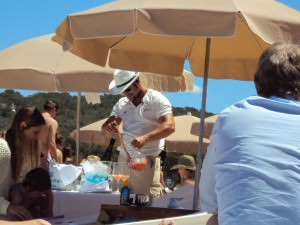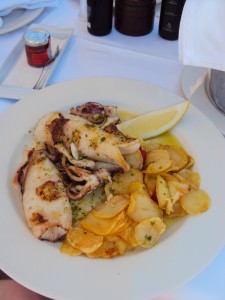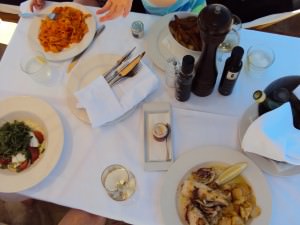 Yemanja was our destination for the second day. This is  the more relaxed and casual beach club next to the famous Blue Marlin (same owners). We ate a great paella here, for the kids same menu (chicken and spaghetti). Because there was no direct access to the sea, the kids didn't really like this club so we left around 4 pm to get some ice-cream in Ibiza town.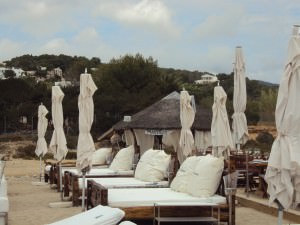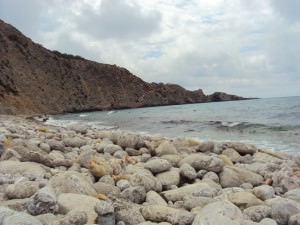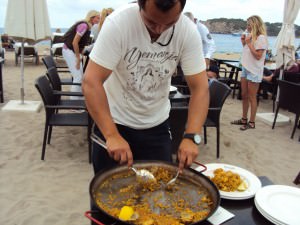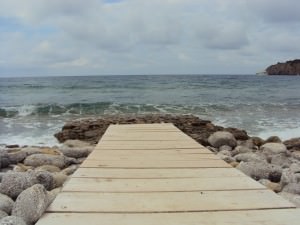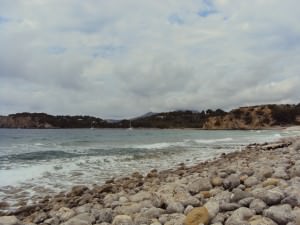 We saved the best beach club for the last day. If you have on place to choose from make sure you pick this place. El Chiringuito is a really cool hangout with a great covered restaurant and a beach area with access to the sea. If you visit with kids you'll be happy to know they have a mini Chiringuito where your kids can play, perform yoga, draw, paint under the supervision of a multilingual nanny so you can have lunch or dinner in peace. We had a mega relaxed lunch here and afterwards we had to flee because of the rain, bummer 'cause I'd imagined an afternoon at this great beach club. Next time?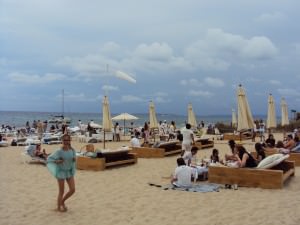 What do you think? Are you up for a trip to this great island? Have you visited one of these places? Did you like them?
Next week I will tell you some more about the great restaurants we've visited at night and the best place for an ice cream in Ibiza!