I really love chicken, especially prepared this way with a lot of lemon, garlic and sage. Yum!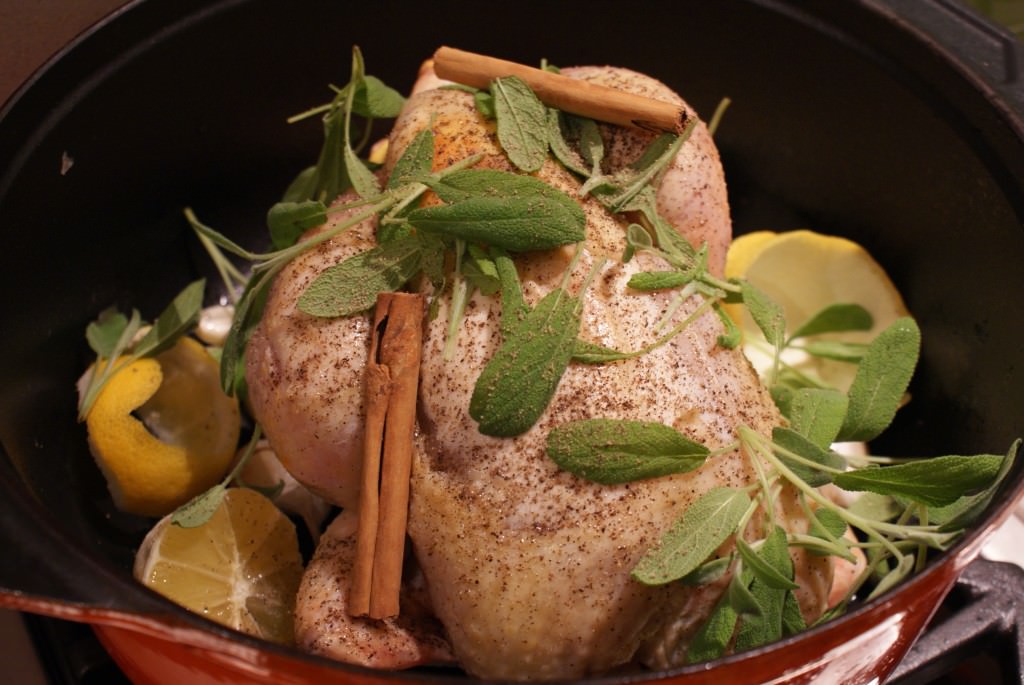 When you eat or cook chicken it is really important to buy a good biological chicken and not the water fluffed chickenesque creatures you can find in supermarkets these days. I always by chicken in specialised poultry stores or at the bio store. It costs more then a supermarket chicken but believe me the taste is completely different/ chicken in stead of nothing…great no? Another plus is that you don't let your body suffer from all the antibiotics supermarket chickens contain. Also good for your health, so why doubt? Go get yourself a bio (free range) chicken!

Chicken with milk, sage and garlic
I prepare the chicken in a Staub, you can also use a large cast iron Le Creuset skillet with cover. Make sure your chicken fits well and there is not to much room for something else.
Ingredienten
1 biological free range chicken
1 liter (dairy free) milk
20 cloves garlic peeled
1 cinnamon stick
2 hands full of sage leaves
2 lemons - peeled, not squeezed
olive oil to rub the chicken
pepper
seasalt
Werkwijze
Preheat your oven at 200°C.
Rub your chicken with olive oil and season with pepper and salt.
Put your chicken in the pot and sear your chicken until brown all over.
Cover with cinnamon, garlic, lemon peel, lemons, sage and milk.
Put the lid on and bake in the oven for about 45 minutes.
Check if your chicken is ready by butting a knife in the chicken thigh. If the fluid that comes out is clear, your chicken is cooked. Don't be afraid if what you find in your pot doesn't look all that appetizeing the taste is great, trust me.
Serve with steamed vegetables or a salad.
This recipe takes like 5 minutes prep time but after an hour your house really smells great and you have a delicious tasty and juicy chicken. I have read this recipe in one of Jamie Oliver's first books (can't really remember which one, it has been a while – I am really getting older I think…) but it took me 3 years to dare to prepare it because I was afraid of the lemon/milk/garlic combination which seemed a little bizar at the time. No fear, just do it! It is a real treat for your taste buds!