Scroll down for the English version of this recipe.
Toen we in februari naar Kopenhagen geweest zijn heb ik met bij Asa in Torverhallerne helemaal laten gaan. Ik heb er  Polynesische 4 Epices gekocht, verse Chai, curry en Libanese 7 Spice Mix. Gewoon gekocht omdat ze zo lekker geurden….
De Libanese kruiden mix is een mengeling van je raadt het al…7 kruiden: gember, zwarte peper, kaneel, muskaatnoot, koriander, kruidnagel en piment. Net zoals Za'atar is dit een kruidenmengeling uit het Midden Oosten die van regio tot regio verschilt. Sommigen voegen nog venkelkruid toe, soms meer peper en minder muskaatnoot. Je kan het maken zoals je zelf wil, maar ik heb dus mijn zakje bij Asa gekocht en de mix zit perfect.
Ik heb deze gisteren gebruikt om witte visfilets te kruiden, maar je kan ze ook bij kip of kalfsvlees of zelfs geroosterde groenten gebruiken denk ik. Ik heb de visfilets opgediend met een couscous van bloemkool en broccoli. Fris en lekker.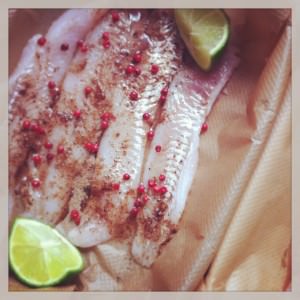 Witte visfilets met 7 spice, roze peperbollen en limoen
4 witte visfilets per persoon (tong, tonschar, wijting…)
1 el roze peperbollen per persoon
1 tl 7 spice per persoon
1 el olijfolie per persoon
½ limoen per persoon in 2 partjes gesneden
Verwarm je oven voor op 250°C.
Neem een ovenschaal en bekleed deze met bakpapier. Je kan deze stap ook overslaan, maar zo heb je minder afwas nadien. Spoel de visfilets af en dep ze droog. Leg ze naast elkaar in de bakvorm en bestrooi met de 7 spices. Besprenkel met olijfolie en strooi er de roze peper over. Leg de limoenpartjes naast de vis. Zet ondertussen de oven op grilstand en plaats de ovenschotel gedurende 4 à 5 minuten in de hete oven. Dien op met een salade en knijp de limoen uit over de vis.
Smakelijk!
When we were in Copenhagen last February I have bought a lot of spices and tea at Asa. Great shop! I have bought Polynesian four Spices, a Chai mixture and a Lebanese 7 spices mixture. This spice mix is a combination of…7 spices: ginger, black pepper, cinnamon, cloves, coriander (or cilantro), nutmeg and allspice. Like Za'atar this is a Middle Eastern blend of spices that can change from region to region. Sometimes they add fennel seeds, sometimes more or less pepper. You can make this mixture yourself or buy prepared. My Asa mix has the perfect balance, so I won't be mixing up spices soon.
I have used this spice blend yesterday to prepare white fish fillets (sole), but you can use them with chicken, veal or even with roasted vegetables. I have served this dish with a cauliflower and broccoli couscous. Fresh and delicious.
White fish fillets with 7 spices and lime – ingredients per person
4 fish filets (sole, haddock..) – rince and dry them
1 tbsp pink pepper
1 tsp 7 spices
1 tbsp olive oil
½ lime cut into wedges
Preheat the oven at 250°C.
Place the fish fillets in an oven dish you have covered with baking paper. Sprinkle with the oil and spices and place the lime wedges next to the fish fillets. Activate the grill on your oven and place the fish under the grill for 4 to 5 minutes. Servi with a salad en squeeze the lime on your fish.
Have a nice meal!