Every year around our anniversary we book a 4 day getaway, just the two of us without the kids.Sleeping late, long and lazy breakfasts, romantic dinners…much needed (and well deserved) quality time with just the two of us.
Last year we went to New York. This was a great trip, we had such a nice time there and even met up with some friends. Shopping, nice dinners and snow storms on Times Square. A weekend to remember.
This year we decided to look for a lazy holiday in the sun, sleeping, eating, some sports, hanging out at the beach and not much more. We were thinking of Marrakech and Tenerife because for a short getaway the travel time is not to high and both are sunny winter destinations.
Tenerife won because of the better flight schedule and a great deal at the hotel Abama, a Ritz Carlton resort.
My first thought of Tenerife is that of elderly English wintering on Playa De Las Americas and cheap mass tourism.
Ok…Playa De Las Americas is indeed very touristic with its Hard Rock Café, restaurants with pictures of the food and numerous tourist shop & traps but we had a good laugh strolling along the sunburned overweight tourists. Or mustn't I admit to that? The Mare Nostrum resort is also the summum of kitsch!
First of all it is located on a remote part of the island and if you come for only a short while as we did, you don't really have to leave the hotel. They provide daily shuttles to shopping malls around the island and you can rent a car or book excursions, but we were a bit to lazy for that.
Let me tell you something about the Abama….
The hotel is divided in a main building and villas. In where you have rooms and suites and all the main facilities like restaurants, pool, spa, gym… You have also the villas with private pools and golf carts to drive around the property.
Our room was perfect.  We booked a standard ocean view room but upon arrival got the bad news that our rooms was not available and that we got an upgrade to a suite. Now that's some bad news I like. Wow!! A huge room and terrace and a  bathroom like a ballroom with amenities by Crabtree & Evelyn. Only downsize for me is that there weren't tea amenities. I always like a nice cup of tea but the 10€ room service charge for a cup of tea seems to me a little bit exaggerated.
There is a small beach club which you can access by stairs, train or with a small finicular (some kind of elevator). Beach boys ready to prepare your seats, umbrella's and tend to your every whim. At lunch you can eat a great polpo at the beach restaurant.
The golf is also beautifully designed, a pity Mr Husband had a broken wrist. Quite frustrating actually because we booked the resort because of the golf. Nut hey he had to content himself with lunch on the golf course and some working out in the gym. Next time will be better.
There are several restaurants on the property we dined at Kabuki, a Japanese restaurant awarded with a Michelin star, and had like the best Japanese meal ever! So good! I still remember the sashimi and great sushi we had there. You need to make reservations, because the restaurant is well known on the island.
The Pampa restaurant is a place you can cross of your list, the food was not good, way too salty, service sloppy and price extremely high. Mirador restaurant close to the sea offered a great view and good food.
One night we dined outside the hotel in a great restaurant in La Caleta called La Vieja.
La Caleta is a little bay with a lot of restaurants with a seaside terraces.
Great sea bass in a salt crust, good bottle of wine and half the price of exact the same meal in the hotel.
Mr Husband was delighted with the gluten free bread he got at this restaurant, nice touch.
What we loved at Abama was the breakfast. Served on the terrace in the sun, smoothies the way you like them, soy latte, selection of fresh fruits, cured meats, eggs a selection of bread and cookies. And for the glutards every day a selection of gluten free bread and cookies. And always a smile on the staffs faces. We have spend hours with our newspapers and magazines enjoying long and lazy breakfasts, holiday bliss. The last day they even treated us with a specially decorated table, sweet surprise. I brought some Floom granola but the package returned to Belgium unopened.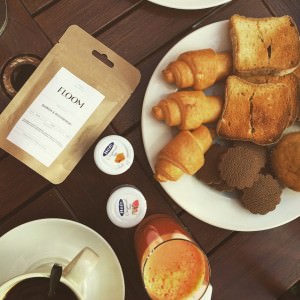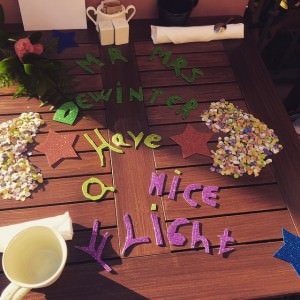 Every day we went to the Spa and Gym for some exercise or a treatment. The Cinq Monde Spa has won a best Spa award so I needed to try out at least one treatment. Luckily it was Valentine's weekend so my gift was a Spa Package. A great massage followed by a Balinese facial. Total relaxation. In the mornings there were stretching and pilates classes in the Gym or at the beach which I attended every day (proud of myself).
We had a great break at Abama and we'd love to go again with or without our kids. Maybe next time visit the Teide or go for a stroll in Garachico, have dinner at El Burgado restaurant after visiting Buena Vista Del Norte or bring our walking shoes to descend Masca to Los Gigantes. All tips from a Belgian expat living in Tenerife but we were to lazy, Pilates once a day was enough effort.
Only one recommendation, if you are traveling without kids, I wouldn't go there during school holidays. Our last day was the first day of the school holiday in February and what was a really quiet hotel suddenly was under siege by families with kids. No problem for us because it was our last day, but I just want to let you know so you can keep this in mind when booking a romantic getaway.
FYI The average temperature in February was 21°C. In the sun it felt much warmer, but at night it got a bit chilly.
More info on the hotel and rates you can find here. We flew with Thomas Cook Airlines.