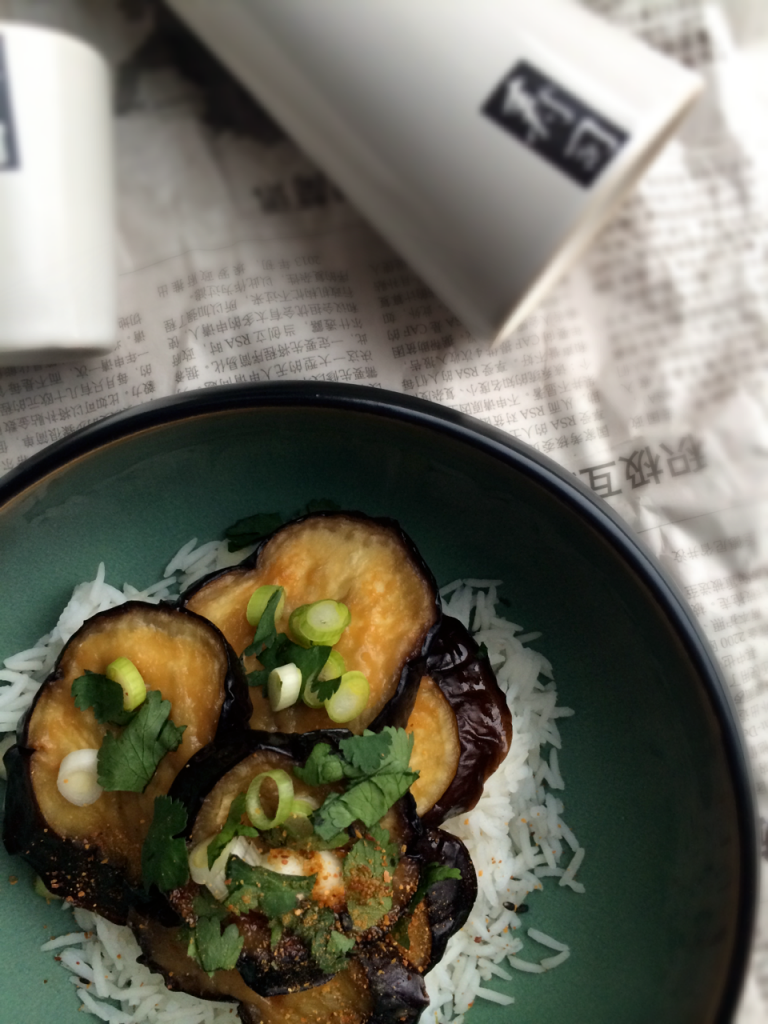 Normally I don't start a post with a picture but this was soooooo good I wanted to share it right a way with you!
Really…. I tried the Donna Hay version of chicken breast and eggplant miso a couple of times but since we are still in Lent and counting for the #dagenzondervlees challenge I have come up with this vegetarian version. It takes some time preparing the eggplant slices but believe me it is really worth the effort.
I have made a lot of this and the day after it was great for lunch.
The secret lies in baking the eggplants long enough, because really an under-cooked eggplant (or aubergine as we say)spoils everything.
If you don't want the vegetarian version just add some chicken. You can also use Donna Hays recipe and put the eggplant with the chicken both covered in a miso-mirin mixture in the oven.
You can buy miso in the Asian supermarkets or in bio stores such as Bioplanet. It is a great to use in combination with eggplant, salmon and cod. There is a signature dish at Nobu that I have tried to copy several times but I just don't get it right (even by following the actual recipe from the Nobu cookbook….frustrating!). Miso is a paste produced from fermented soy beans and used regularly in the Japanese kitchen as a spread or for seasoning.
What are you waiting for, try this recipe and tell me what you think of it.

Miso Glazed Eggplant
Recipe type:
Asian Dinner
Ingredienten
2 eggplants
4 tbsp white miso paste (Lima's paste is gluten free)
1 tbsp granulated sugar
1,5 tbsp soy sauce (use tamari for the gf version)
2 tbsp mirin (available at supermarkets)
2 tbsp plantbased oil such as neutral olive oil or Isio4
1 tsp sesame oil
1 tbsp sesame seeds
1 tsp shichimi togarashi (Japanese 7 spices mixture) - optional
A handfull of cilantro leaves, chopped
2 spring onions, chopped
steamed rice or noodles to serve
Werkwijze
Wash the eggplants and slice them into slices of approx. 2 cm.
Smear them with the oil and arrange them on a baking tray.Preheat the oven and set it to grill (200°C), bake the slices until tender. (just use a fork to check if they are tender or not). This takes approximately 8 to 10 minutes. Turn them after 4 minutes so they get evenly baked.
Mix the miso with the mirin, the sugar, (tamari) soy sauce and the sesame oil.
When your eggplant slices are tender, smear them with the miso mixture and put them in the oven until the surface starts to bubble and gets caramelized (+/- 2 minutes).
Serve with steamed white rice and sprinkle with sesame seeds, cilantro and chopped spring onions and shichimi togarashi or black pepper.