Everybody who loves to eat meat knows Dierendonck.
This butchershop at the Belgian coast is well known for its specialty meat. The meat is aged here following traditional techniques and sliced and cut up in the butcher shop. Quality is very important for the Dierendonck team and makes a lot of well known chefs choose to use the Dierendonck meats in their restaurant. Our family loves the Meatlover Burger by Dierendonck at Ellis Burger and when we pass in Sint Idesbald we take them home with us.
Now Hendrik Dierendock decided to open a restaurant called Carcasse. For this project he is working together with chef Michael Yates who worked for four years with Sergio Herman. Booking a table at Carcasse is quite difficult. It is the new place to be at the Belgian Coast. Luckily for us, our friends organised a culinary and gourmet weekend and they obtained reservations at Carcasse.
Yes!
We also dined at Grand Cabaret and had lunch with Willem Hiele, but more on these great foodie experiences later. It was a great weekend, but I must admit I am ready for Jus Jus right now.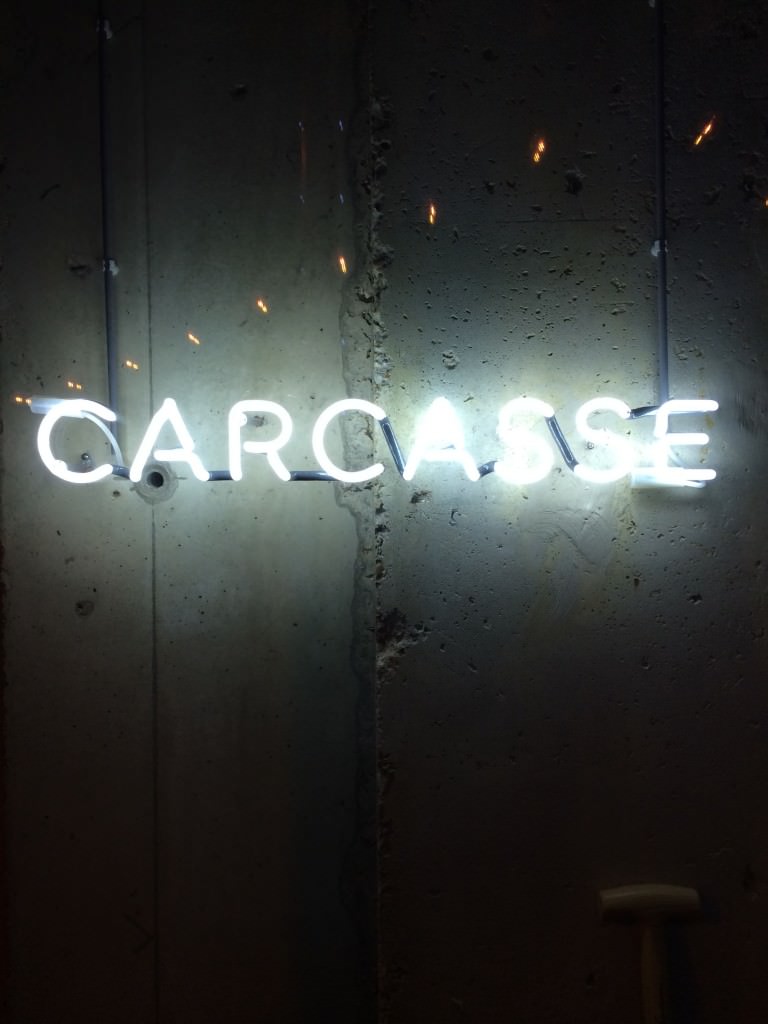 At Carcasse you can not only eat, but also follow workshops to learn how to cut or grill meat. I found one on May 10th to prepare sausages. Kind of tempted to book a spot for this workshop….
At Carcasse you cannot only eat fine pieces of meat but chef Yates shows us that you can use almost every piece of the cow/ pig / veal is used.
Before dinner Hendrik showed us around in the ateliers of the butcher shop, really interesting to see the different stages of aging meats.
We had a great dinner. All the dishes were well balanced, but at the end of the night we were really full. This might be because we added some 4 weeks riped Rubia Gallega to the menu, but it looked just so delicious. We opted for the menu and here are some of the highlights:
For a great after dinner experience, you must visit a local café called Wigwam. I promise you this will be a very authentic experience (to say the least).
Please make sure to book a table online: www.carcasse.be
Henri Christiaenlaan 5 8670 Koksijde – closed on Tuesday and Wednesdays