I got inspired for this recipe by TV chefs Dagny Ros Asmundsdottirs cookbook Easy Iceland.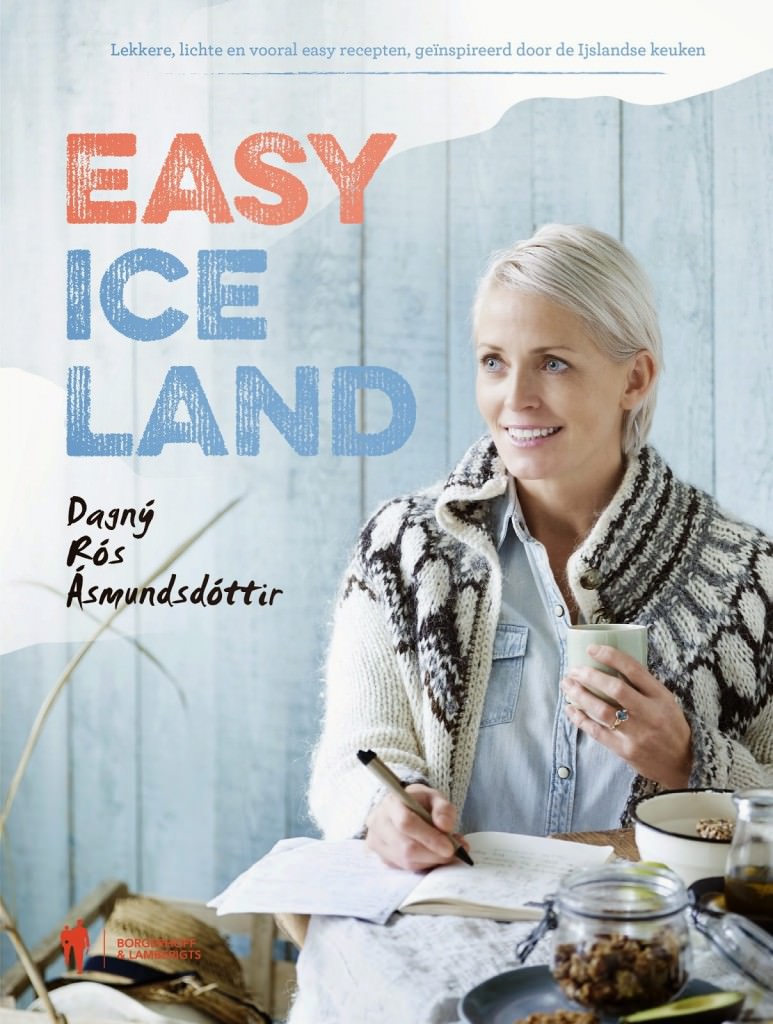 I must say the cookbook is really nice to have ( a great gift for Mothers Day maybe?). It does not only contain great recipes but also beautiful pictures by Wout Hendrickx and really nice texts written by Dagny herself. The recipes are all  healthy not complicated, with accessible ingredients and easy to prepare if you don't have a lot of time. Just the way I like it, oh and did I mention the pictures… Look at this one..makes you want to prepare this salad right away no?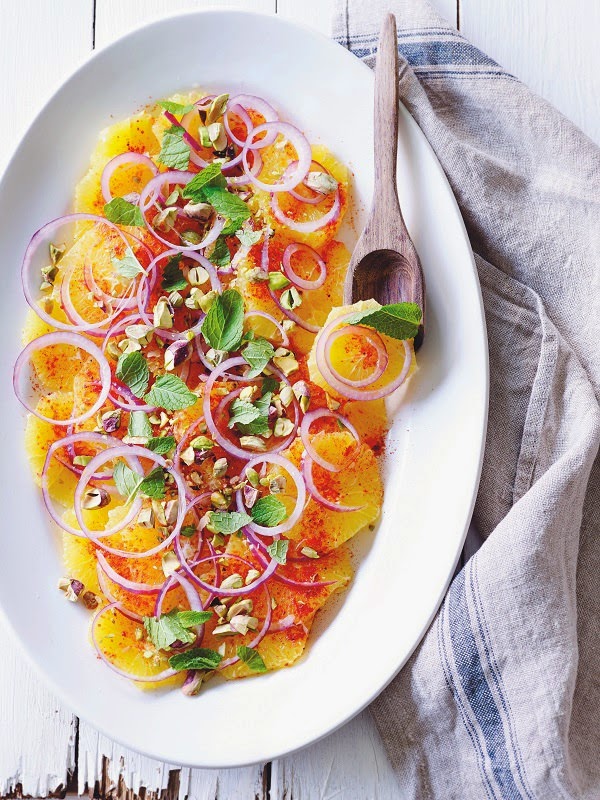 Dagny offers some typical dishes from her home country Iceland but here and there she uses influences from Mexican and Asian cuisines.
I gave the book to my 7 year old and told him he could choose what we would prepare from the book.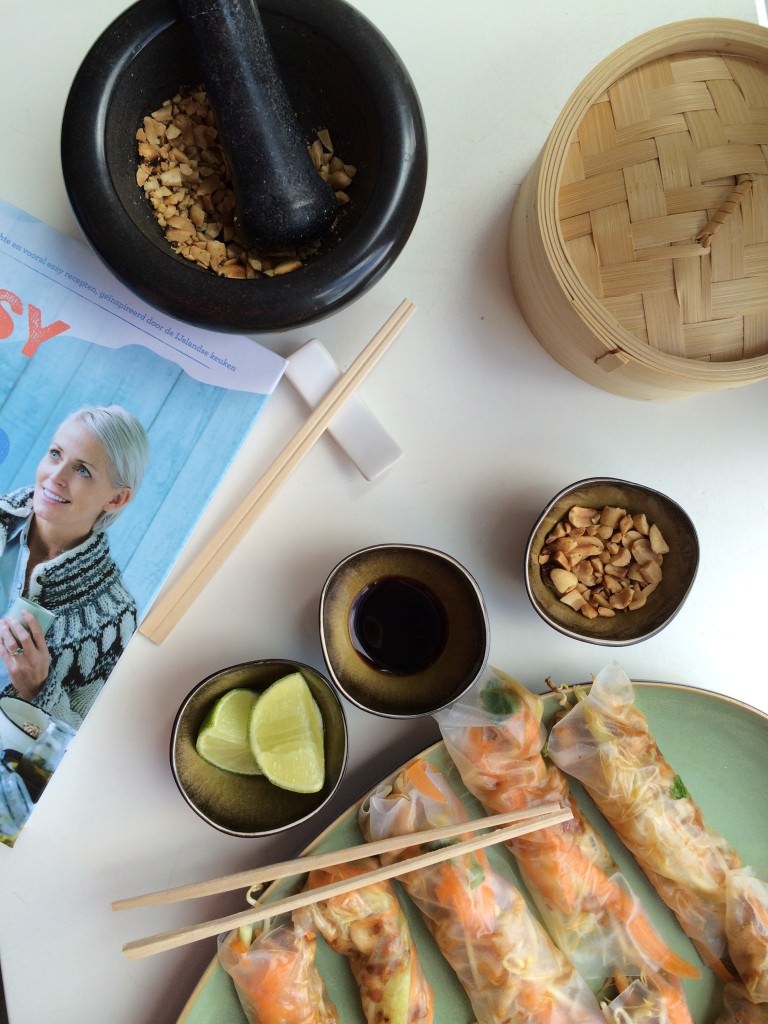 So far a nice marinated salmon, oven baked radishes and these spring rolls.
I have adapted the recipe just a little bit according to the tastes of the minis who made the spring rolls with me last Wednesday. Perfect to make ahead for a light dinner or lunch. We counted 4 per person for dinner, Mr Husband needed 6.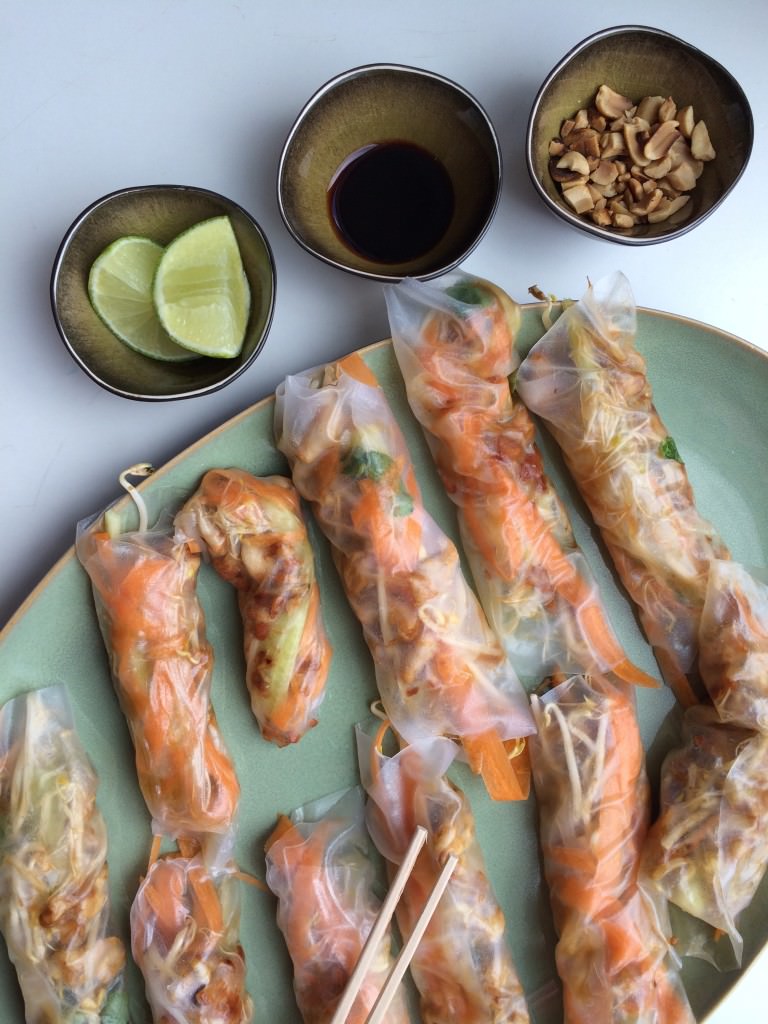 Easy Spring Rolls - a Dagny Ros recipe
Ingredienten
20 sheets of rice paper (I count to extra if one of your papers tears apart)
1 shredded carrot or cut into thin slices
½ cucumber, shredded or cut into thin slices
1 hand of alfalfa
A hand of taugé or beansprouts
hoisin sauce (you can buy this at the larger supermarkets - I bought mine at Albert Heijn)
2 chicken filets, cut into small pieces
1 tbsp soy sauce
1 pinch of Chinese Five Spices (optional)
mint and cilantro/coriander leaves to your liking
2 leaves Iceberg salad shredded
1 tbsp sesame seeds
1 tbsp sesame oil
1 tsp lime juice
pepper to your liking
Werkwijze
Bake the chicken in a non stick skillet with some sesame oil. When almost tender add the soy sauce, 5 spices and some sesame seeds (1/2 tbsp).
Place all your vegetables in a large mixing bowl, add the rest of the sesame seeds, add a dash of lime juice and some pepper.
Prepare a large bowl with hot water and one by one put your rice paper in the bowl, let the paper rest for 30 seconds, take out and put in on a plank to dry a little. Now you can start filling your rice paper. This takes some time but every time I try to do this as mentioned on the package (all the papers together) it goes terribly wrong.
Smear some Hoisin Sauce on the paper, a thin layer will do. Then add the vegetables and herbs if you are using them and top of with chicken. You don't want to overfill your spring roll.
Roll these papers into nice spring rolls which is easier said than done with two little helpers, but hey we had fun!
Serve with soy sauce where you add a dash of lime.
Yummie!
Price: € 24,95.
ISBN 9789089315083
Published by Borgerhoff-Lamberigts