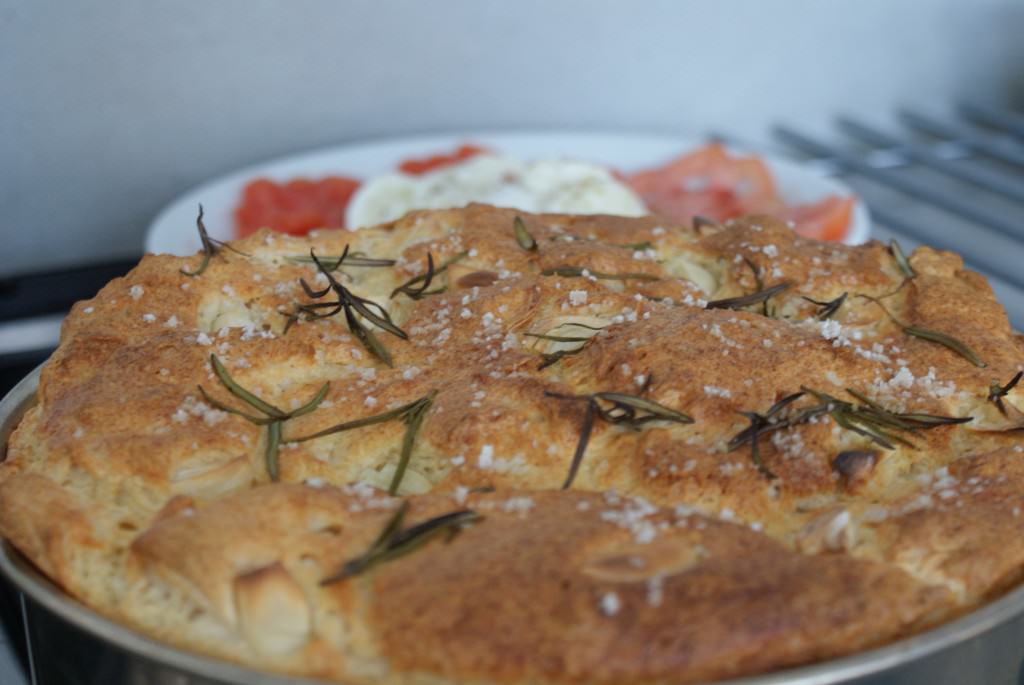 This is a recipe I have been making all summer and I have started again last week. This focaccia is great with summery dishes like Insalata Caprese or Italian Cured meats but in autumn I really like to bake it for a lazy Sunday brunch to serve with a nice pumpkin or tomato soup.
I have found this recipe in the cookbook Heerlijk Glutenvrij Bakken from Phil Vickery. This is a very nice baking book when you start out in the gluten free kitchen. It was Inez from Gusta who borrowed me her cookbook and I must say, it is on my Christmas which list. Phil has a some very nice gluten free recipes I want to try out.
Why is this such a great recipe? Well where do I start….
It is:
Easy to bake
Really delicious
Light and fluffy
Full of taste
Keeps the vampire away (still in a Halloween mood after spending Halloween in the USA)
Gluten free
Dairy free
Just try it out and see for yourself.
You can either make a very big and thick focaccia or you can make a thinner version with more crust.
I like both with a small preference for the thinner version because it has more crust and is crunchier.
Sometimes I even top my focaccia with fennel and walnuts, cherry tomatoes and basil or thyme and onions. However you make it, simple or with vegetables and herbs, this is a great and yummie recipe.
How do you like your focaccia?
I use the following gluten free flour mix but you can also use a prepacked mixture.I don't like it because the result is much more heavy and sturdy but the taste is ok. I usually make this mixture in advance and keep it in an air tight container so I can use is when I need it.
Gluten free mix (adapted from Phil Vickery Heerlijk Glutenvrij Bakken)
400 gr soy meal
200 gr tapioca starch or arrow root (this is easier to find in Belgium)
400 gr potato starch
300 gr corn starch
Focaccia
Ingredienten
1 package fresh yeast
5 dl water
2 tsp sugar (I always use cane sugar)
500 gr free bread mix
1 tsp xanthan gum
2 tsp (gf) baking powder
2 egg whites
10 cloves of garlic, peeled and cut in halves
4 tbsp extra vergin olive oil
1 tbsp fleur de sel
4 branches fresh rosemary and thyme
Werkwijze
Grease a round baking thin (you can use a pizza pan or as I did a spring cake tin) with a diameter of 30 cm.
Mix the yeast with the water and sugar and leave cover this up and leave this mixture for 15 minutes.
Blend the gluten free bread mix with the xanthan gum and baking powder .
Use an electric mixer to beat up the egg whites until stiffen.
Mix the yeast mixture with the bread mix and when this has blended well add the egg whites very carefully.
Make sure not to over mix this. Less is better!
Pour the dough in the cake or pizza tin and press the cloves of garlic in the dough.
Cover it with plastic foil. Let this rise for 20 minutes.
Preheat the oven to 220°C.
When the dough has risen, carefully get the foil of and sprinkle the bread with salt and herbs.
Bake for 20 minutes.
Let the bread cool down and then cut it into pieces before serving.
Enjoy!