When my colleagues from Spain visited last week I wanted to have dinner at a nice restaurant in Antwerp after visiting the MAS. We were walking towards Balls & Glory when we noticed Love Fish. This restaurant opened its doors 5 weeks ago and is brand new! The terrace outside gives you an instant holiday feeling with all the little boats in the dock and the MAS on the background.
At first sight Love Fish is a modern restaurant with a large terrace but soon it became clear to me that this wasn't the classical bistro.  The owner of the restaurant and creator of the concept is no one less than Jo Bussels, chef at gastronomic restaurant Radis Noir. He has been breeding on this concept for 2 years wanting to creat a bistro 2.0 and overcoming the challenges in today's horeca business model. A restaurant where the fastfood concept meets healthy and fresh dishes at reasonable prices. You can have dinner here and stay until closing time (10 pm) or you can come by for a quick bite. Jo caters also for his little clients by serving home made fish sticks and providing a play area with I-pads and drawing material. Perfect no?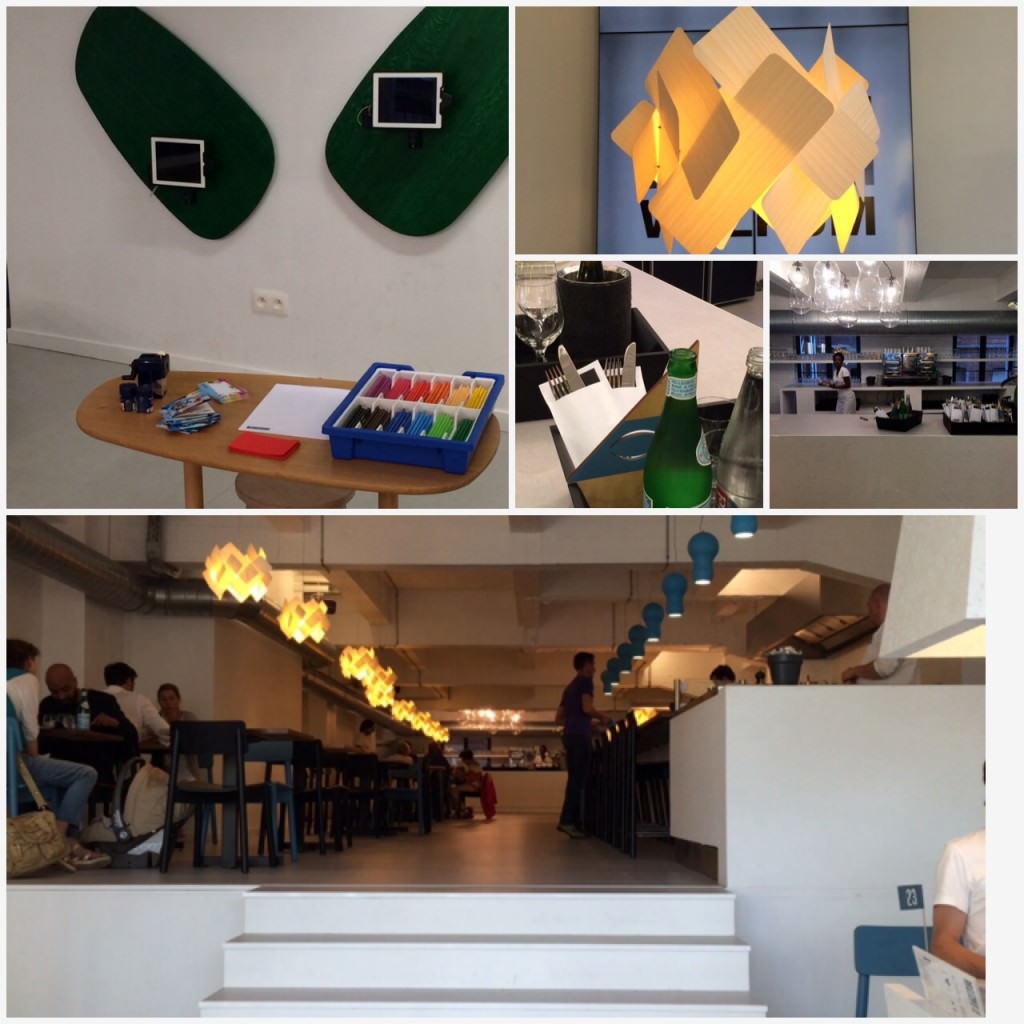 Special about this concept is that you have to order your food at the cashier desk. You then get either one (course) two (courses) or three (courses) flags. Then you need to head off to the bar to get your drinks. They are waiting for you in a little wooden boat. If it is to much to carry there is always a helping hand around. Next you need to intstall yourself at a table and place your flags in plain sight. The waiting staff will then serve your meal at the table.
All runs very smoothly, service with a smile and your budget stays perfectly under control.
Only disadvantage for us was that we needed to get up and start the process all over again for desert and coffee.  On busy days however this offers you the advantage to get up and leave when you are finished in stead of waiting endlessly for the bill.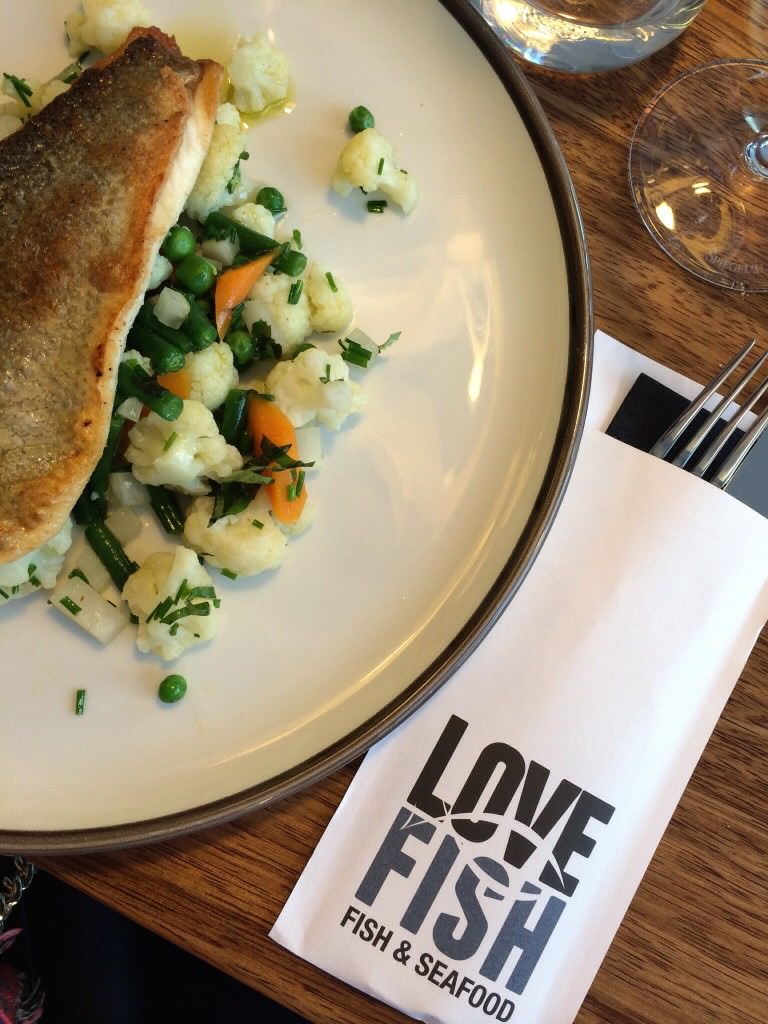 The menu offers seabass, salmon, cod, oysters and lobster. You can also order some dishes to take away (salad with shrimps, salad with salmon…) For the persistend meatlovers there is even a steak on the menu. The menu mentions matching beers and wines with every dish.
We opted for a tuna carpaccio with guacamole to share – Spanish are used to tapas- and then chose a crispy bakes seabass with seasonal baked veggies. Yummie! If you have a food allergy you just need to mention it when ordering and if possible (dairy and gluten) they offer you an alternative.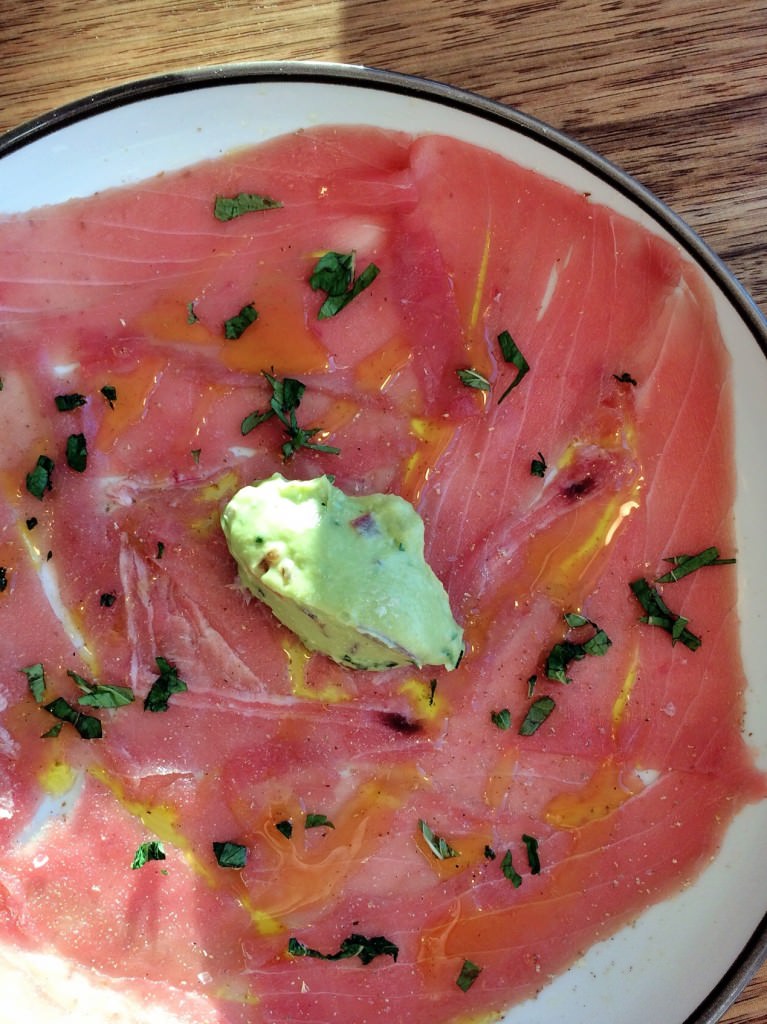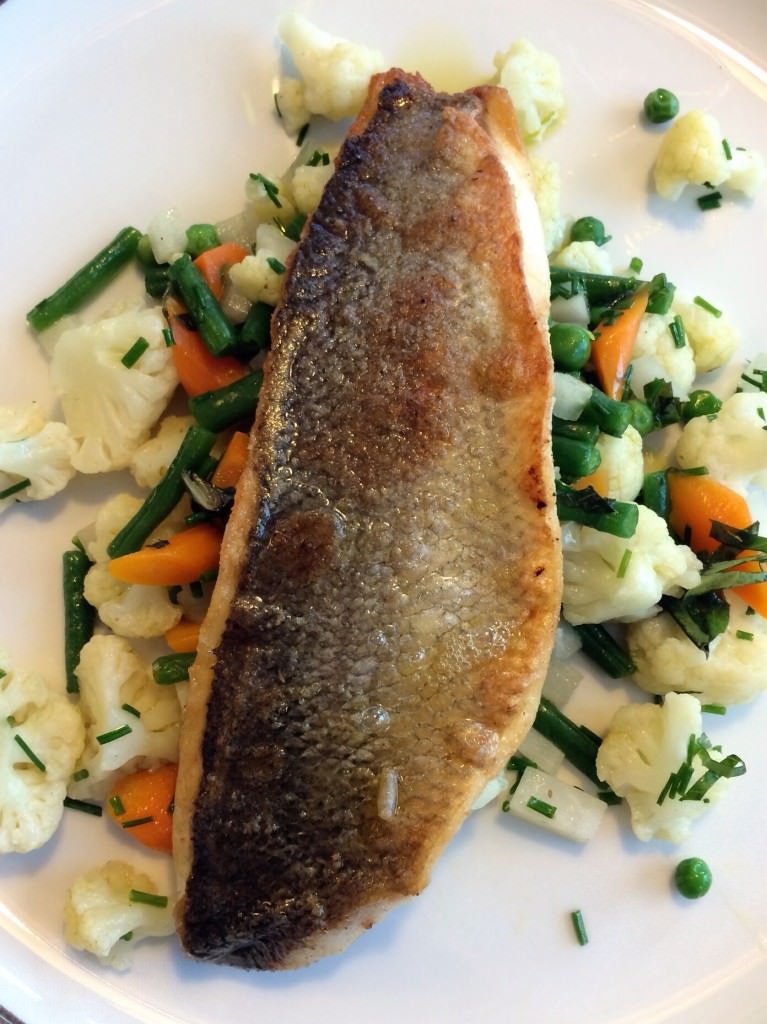 A nice new place in Antwerp, a must visit but make sure you know about the concept or you might be disappointed. As Jo told me the first visit is the hardest, once you know the concept and the quality of the food, you'll want to return. For me it is true! See you soon Mr Bussels!
www.lovefish.be
Godefriduskaai 12 2000 Antwerpen