A while ago a friend of mine sent me some recipes for gluten free pancakes she found in Elle Magazine. All salt pancakes that are a nice equivalnet for a simple sandwich, something different from a foccacia or brushetta.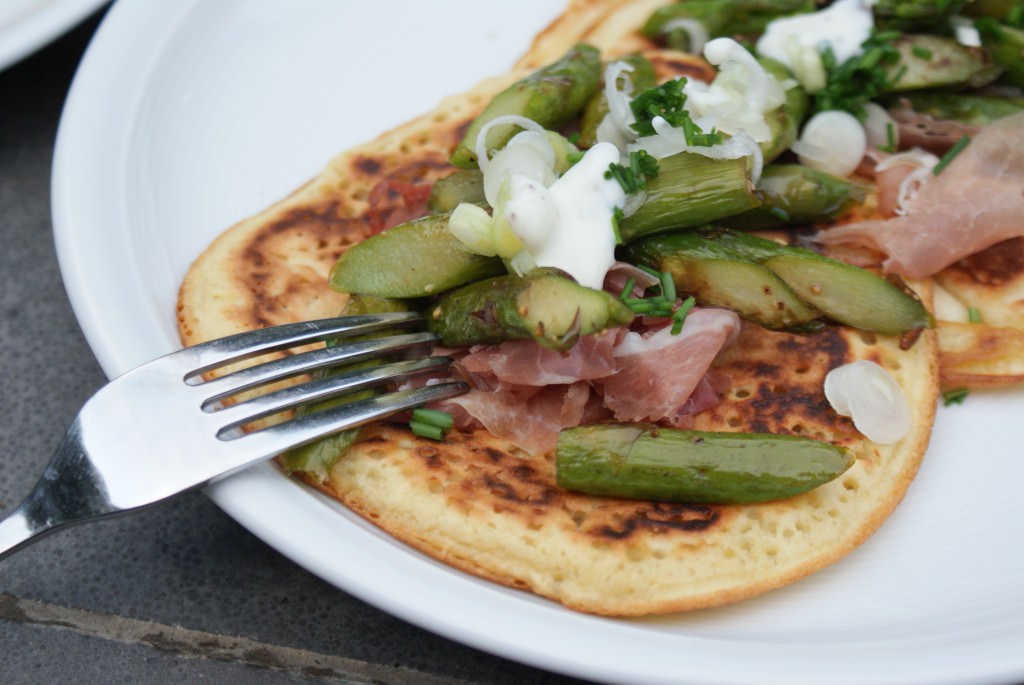 Inspired by these recipes I have come up with the following creation. So easy and quick to make…
After a long day working at the FNG stocksale I was in the mood for some quality time with Mr Husband. I was supposed to get sushi's but as usual I was working and…forgot. After a qujck check of my fridge there were two options: melon and parma (very nice but way too light after a day at a stocksale) or quinoa pancakes with asparagus and prosciutto di parma.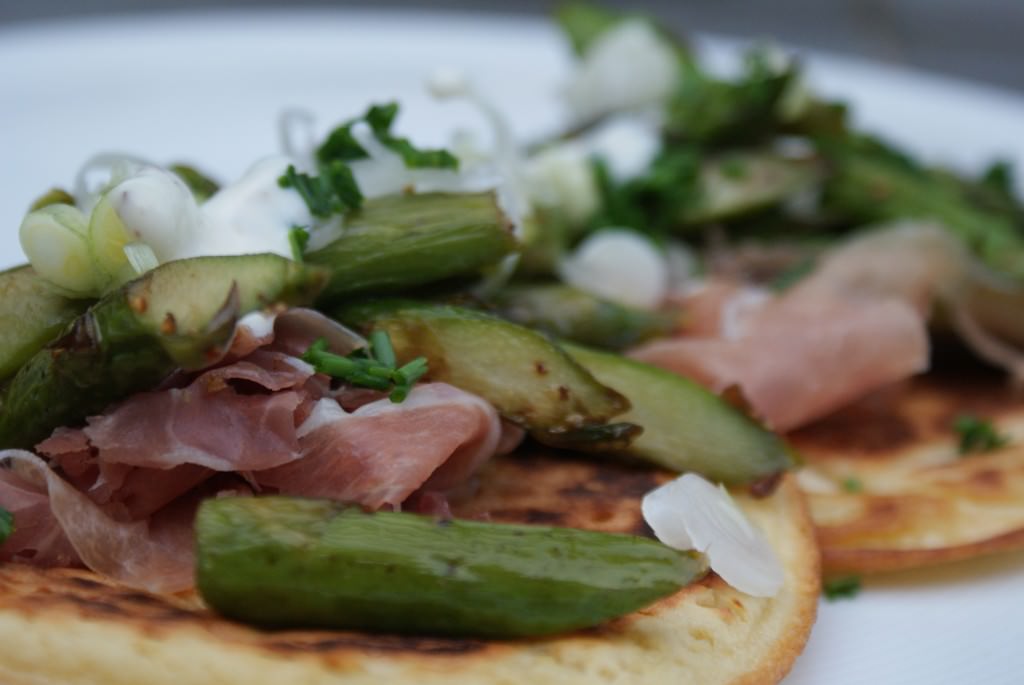 What do you need for the pancakes?
100 gr quinoa flour
100 gr rice flour
2 tsp (gf) baking powder
200 ml (almond or rice) milk
2 eggs
1 tbsp isio 4 oil
What do you need for your topping:
1 bunch green asparagus cut into small pieces, keep the tops
1 shallot, finely chopped
2 tbsp water
Olive oil
3 slices of parma ham per person
4 scallions cut into rings
Optional: 2 tbsp sour cream or soy cream spiced up with pepper and salt
Fresh dill and chives
First prepare the dough for your pancakes by adding the dry and the wet ingredients. Let it rest for 10 minutes.
Bake the pancakes in a pan with maximum 20 cm of diameter. As soon as the upside of the pancakes is dry you can flip them. Bake them for approximately 3 minutes.
Bake them and keep them warm in the oven at 100°C.
In the mean while you bake the shallot and the asparagus, but not the tops. Once they are browned you add 2 tbsp of water and put a top on your pan and let it simmer for about 3 minutes.  You can test with your fork if the asparagus is ready.
Add the tops and let them simmer for 2 more minutes.
Put a pancake on a plate and dress with asparagus, parma, some cream, the spring onion and the fresh herbes.
Enjoy!