This is a delicious salad based on Ottolenghi's Quinoa Salad with dried Iranian Lime out of the cookbook Plenty.
I heard and read a lot about this chef and his cookbooks and restaurants but quite frankly I was a bit afraid of his Middle Eastern and Jewish influenced recipes. For instance I don't like dates, raisins and cheeses and I have read some of the recipes he did for Delicious Magazine and I wasn't that impressed. Needless to say  I was a little prejudiced when I bought Plenty but when I am wrong, I say so and in this case …. Most of the recipes are really interesting. Ok there are some typical recipes I don't intend to make but there are some great salads like the one below and some interesting combinations
+ : surprising combinations such as asparagus with fennel and red beet or the salad below
-:  a lot of usage of feta and greek yoghurt. Even if I weren't intolerant for dairy I'd think he uses this  a little too much.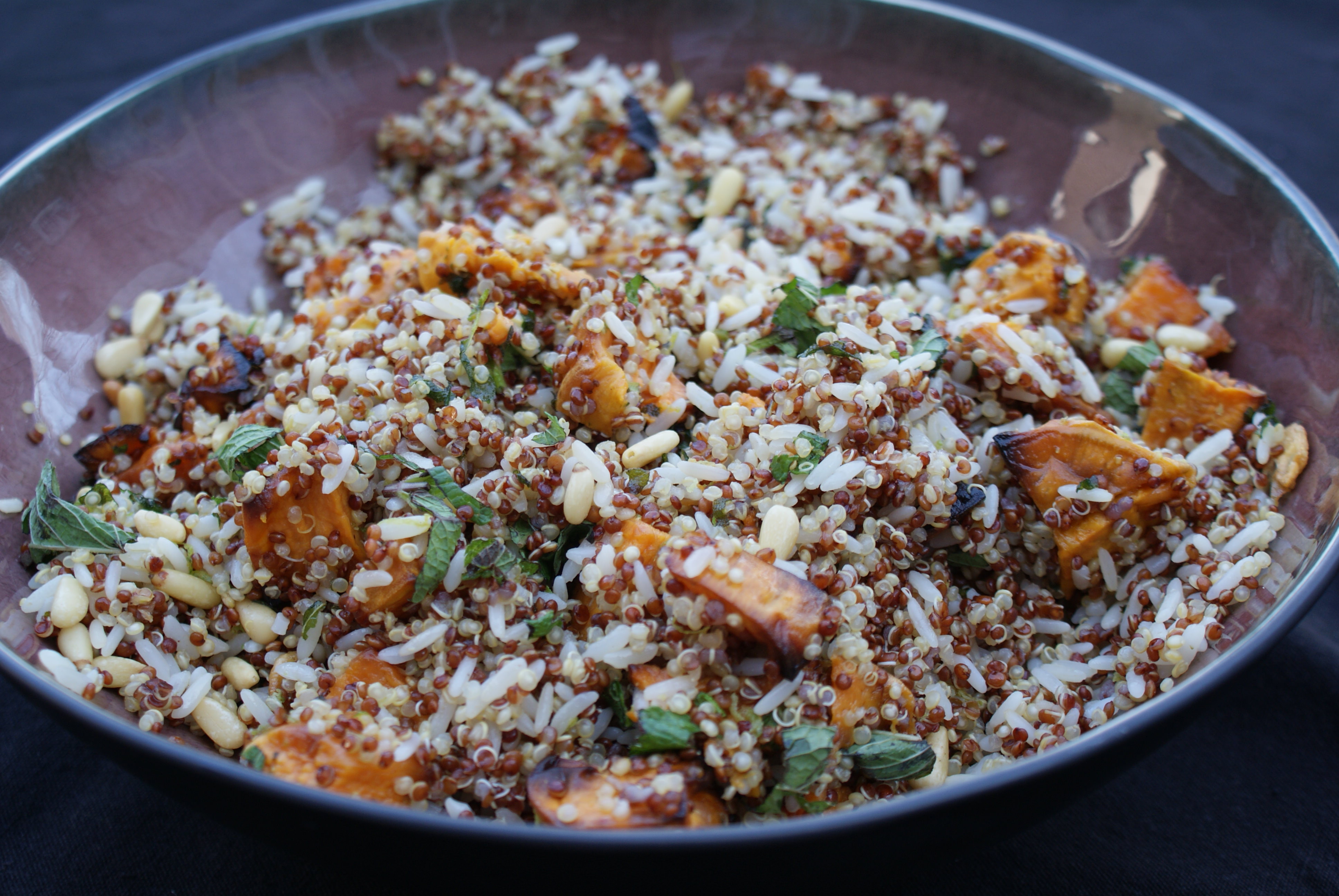 I have made this salad several times now and the combination of the warm herbs and garlic with the fresh spring onions and mint is great.  Sometimes I even add cilantro. I used normal lemons because I haven't found Iranian Limes in little Belgium yet, did you? If so let me know. You can add feta to the salad, but since I don't like cheese (except for mozzarella) and I don't eat dairy, not an option for us.
Please make sure you use fresh herbs and not dried herbs, this makes a big difference. I have tried both and the salad just isn't that good and tasty when you use dried herbs.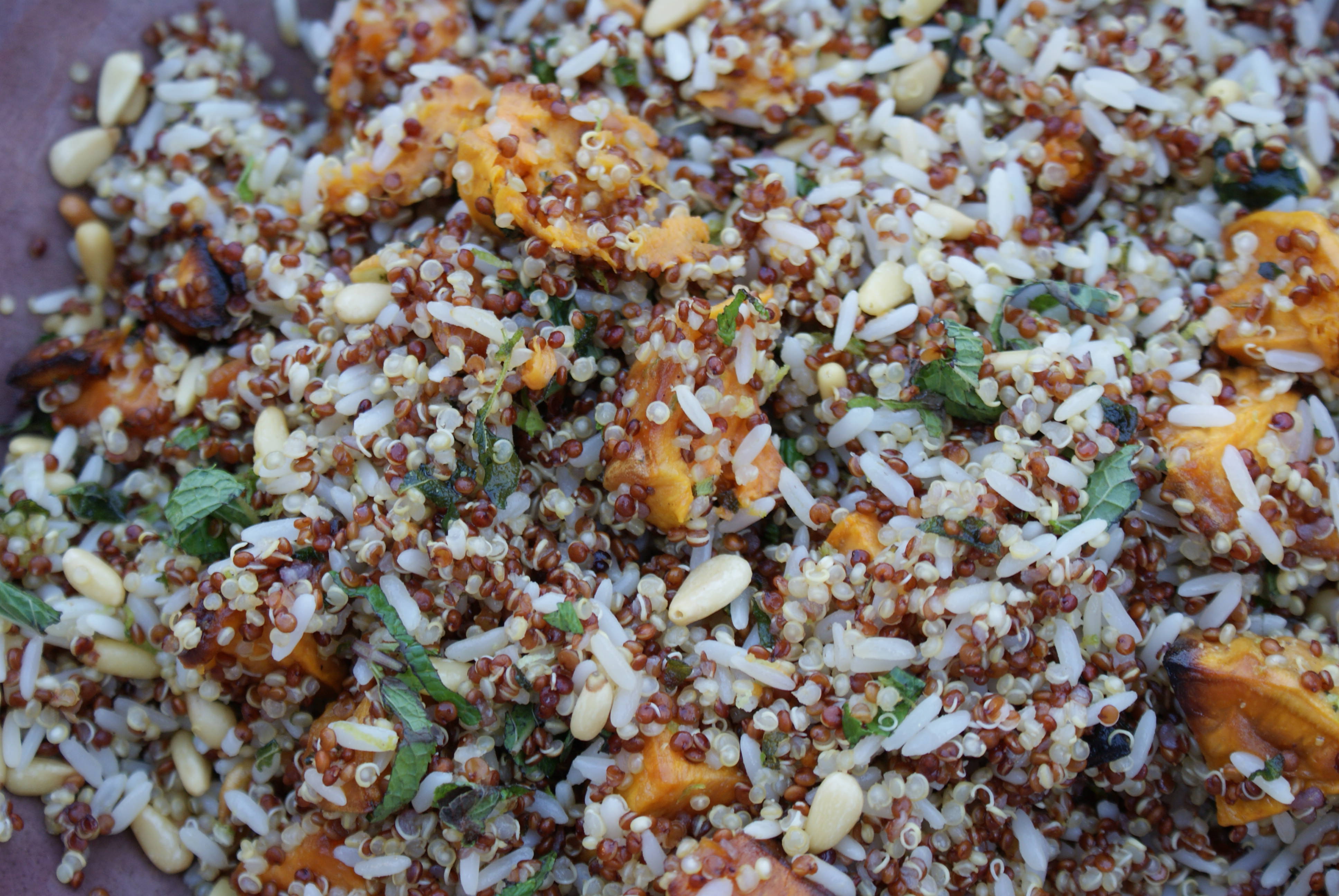 You can also swap the sweet potato for some pumpkin in autumn, makes a nice variety.
Ingredients for a big bowl of delicious salad:
2 medium sweet potatoes – diced in small chunks
80 ml olive oil – the original recipe asks for more, but I think this is enough)
200g mixed basmati and wild rice (or brown rice)
200g quinoa
4 garlic cloves, thinly sliced
4 tbsp shredded sage leaves
3 tbsp roughly chopped oregano
2 tbsp lime zest
6 tbsp shredded mint
2 tbsp cilantro (optional)
4 spring onions (green parts only), thinly sliced, plus extra to finish
1 tsp lemon juice
Preheat your oven to 200°C.
Place the sweet potato chunks on an oven tray and sprinkle with half of the olive oil, season with pepper and seasalt. Bake this in the oven for20 minutes or until potato is baked and soft.
Let this cool down. Cook your rice and quinoa as on the package, drain and mix together in a large bowl. Add the sweet potato and baking oil.
Heat the remaining oil in a pan and add the garlic and bake for 5 minutes until the garlic is crispy and gold. Add the sage and oregano and let it simmer for one more minute. Pour this mixture over your rice, quinoa and sweet potatoes and mix well. Season with lime zest, lime juice and some pepper and sea salt. Finish of your salad right before serving with the spring onions, mint and cilantro.
Enjoy!