One of my sisters best friends decided last summer to spend a year in Canada. I have been drooling over her pictures ever since she left and asked her to share some of her top addresses in Vancouver. A big thanks to Sofie for sharing her tips – I can't wait to book my trip.
Here is Sofie's food for Must Be Yummie:
Sofie Van Houdt, 28, Language Teacher (Dutch, French, English)
This city has been my home for a year now and I couldn't be prouder to call myself a Vancouverite. I love sipping a glass of wine or a freshly brewed coffee after a day of skiing or hiking in North Vancouver or walking on Kitsilano beach. Vancouver is one of those cities that has everything!
I love to discover new places in different neighborhouds, like Yaletown for business, Gastown for the boutiques and great coffee, Kitsilano for the beach, North Vancouver for the many hiking trails, the West End and Point Grey for the beautiful houses and downtown for shopping and great Asian food . Whether I am hiking up the mountains, exploring new places or trying out the newest restaurants I always try to find something authentic and new. The city I call my home now has so much to offer. I love it here and I'm happy to share some of my favorite places.
1)SV Bakery
Small Victory for Yaletown
I live in the West End and don't often visit Yaletown, although it s nearby. A friend of mine, who has a sweet tooth, asked me to check out a new bakery, Small Victory. I love the look of this place, which is modern with a lot of wood and marble. It's all about less is more. They don't really have a lot of choice, what you do expect from a bakery. They have a couple of cakes and scones in the shape of a triangle. They also serve sandwiches, salads and beverages. I tried a scone with lavender and clotted cream, delicious! They serve coffee from Bows and Arrows, a local roaster. Great place to have a coffee and meet friends. A victory for Yaletown!
1088 Homer Street, Yaletown
2) Musette Caffe (Chinatown)
Bike friendly coffee bar
If you love to ride your bike and grab a coffee, Musette is the place to be. A Musette is a small bag used to pass meals to cyclists during a bicyle race. International races are broadcast on satellite TV. You can enjoy the race with a coffee from 49th parallel, my favourite coffee in the city. Musette serves some granola and yoghurt, muffins and other baked goods for breakfast. The last time I visited Musette, they had savoury crepes, baked in front of you. Try the one with spinach and feta. A great meal before or after a ride on your hipster bike!
75 E Pender Street, Chinatown
3) Vancouver Seawall
Green around the courner
Coal Harbour, Downtown
The seawall is a walking and biking path around Stanley Park. I love to start from the West End where I live for a ride with my bike. You can also rent a bike from English Bay Rentals. Or just follow the trail walk which goes all the way along. You will see lots of runners here too. Not to mention the many happy dogs. It's beautiful and peaceful here. Don't forget your camera. You will want to take a ton of photos!
4) Lynn Canyon Suspension Bridge
The FREE alternative to the Capilano Suspension Bridge
A lot of tourists visit the famous Capilano Suspension Bridge. You pay about 30 dollars for your visit. Lynn Canyon Suspension Bridge is a free alternative and it does not miss a beat when it comes to magnificent views and thrills. It might be a few hundred feet shorter, but the park, bridge and the trails are less crowded. Lynn Canyon is in North Vancouver, a 20 minute drive from downtown. It can be terrifying when first stepping on the bridge and it starts to shake. The views of the waterfall when standing on the bridge make up for it. You won't regret it!
3663 Park Road, North Vancouver
5) Semperviva Yoga
Yoga and the beach – Kitsilano
Love love love this yoga studio! Actually, there are 3 of them in the city. 2 of them are located in Kitsilano close to the beach and the third one is located on granville island. But the main studio is the one on west 4th Ave. I've been a member since I first moved to Vancouver and it has changed my life! The teachers are amazing and the types of yoga each studio offers never make me bored. The Hatha classes are the best! Kundalini is also a must try with Gloria. She is so passionate about yoga and is a great inspiration for many vancouverites. If you're not convinced yet, ask for a free week pass and try some different yoga classes. Yoga mats are provided. Namaste!
110-2201 West 4th Avenue, Vancouver
6) Nuba Gastown
Hidden Libanese
I've heard a lot of good things about Nuba. On a day off, I finally got the chance to try this Libanese restaurant with my roommate. I was lucky that my roommate knew where Nuba in Gastown was located, as it's a hidden spot in a basement. It may sound a bit creepy but it's actually really cosy with a lot of lights and beautiful decoration. They serve the same menu for lunch and dinner. There are a lot of vegetarian options, but I would recommend trying one of their lamb or beef patties, which both are served with homemade hoummous, vegetables, olives and rice or patatoes for only 12-14 dollars. The colours on the plate are just beautiful. And the taste was even better! The good news is that there are 2 more locations. No excuses anymore. Nuba, see you soon!
207 W Hastings Street
7) The Green Moustache Kits
Rawesome!
The Green Moustache calls itself an Organic Juice and Live Food Bar. Actually, it's much more than that. Nicolette, the owner, has a shop in Whistler and recently opened a second Green Moustache in Kitsilano. Everything here in incredibly fresh, nutritious and delicious. All organic and gluten free. They serve a wide variety of cold pressed juices, salads, wraps and soups. Not to mention the raw desserts. It is great to see a local family carry out their inspiration, providing great food options for everyone in Whistler, and now in Vancouver. Congrats on a great new and super healthy business!
The collard green wrap is a must try. It comes with the famous house dressing made with nutritional yeast, garlic… .
3598 West 4th Avenue, Kitsilano
8) 49th parallel coffee roasters
Vintage shoppping, coffee and donuts
Main street is great for some vintage shopping. If you're a cofee lover, your shopping trip is not complete without a stop at 49th parallel. I always love meeting up with friends here over coffee because of the atmosphere. Their coffee is one of the best in the city (love the smooth taste) and the talented staff make amazing latte art. They also have a nice tea selection and they make their own almond milk. The shop on main street is spacious with some communal tables, but can still be very packed. It's hard to resist their selection of Lucky's Donuts, which are delicious. My favourite is the cinnamon sugar donut. It tastes like a churro!
2902 Main Street Vancouver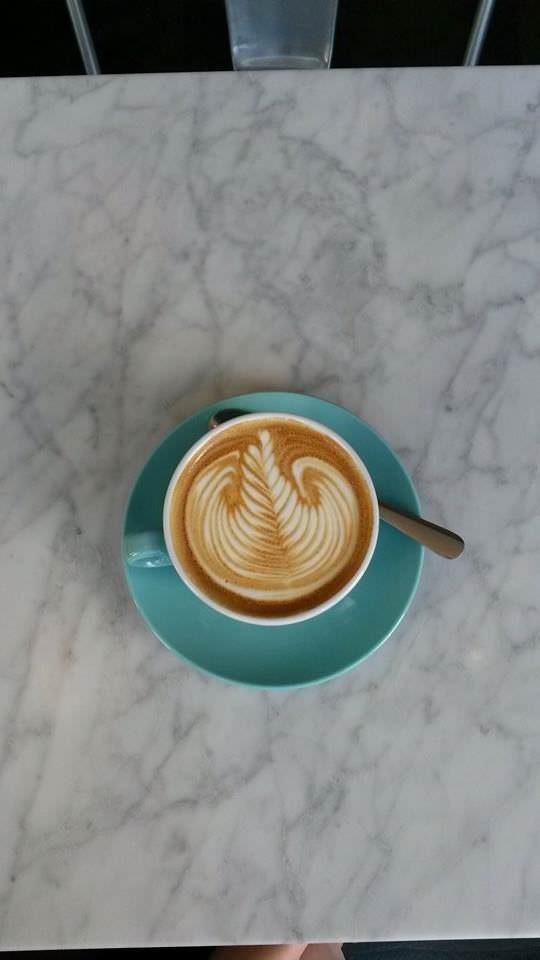 9) Nelson the Seagull
Brunch in Gastown
315 Carrall Street, Gastown
I discovered Nelson the Seagull for the first time while I was shopping in Gastown. I love everything about this place. It's one big open space filled with school tables and chairs. They serve their drinks in cute mason jars. They are famous for their sourdough bread, which they make fresh every day in the bakery in the back. If you go in the morning, you're guaranteed to get the freshly baked bread (it sells quickly). During the week it's a great spot to bring your laptop and work or meet up with friends over coffee. This is the place for an escape. I can sit there, watch people work, finish some writing and enjoy the good vibe. On Sunday it's great for brunch. Try their famous sourdough bread with avocado, a match made in heaven! Don't be afraid to make additions to it!