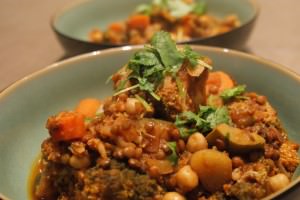 I recently downloaded the Green Kitchen app, a nice app that contains vegetarian, vegan and glutenfree recipes. Not all recipes look as tasty (e.g. cookies with black beans? I am not ready to try those brr) but there are some fun and simple recipes that are worth trying out and the app has amazing food pictures, an inspiration. This is one of the app's recipes I have tried out, full of veggies and vitamines and easy to make on a busy weekday. Put everything together in a nice Staub or Le Creuset pot and the dish will cook itself while you relax, help the kids with homework or work out..You can also perfectly make this one or two days ahead. Ideal food for a winter evening.

Veggie stew
Ingredienten
1 tbsp coconut oil
1 white onion, chopped
2 cloves of garlic, chopped
2 tbsp fresh ginger, grated
2 tsp peperoncini or dried chili (less if you don't like spicey)
1 tsp of ground cinnamon
1 broccoli cut in pieces
2 carrots cut in pieces of 3 cm
1 fennel, sliced
1 zucchini cut in pieces
2 cans of tomatoes
125 gr lentils
1 handful of fresh coriander
125 gr of cooked chickpeas (I mostly use canned chickpeas)
Werkwijze
Heat the oil in a large pot and add onion, garlic, ginger and all the spices.
When softened add the broccoli, carrots, fennel and zucchini and let it bake for 5 minutes.
Add the tomatoes, lentils and the fresh spices and cover the pot. Let this simmer for about 45 minutes.
Add the chickpeas and boil for another 5 minutes.
Eat like this or with some rice of noodles.