Since I can't eat carbs form y #septemberchallenge I have eaten a lot of fresh fruit and smoothies for breakfast. But after two weeks I am craving for a more 'consistent' breakfast so I came up with these great almond pancakes. They were quite heavy, one pancake and some fruit was enough to sooth my appetite, Mr. Husband ate two of them, the rest is waiting in the fridge for tomorrow's breakfast.
You can ground the almonds yourself with the Kitchen Robot or you can buy grounded almonds or almond meal.
Tip: I have used eggs in this recipe but you can replace the eggs by a mixture of chia seeds and broken flaxseed if you can't or simply don't want to eat eggs.  You need to mix one tablespoon of this mixture (50/50 chia and flaxseed) and 1,5 tablespoon of water and let it stand for a minute. I have a tin of this mixture and use it whenever I am baking and out of eggs.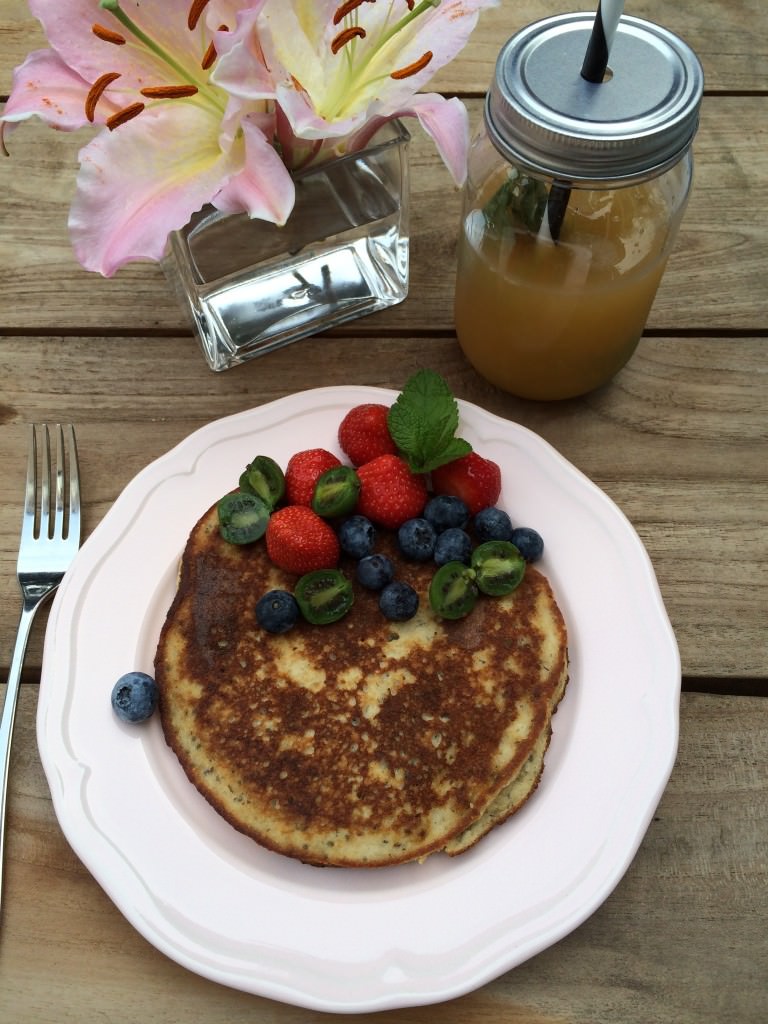 Almondpancakes
Ingredienten
140 gr grounded almonds
40 gr coconut meal (if you can't find this in your local shop, just use some more almond meal)
3 eggs(or the chia-flaxseed mixture))
200 mlalmondmilk (or Coconut I regulary use Alpro Coconut Original)
1 tsp of cinnamon
1 tsp of (gf) baking powder
1 pinch of salt
1 tsp of baking soda
1 tbsp of vegetable oil
Werkwijze
Mix the dry ingredients and the wet ingredients in separate bowls.
Add dry and wet mixture together and stir well until all lumps are gone.
This is a thick batter, not so liquid, but this is normal for the type of pancakes you are about to bake.
Heat some vegetable oil in a small frying pan and add 2 or 3 tbsp of batter at a time for nice medium sized pancakes.
You need to be patient when baking because this batter is very fragile. Wait until most of the bubbles on top of your pancake are gone, before flipping your pancake. Baking at a low temperature/fire is necessary!
Serve with some maply syrup or fresh berries.
Enjoy!