Everybody knows San Pellegrino water no? What most people don't know is that this famous Italian water brand launches a guide with all the young culinary talents: the S. Pellegrino Guide.
The Benelux guide will be presented tomorrow at Antwerp MAS and in the build-up to this presentation I received an invitation to dine at Antwerp new hotspot Bùn with 5 guests.
An offer I certainly didn't decline . I had dinner at Bùn this summer with a group of friends and I met Hoa and Huibrecht at Antwerpen Proeft and the Flemish Food Bash, so I was happy to invite 5 friends to join me for a nice dinner in this cosy restaurant last week. It is always difficult to find a date to meet each other but here the date was fixed in under 5 minutes….we had off course the great incentive of dinner at Bùn.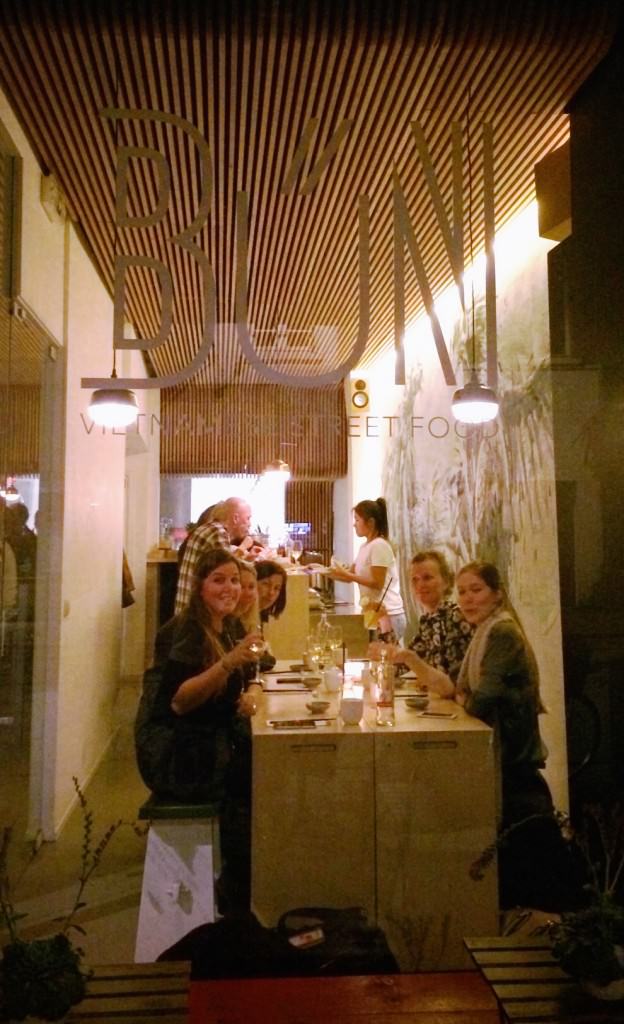 Most of them wanted to go for a long time but since the place is really small it is difficult to get a reservation. Best time to go according to Huibrecht is around 4pm and just pop in for a green juice and a small platter of Vietnamese streetfood. Otherwise just be patient and try the reservation system, your time will come and it is worth the wait.
Huibrecht works the kitchen and uses mostly local and fresh ingredients. He uses local bred Brasvar pork and fish from the North Sea.  It also helps his mother in law has a big vegetable garden full of fresh Vietnamese herbs and spices so little import here.
The dishes that are served are simple but the taste is so good, you really taste the quality ingredients. No fuss here, just Vietnamese street food in a cozy atmosphere. A lot of dishes are also prepared on the grill.
Upon our arrival we were welcomed with a fresh green juice to tease our taste buds. This juice contained bokchoy, granny smith, ginger and rauram (Vietnamese coriander): yummie!
Huibrecht and Hoa welcomed us with a big smile and invited us on a tour through their menu to discover some of the signature dishes. What a tour it was. Wow! It was at times difficult to take note but luckily I got a menu home.
We started with spicy dry sausage and sundried squid, honestly abides me to say this was the least of all the dishes we tried. It could only get better….
I will show you some of the dishes here.
It is hard to say what was best because all of it tasted really good but if I have to choose…..I must say I can still taste the grilled corn on the cob with spicy peanut and the sea robin with its light sauce and kai choi (Vietnamese cabbage).Oh and the nems and the rice noodles with grilled Brasvar pork…Told you difficult to choose.
After dinner we were offered a glass of Lotus Tea and a spoon of fermented sticky rice. I am glad I tried it, it tasted a little bit like sake rice pudding.
You must try this place out for yourself.
The service is really personal and friendly, the food honest, fresh and very tasty and the atmosphere really cozy.
My friends who visited Vietnam 16 years ago were happy to chat a bit about this great country with Hoa and Huibrecht. They confirmed us that all the dishes and tastes  were really authentic…so thumbs up for the chef!
I want to use this opportunity to thank Hoa and Huibrecht again for their hospitality and the great and yummie night they offered us. Your gesture is really appreciated!  Cảm ơn
We wish you good luck with your restaurant and hope to visit again soon. I am certainly going back to try Vietnamese national dish the Pho Bò. I think my friends will be back soon too.
I can't wait to see the guide tomorrow.
Thank you San Pellegrino for this opportunity.
Bùn – Sint Jorispoort 22 2000 Antwerpen 03 234 04 16 www.bunantwerp.be