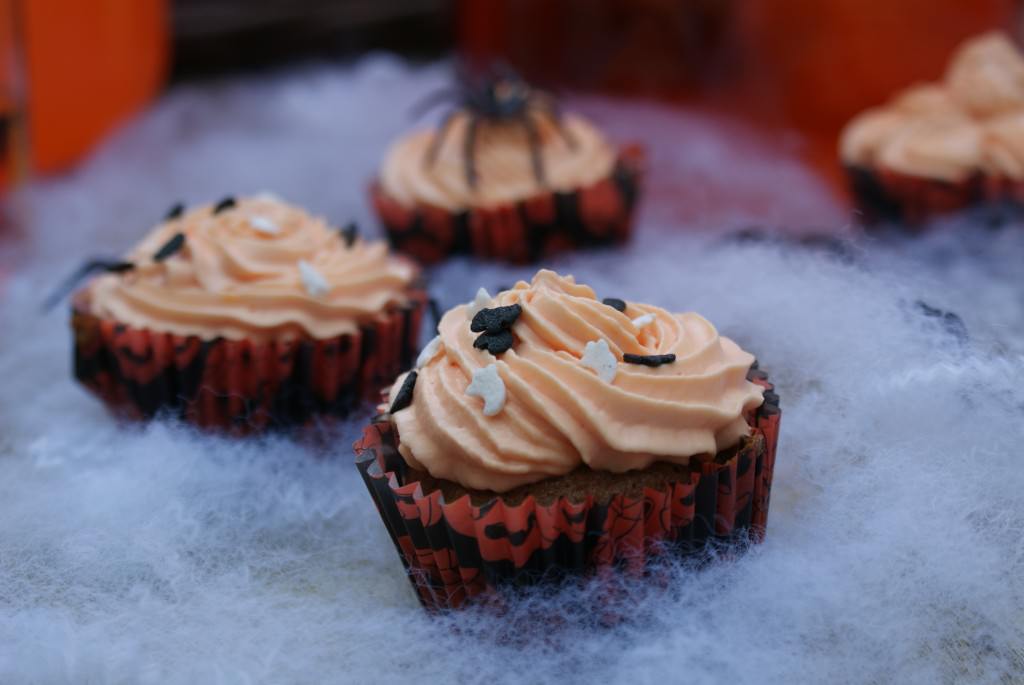 Wednesdays or weekend are great times to start cooking in with my kids. With Halloween approaching we are carving out pumpkins and trying out new cupcake recipes with the rest of the pumpkin meat. No waste policy here.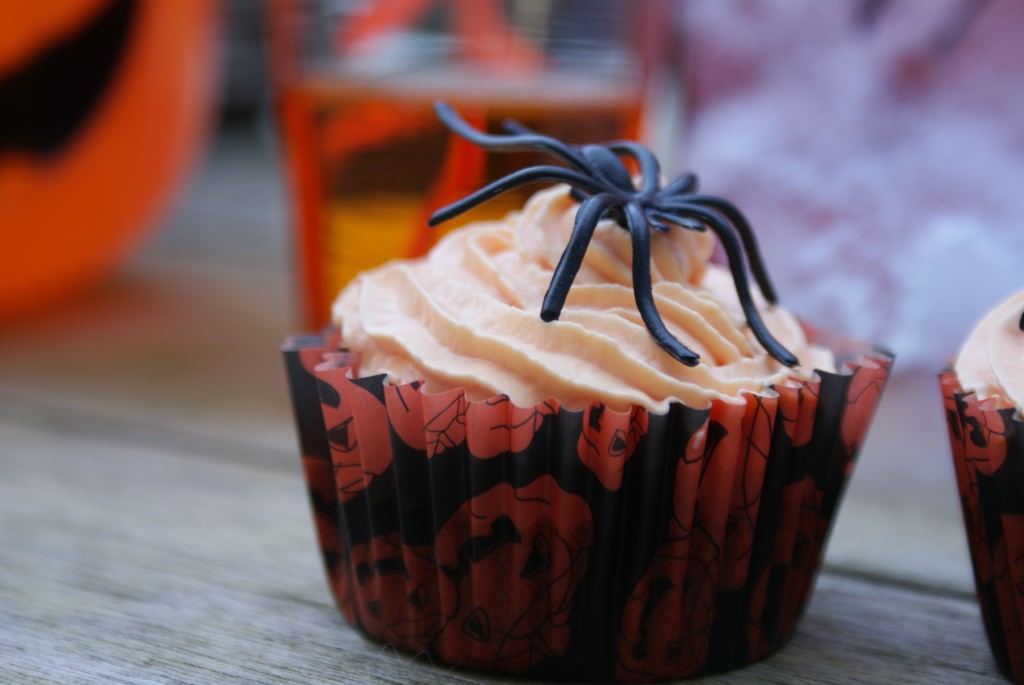 The carving part is not so easy but after a while I kind of got the hang of it. I remember a couple of years ago when I organised a Halloween theme party where the kids had to carve their own mini pumpkin. We had a lot of fun and they were so proud to bring home a little Jack O' Lantern.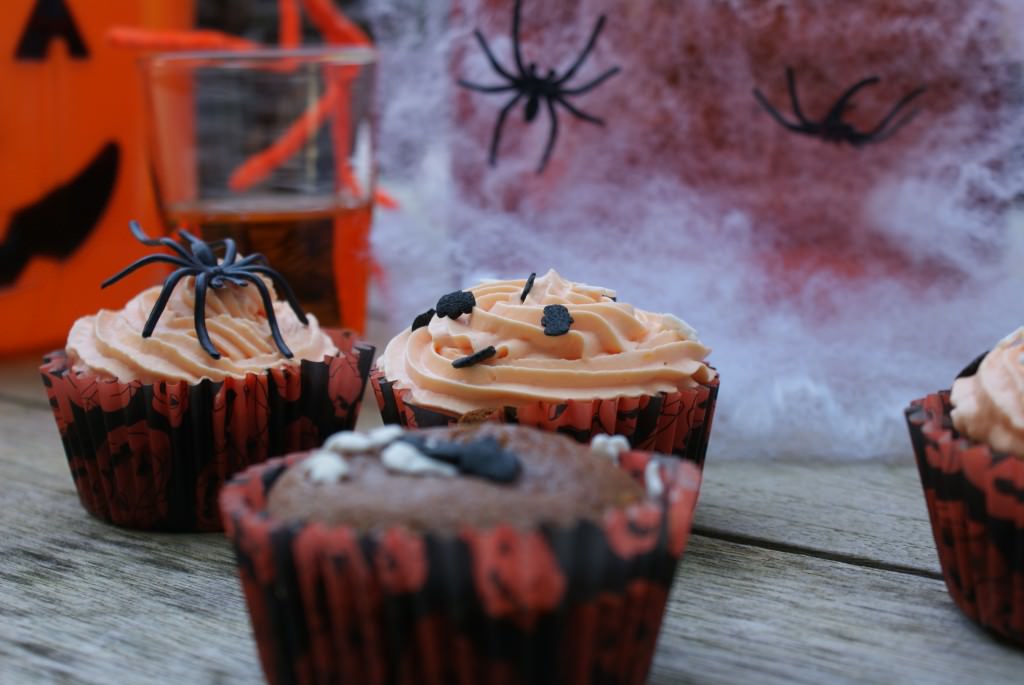 Last year we celebrated Halloween on the High Seas with the Disney Characters and this year we will be celebrating on a plane in the direction of another sunny Carribean Island (soon you'll know more) so my kids asked me for some Halloween prepping before the holiday. It just wasn't possible not to celebrate a little.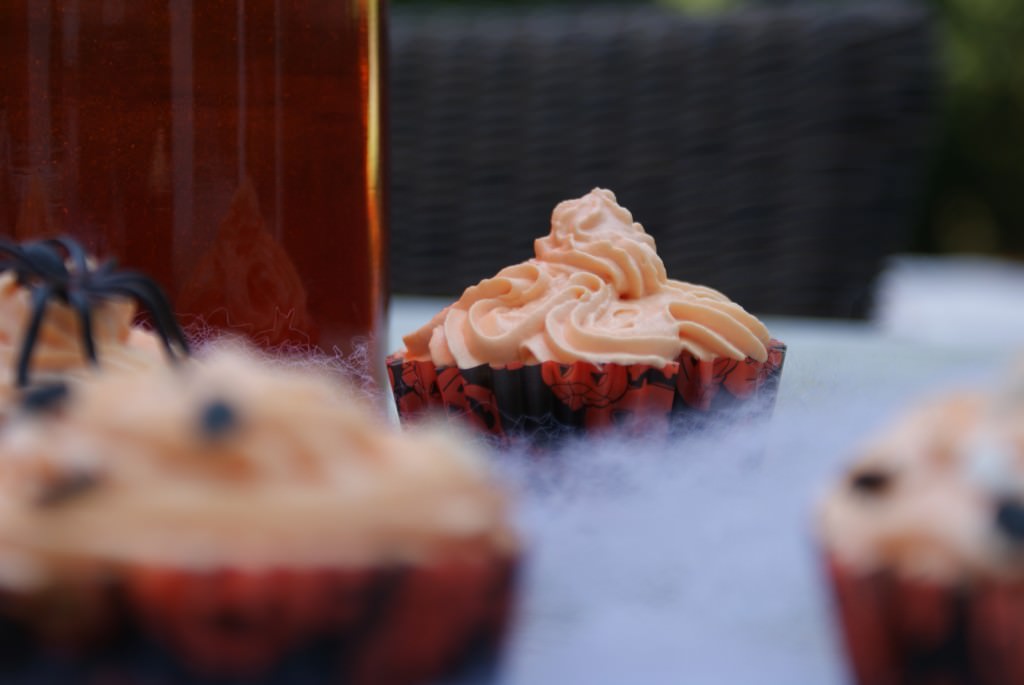 For me a nice celebration comes with sweets or cocktails. Since Halloween is a kids celebration in this house I opted for Pumpkin Cupcakes. The great thing about these cupcakes is that the kids don't even know there is pumpkin in them.  A win win!
Becel sent me a test package last week with their newest products and  I thought it was a good opportunity to try their margarine in my baking trials.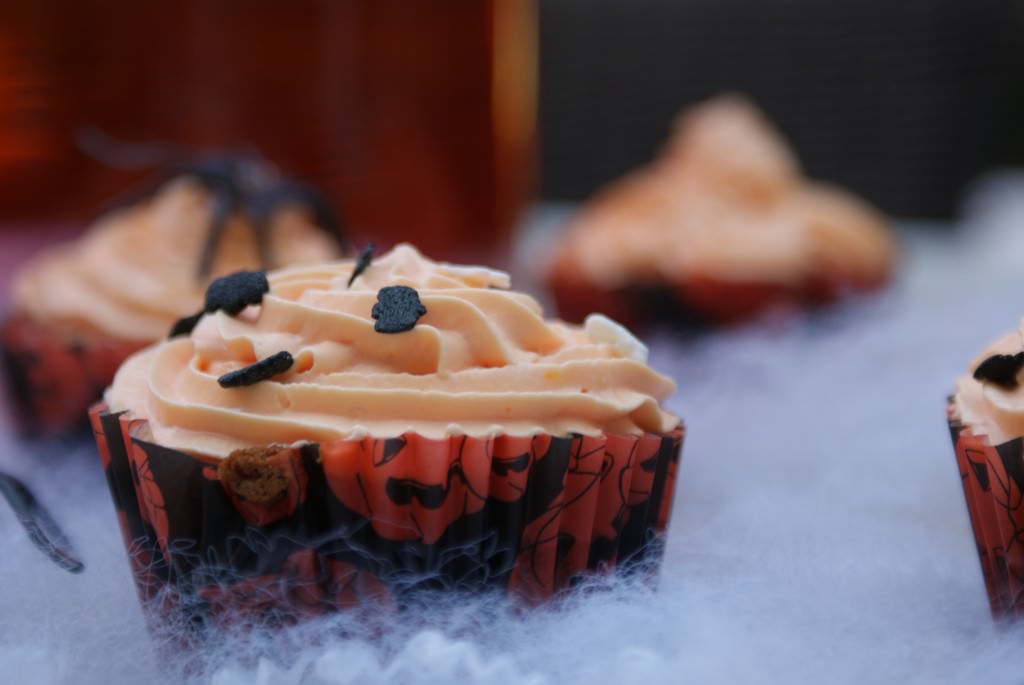 I bake a lot with coconut oil, but sometimes the taste can be too much and then an alternative can come in handy.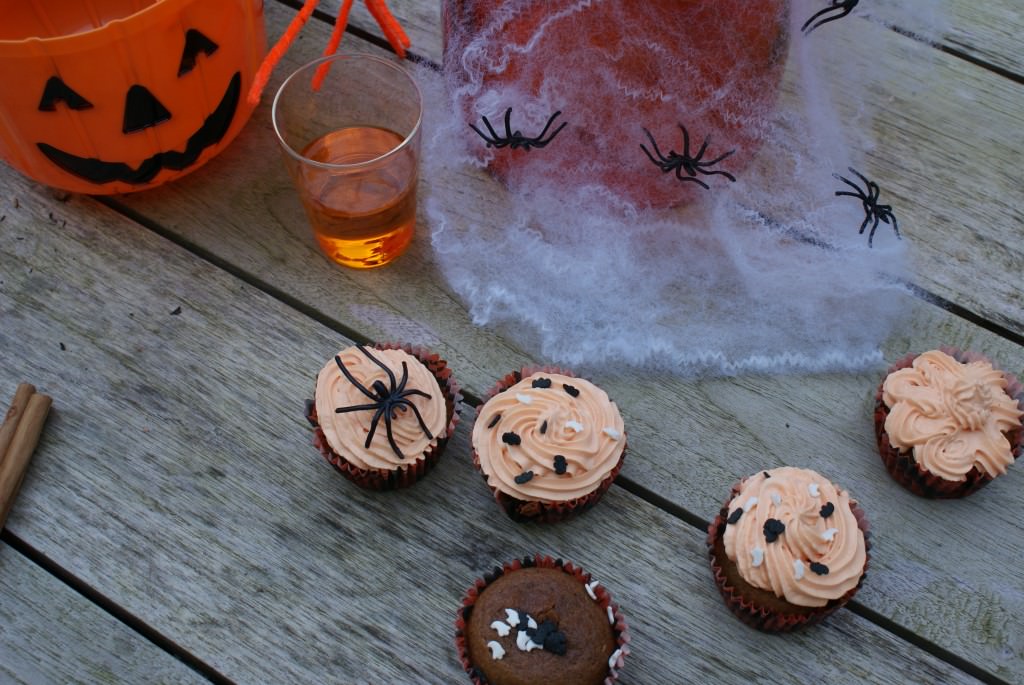 What are your favorite Halloween recipes? Or decorations?
My kids really loved decorating the cupcakes with the little ghosts and bats and the spiders. I used to buy everything at the Taartenfee but since she closed shop last summer I have found all of these decorating accessories in the baking shop of Villa Vanilla.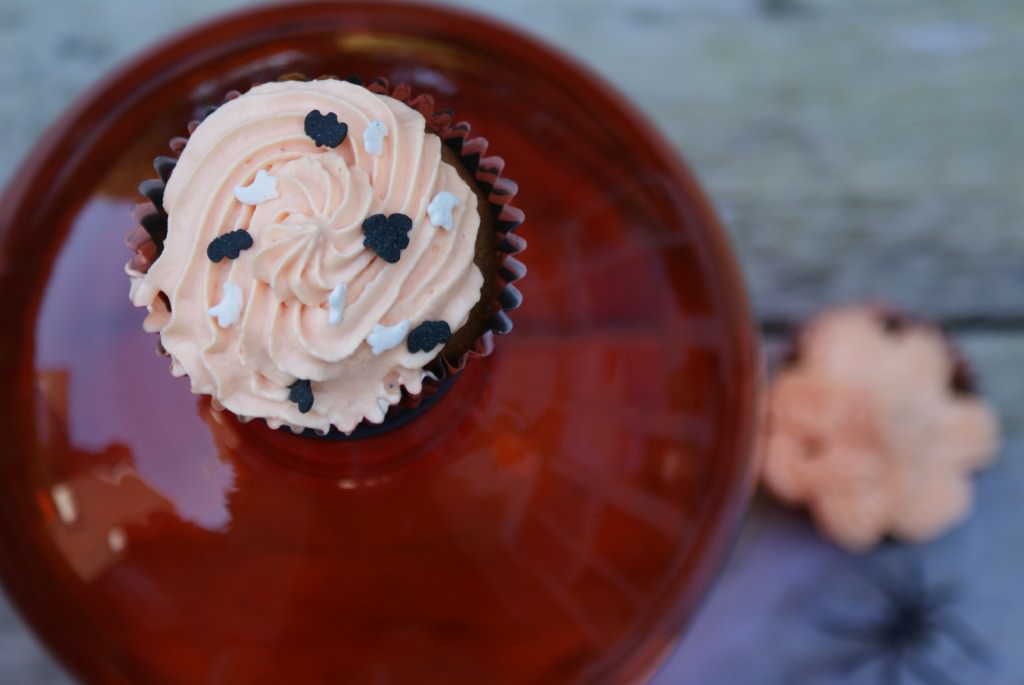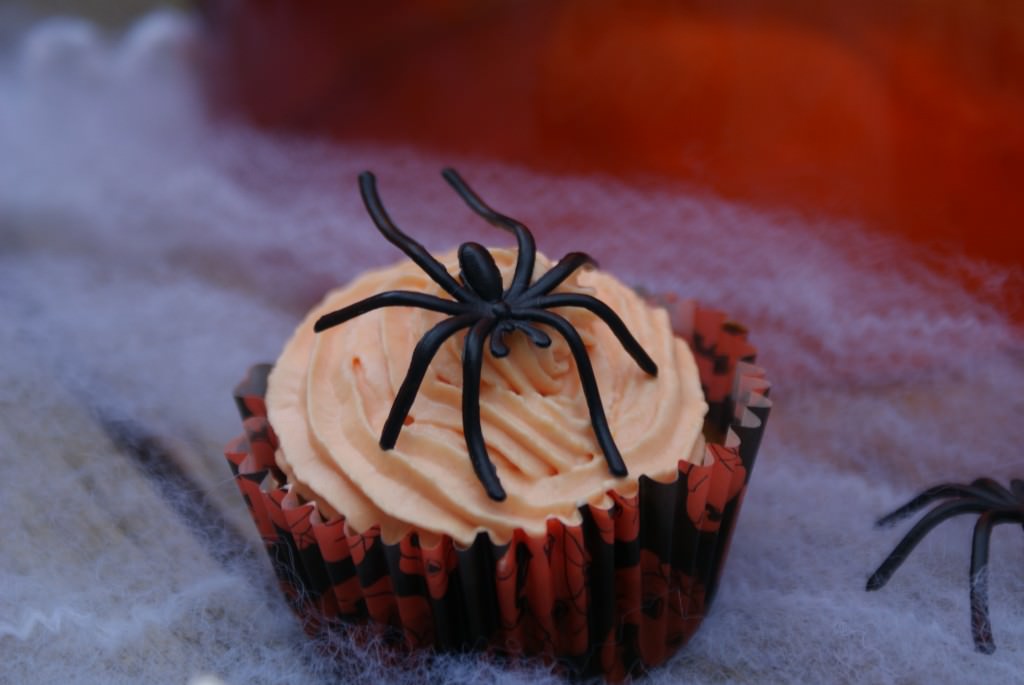 Halloween Pumpkin Cupcakes
I used Becel margarine -a mixture of rapeseed oil, flaxseed oil and sunflower oil for this recipe but beware that this is not lactose free. We are on a lactose poor diet, so for me and the kids this is ok. You can replace the Becel by coconut oil for a dairy free version.
Ingredienten
220 gr (gluten free) flour
1 tsp (gf) baking soda
1 tsp (gf) baking powder
a pinch of salt
1 tsp ground cinnamon
¼ tsp ground ginger
¼ tsp ground nutmeg
150 gr muscovado or dark brown sugar
250 gr pumpkin puree (roast 250 gr of pumpkin meat cut into large chunks in the over at 200°C for about 20 minutes until tender and then blend with 2 tbsp water for a smooth and thick puree)
110 gr Becel margarine
90 ml plant based milk (I used almond milk)
For the frosting:
200 ml (dairy free) whipping cream (I used Minus L)
and red and orange food coloring for the Halloween orange
3 tbsp sugar
Werkwijze
Preheat the oven to 180°C.
Use a muffin pan and line it with cupcake liners. You will have to bake in two batches because you get approx. 16 cupcakes out of this recipe.
Mix the flour, baking soda, baking powder, spices and salt until combined.
Take another bowl and whisk the eggs with the sugar until fluffy (you'd better use a mixer) and doubled in size. Add the milk and Becel and then gently fold in the puree.
Combine the wet and the dry mixture but make sure not to overmix this especially when baking gluten free.
Spoon the batter into the cups, they need to be filled for ⅔.
Keep the rest of the batter for your second baking batch.
Bake these goodies for approx. 20 minutes but start checking after 15 minutes.
The cupcakes are ready when a toothpick comes out clean (grandma's trick remember?).
Let them cool down before starting to decorate.
For decoration I used whipped cream that I colored orange and some sugar ghosts and bats. You also use a typical frosting of half Becel and half whipped cream or even use mascarpone but then it is much heavier.
The good news is that when you don't frost the cupcakes immediately you can freeze them for up to 1 month so u can use them later. Or do as I did, prepare the cupcakes, freeze them and use them for a great decoration party with the kids on an autumn Wednesday afternoon like today.
Enjoy!
P.S. I came up with this recipe especially for Becel since this is a sponsored post.