A while ago I promised to tell you a little bit more about the Disney Cruise we went on last November.
We have spend a couple of days in Disney World and after two days we were ready to board the Disney Dream Cruise ship. Boarding started at 2 pm so we needed something to kill the time for the kids and squeezed in 2 hours of shopping at the Mall at Millenia: buying new Uggs and Star Wars Vans for the kids, a new bikini at Victoria Secret for mom and pyamas at Pottery Barn Kids. Speed shopping!
When the taxi arrived to take us to the Disney Cruise Terminal at Port Canaveral the kids were overly excited….more of Disney, when they first saw the cruise ship they went crazy, can you imagine a kids dream come true.
Check- in went very efficiently after an online check-in where we could choose our time slot. Luggage was delivered to the cabin after an hour.
The children were eager to discover the boat. They had been raving about the Aquaduck, the Nemo Pool and the kids club thanks to the numerous Youtube movies the had been watching prior to our departure. So off we went.
I had booked shore excursions online, so no stress on board. At 4 pm there was a live saving drill and afterwards a sail away party!
Afterwards we went on to discover the cruise ship: cinema, theater where every night Broadway worthy shows are played with your favorite Disney Characters, shops (hey it is Disney so that means merchandise), art gallery, bars and restaurants.
Our cabin was a 'family verandah suite', sleeps 5 in a comfortable way. During the day you have space in your cabin because the beds are tucked away in a sofa, closet and…the ceiling. During dinner the cabin host prepares the room for the night and out came all the beds. Then it became a little cramped, but hey, we were cruising the Caribbean!
Our first morning we were still a little jet-lagged (or excited?) and at 6 am we were all in our pyamas on deck watching the sunrise with the gentle Caribbean breeze, what a moment!
At 8 am the boat docked at Nassau in the Bahamas and after a great breakfast we went off for our first shore excursion: swimming with the dolphins at the Atlantis Resort. We entered the resort via the casino, ha ha, Vegas in the Caribbean, all senior US citizens gambling there well earned pension at black jack tables and slot machines at 11 am, quite a sight. The hotel is nice to visit, it is huge with enormous pools, slides, lagoons with sharks, aquarium with tropical fish, a marina….you name it the have it. Too American and big to my taste, but no I have a bit an idea of what Vegas must be like.
Our dolphin encounter was great, the kids really loved it. They could feed and cuddle the dolphin and I kissed her (childhood dream come true – when I was little I wanted to be a marine biologist so I could swim with the dolphins) Afterwards we went back to the boat and I arranged nap time for the kids while the others went to discover Nassau city. At night a great show and dinner at one of the restaurants.
The dining concept is really interesting. You have an early (6pm) or a late (8.30pm) seating and for every night a restaurant is assigned to your table. The nice thing is that your waiting staff team follows you every night to the restaurant so for instance the first night Chris saw we drank sparkling water, my husband needed  gluten free food, my mother in law liked slices of lime in her water and …the next day everything was ready at our table. They also made Mickey Mouse figurines with ketchup and performed magic tricks at our table to entertain the kids.
There are two adult only restaurants but we never dined there, so no idea what they are like. We preferred the Animator's Palate restaurant with live interaction on big screens with your favorite Nemo characters.
The quality of the food was good, not great but ok knowing what large quantities they need to cater for. At the breakfast buffet there were a bunch of healthy alternatives and Mr Husband received a special delivery of pancakes, muffins and doughnuts….all gluten free. This made him really happy!
The second day we docked at Castaway Key, Disney's private island in the Bahamas. Playground in the sea, great water slides in the sea, cabanas, snorkling, swimming with sting rays, Minnie Mouse dancing party and crabraces…we enjoyed all of it.
At 5pm that day, a Halloween at the High Seas party was organised by the Dream crew and boy o boy do Americans go crazy on Halloween! Whole families dressed up as Ghostbusters or Hot Dogs, father and son in matching Peter Pan costumes, Cruella De Vil and Maleficent, zombies and monsters we saw them all! The kids loved the trick or treat concept at several points in the Disney Dream lobby.
The third day was a day at sea where we lingered at the pool, visited the shops for some last minute Disney Shopping, and played mini golf on the Sports Deck. The kids loved the water slides and afterwards relaxing on their deck chair while watching Tarzan in open air. Whoop whoop!
On our last morning everything went smoothly except for some motion sickness during breakfast.
We went off the boat, through customs and off to Cape Canaveral on our way to the airport.
A dream come true for the boys in our group! I must say I was quite impressed with the Atlantis too.
This was a great experience for the kids and the parents! We started talking about our next cruise on our last night, everybody was really enthusiastic. The good news is the Disney cruise line now offers cruises in Europe and Alaska too. I secretly wish to cruise to Alaska in a couple of years…visiting the Indians and gold digging with Minnie Mouse.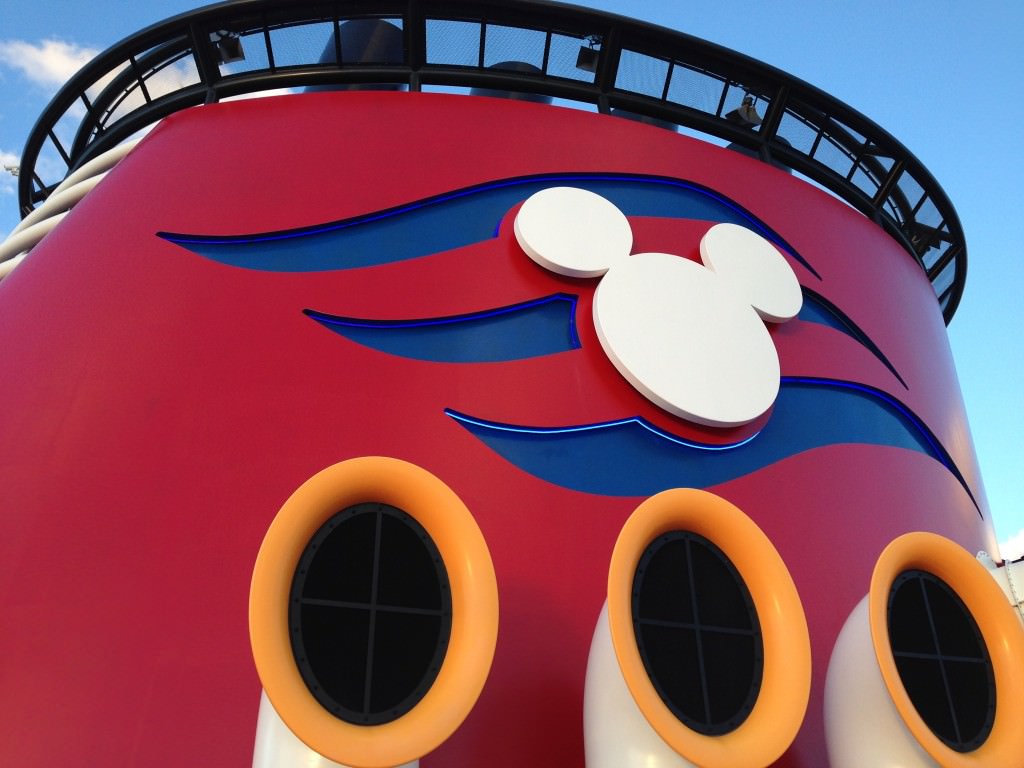 A must do if you:
– like Disney – there are meat and great with Disney characters everyday, shows, music playing and Disney movies at the pool….no escaping of the Disney magic
-have kids age 4-12
-don't mind hearing the tune of 'When you wish up on a star' every time you arrive at a new destination
-want to visit several destinations in one trip
-don't mind the American way (loud, big, smiling faces all the time)
Don't go there if you:
– have a tendency for claustrophobia
-don't like Americans
-can't stand kids
-are looking to get to know your destination, mingle with the locals…
-want a gourmet dining experience
For more info on the Disney Cruise line, click here.