As you have read in last week's post we have been indulging in an all you can eat weekend at the Belgian Coast in the beginning  of February. We discovered some really nice places and I have already told you a little bit on Carcasse, the new place to be at the coast but you also must visit the following places.
We started our weekend in Nieuwpoort with a dinner at Grand Cabaret. I was looking forward to dining at the restaurant of  Flanders Kitchen Rebel Vincent Florizoone. When you first enter his restaurant it is difficult to say if you have entered a local 'cabardouche', an old brasserie or a beer bar. The walls are decorated with old black and white cabaret pictures and wait until you see the ceiling. After ten the maître d', dressed for the occasion with a devil's tale, starts to unveil the secrets of Grand Cabaret's pictures, nice touch.
The food was excellent!
We opted for a tasting menu with matching wines, some of our friends opted for matching beers. I must say Vincents take on Vitello Tonato was absolutely great. Rich smokey flavours…I have never eaten something like that before.
The rest of the menu was equally yummie langoustine, fawn…all prepared with the greatest detail. After dinner we ended up at the bar and stayed there chatting and laughing way into the night with the chef himself.
He told us all about his big project coming up this summer: the Flemish Food Bash. Save the date for this event that will take place on July 5th at Oostduinkerke Beach. 40 chefs and 20 bartenders from all over the world, butchers, bakers, dj's and tattoo artist will all cater and entertain the visitors. A must do this summer.
After our night at Grand Cabaret we enjoyed a late breakfast with a view and then went off to have lunch at Willem Hiele in Koksijde.
My friend who organized the weekend just told me it would be a casual dining experience at a small restaurant with a long communal table so I was thinking like…a small Pain Quotidien. Boy was I wrong!!!
When we drove up the lane of the ancient renovated fisherman's house, that is owned by Willem's family for 7 generations, we weren't really sure what to expect. We entered a nice little house with a cosy living room where Willem offered us a glass of champagne to start lunch right of. Nice.
There was a table, but it was all for us: Willem Hiele offers private dining at his place.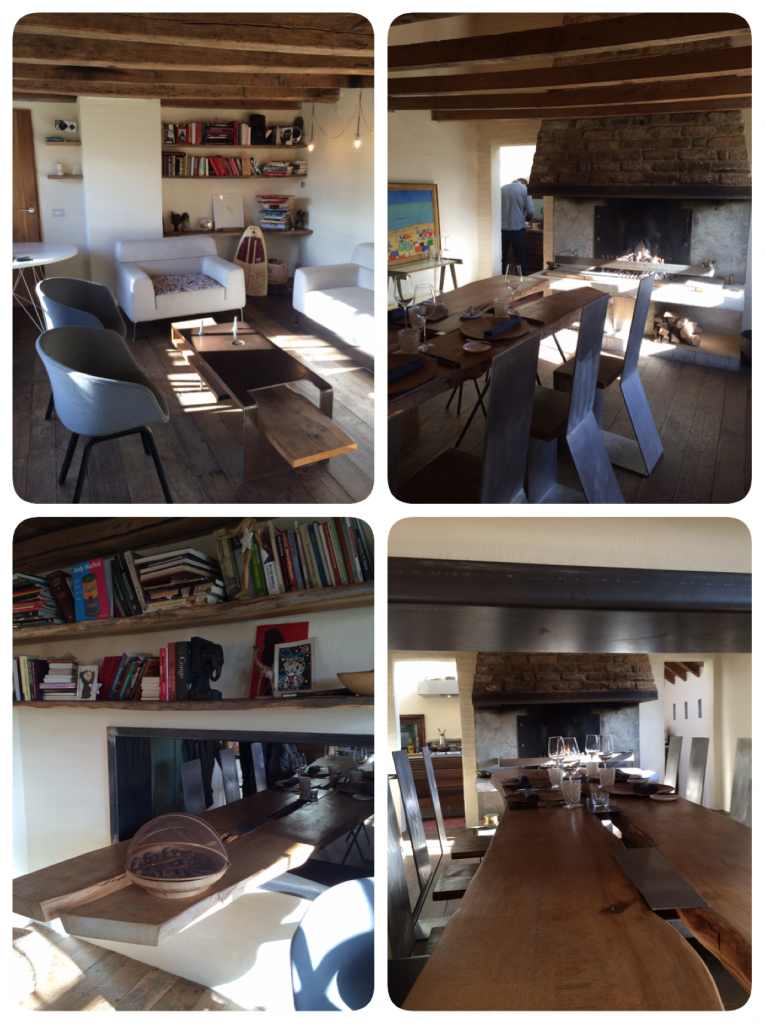 It was really nice talking to him and learning about his vegetable garden and the poultry he breeds. And also some stories about his travels around the world and previous work experience.
While Willem was busy in the kitchen preparing a great ravioli and some great spring chicken with fresh garlic and rosemary we enjoyed a nice glass of wine by the open fire.
At this pace the afternoon was over before we knew it. Just enough time to relax a little bit before going to Carcasse for yet another culinary feast.
And then it was off to detox for a couple of days before leaving for Tenerife. More on our trip coming soon.
Enjoy your Sunday!
Grand Cabaret – Kaai 12 – 8620 Nieuwpoort – 0493/72 96 51
Willem Hiele – Strandlaan 203 – 8670 Koksijde – 0475/ 22 52 14