This week was my first week of the "Dagen zonder Vlees" challenge. A lent challenge where you eat less meat and more fish and veggies. This first week was great start.
Sunday I prepared a cauliflower veggie stew that we ate once for lunch and once for dinner this week.
Monday we had a great spinach quiche with almond and chestnut crust. Recipe coming soon online.
Tuesday  I had some great sole at Mojo restaurant in Antwerp a nice and affordable seafood restaurant in the center of Antwerp. Great fish and seafood, super fresh and prepared in a classic way, served with either puree or fries and a salad.
Wednesday I attended a workshop on Mussels organized at Love Fish restaurant in Antwerp. Nice chatting with fellow bloggers and learning some delicious and easy recipes to prepare mussels from chef Jo. I will share some of his recipes soon.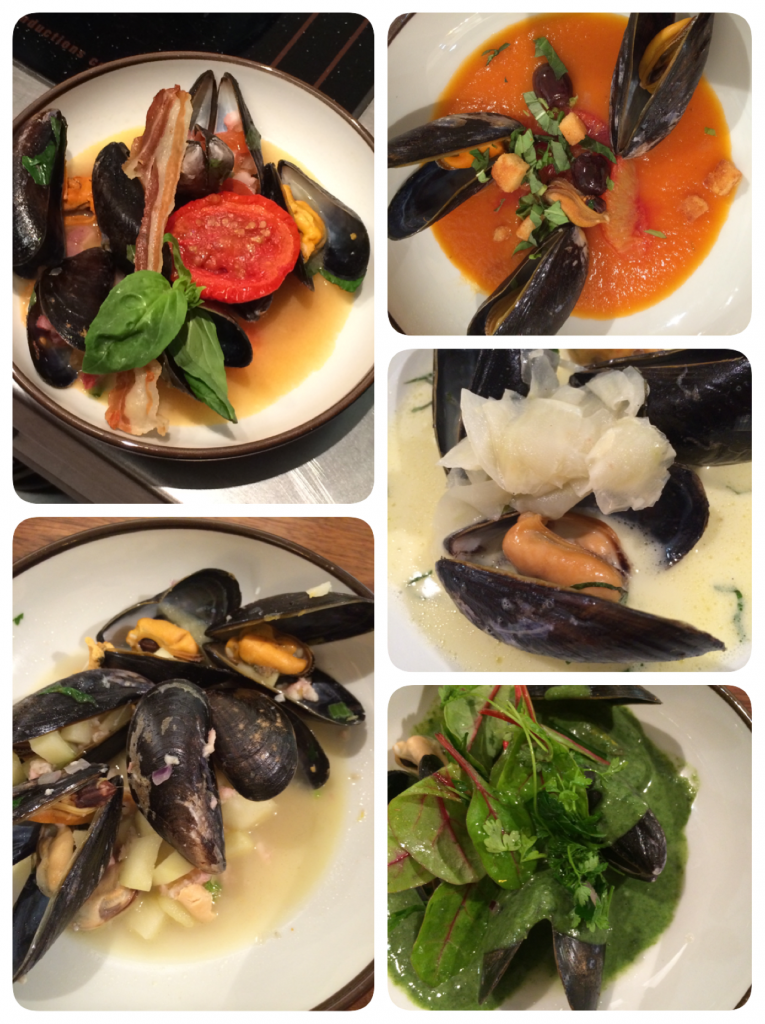 Thursday there was the Le Creuset presentation where I tasted bugs…let's say you will find the beautiful Le Creuset Kitchen Ware in my kitchen, but I'd rather opt for tofu instead of the worms and bugs. I am just not there yet. I did fell in love with the pink Le Creuset line, beautiful thought not for my kitchen since I am all into KitchenAid red.
Friday was tomato soup night since I was crawled up in my sofa with terrible cramps – so far for date night.
Yesterday we had dinner at Hayashi Teppan Yaki restaurant in Antwerp for my grandfather's 80th birthday. We have been going to this restaurant for over 20 years, a real Stevens Family classic. We opted for a menu with salmon, chicken, veggies and usu yaki (carpaccio beef rolls with garlic and spring onions). Not the best place for a romantic get together but after 20 years still a place where we can hang out as a family and surrender for a night to nostalgia.
For lunch today I have prepared a semi veggie burger. Half veal, half leeks.
Must say it was a winner, glazed with Yakitori Marinade (and one with tamari soy sauce – must tend to the glutard in our family) and served with veggie fries. We all loved it. Just don't ever tell your kids this is a burger filled with veggies, they will never taste it but have their share of veggies.
So far for this week. Let's keep up the challenge.
How was your week?