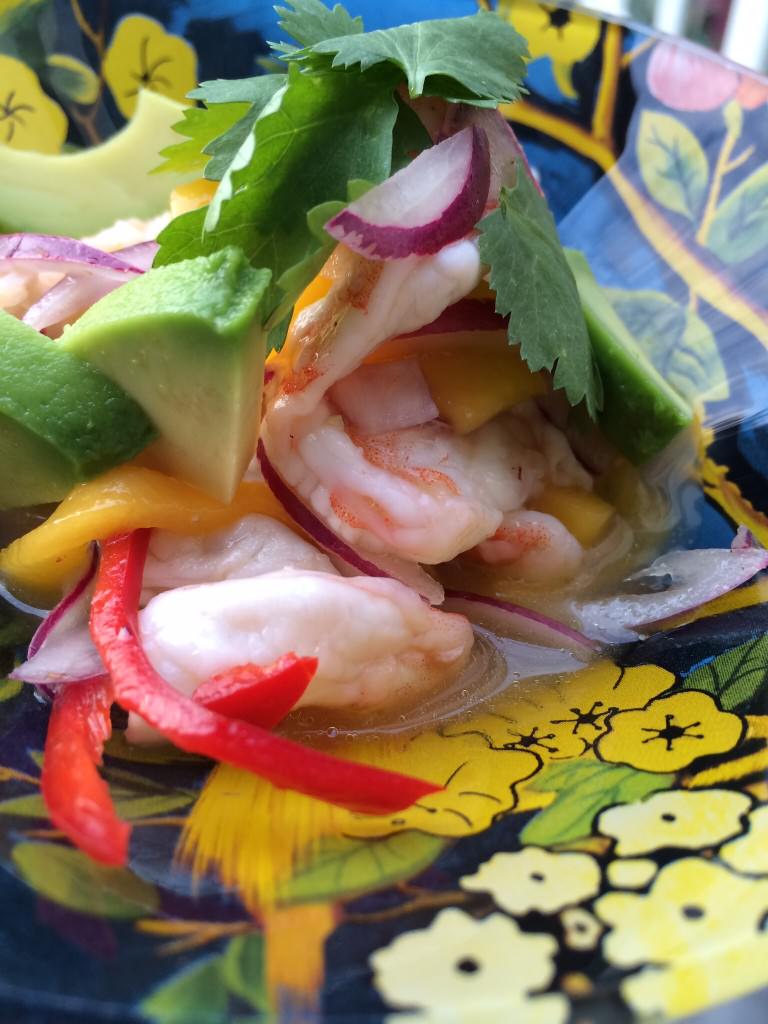 As you might know already I am a big fan of ceviche. While I was in Mexico a couple of years ago I have been eating ceviche every day for over a week and I still wanted more. I admit this is really a summer craving, during the cold winter season I tend to crave for something warmer, but once I get in the ceviche mood I can make this over and over again. I like the fact that you can make endless variation following the same principle. Your fish gets 'cooked' in the lemony acids. For this recipe I have used avocado, shrimps, red pepper, red onion and mango. Sublime! The second time that I made this combo I even added roasted sweet potato for more bite. Try it!
Zoals jullie misschien wel al weten ben ik een grote fan van ceviche. Ik heb in Mexico eens een week lang elke dag ceviche gegeten en nog was ik het niet beu. Ik moet wel toegeven dat dit eerder een zomerse "goesting" is, in de winter heb ik toch snel zin in iets hartigers, maar als ik weer in ceviche mood kom, kan ik dit  gemakkelijk een aantal weken na elkaar klaarmaken. Een keer per week wel te verstaan. Vorige week was het weer zo ver… een variatie op mijn klassiek ceviche recept. Ik heb garnalen gebruikt, maar dan in combinatie met rode peper, avocado, rode ui en mango. Subliem! De tweede keer dat ik deze versie gemaakt heb, heb ik ook geroosterde zoete aardappel toegevoegd om de hongerige mannenmaag wat meer te vullen.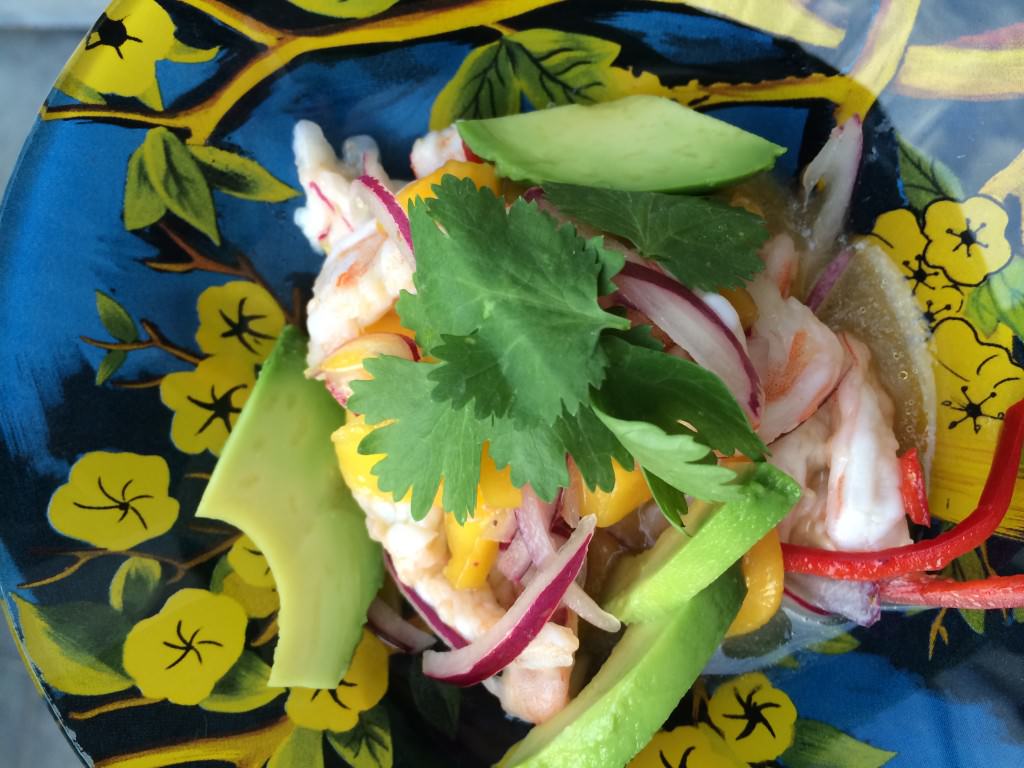 Might be good with some white fish too. Just try it.
Ik denk dat dit ook lekker is met een stevige witte vis, het is in ieder geval het proberen waard.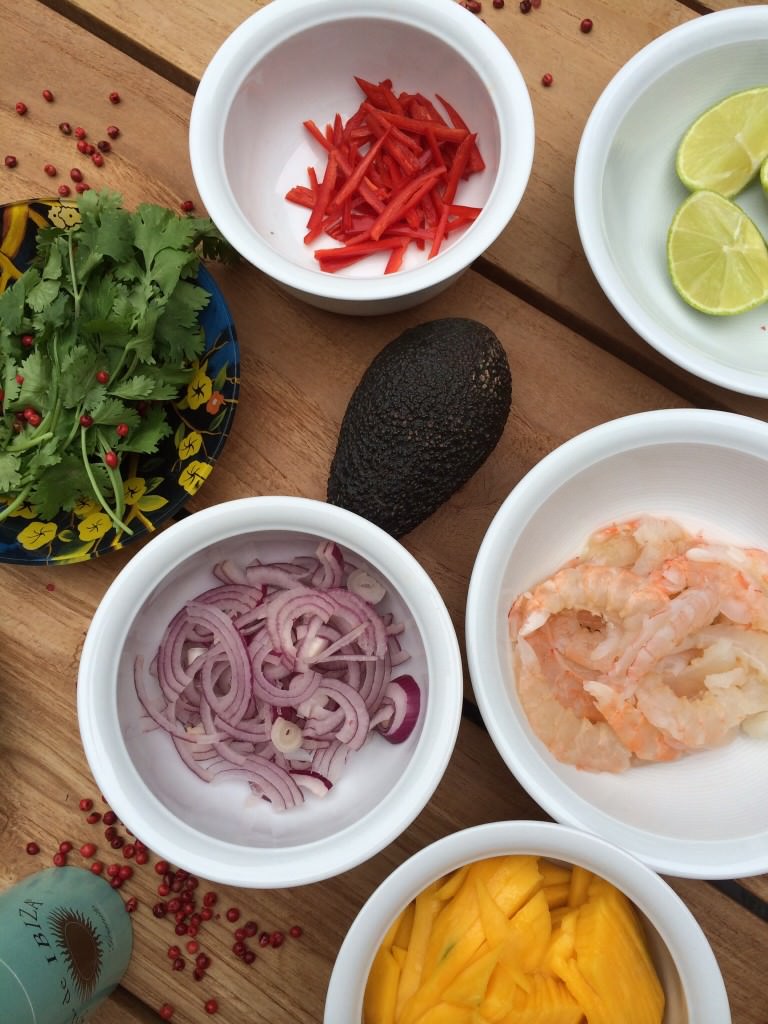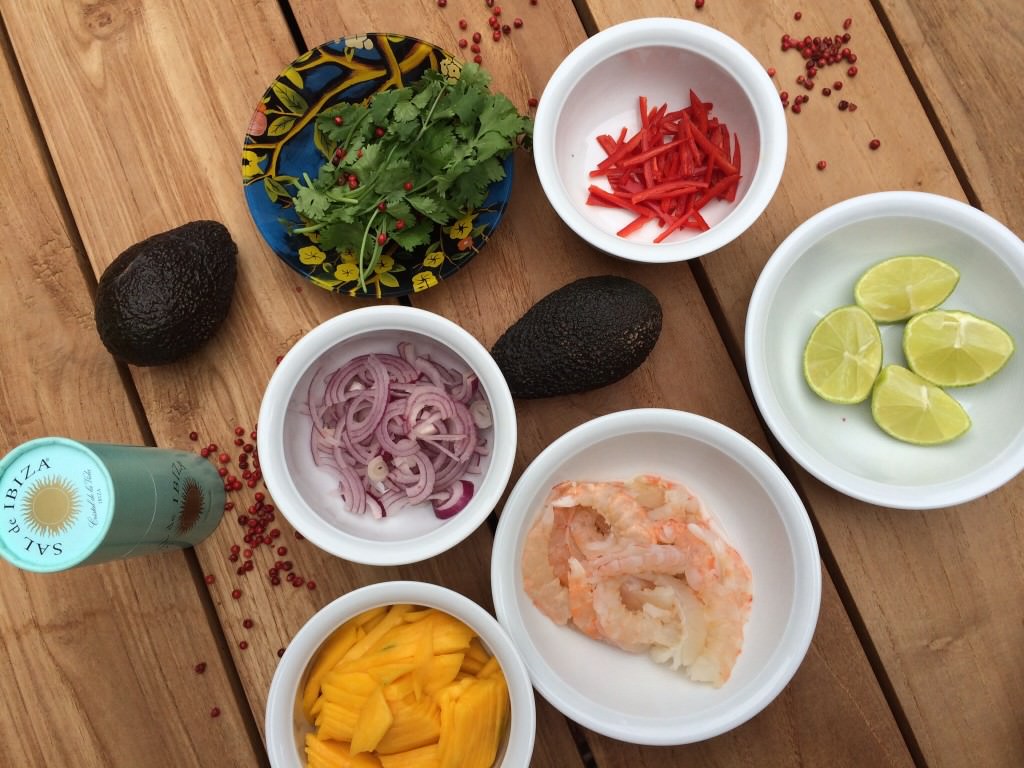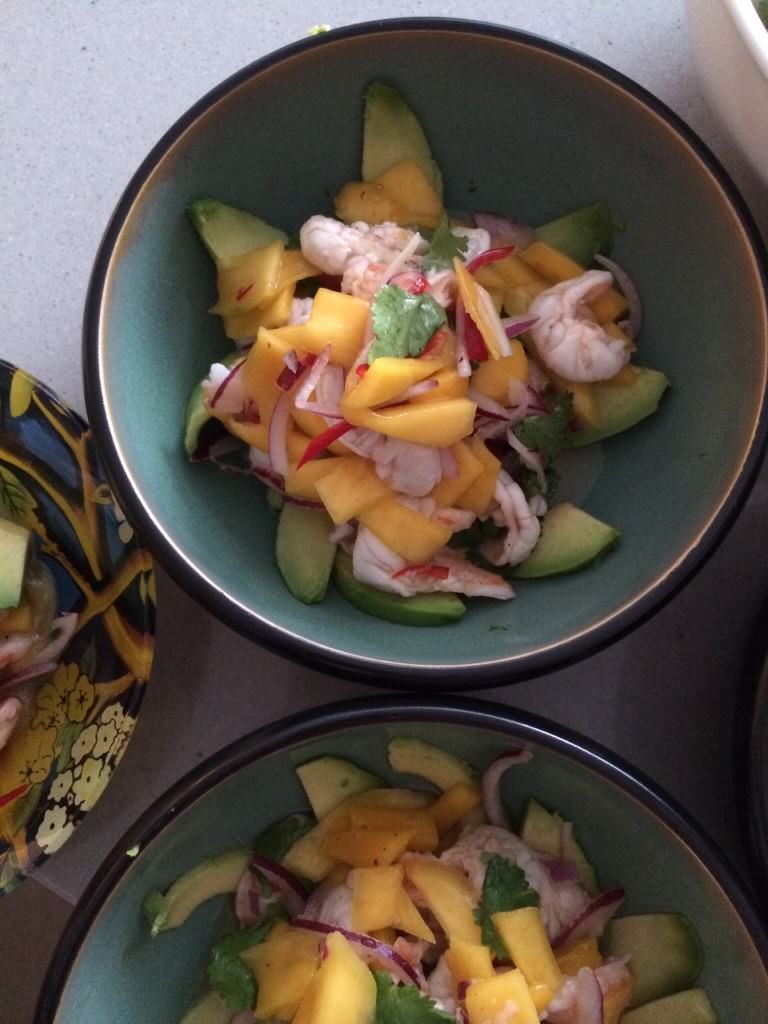 Ceviche with shrimps and mango
For the Dutch version scroll down
Ingredienten
300 gr shrimps/ 300 gr garnalen
- 1 avocado in small pieces/ 1 avocado in kleine stukjes
- 1 small red pepper in fine pieces/ 1 kleine rode peper in fijne schijfjes gesneden
- 1 handfull of fresh cilantro/ 1 handvol verse koriander
- Juice of 4 limes / Sap van 4 limoenen
- 3 tbsp olive oil or more to your liking / 3 el olijfolie of meer naar smaak
- Pepper and salt / Peper en zout
- 1 mango- sliced / 1 mango in fijne schijfjes
- 1 red onion - sliced / 1 rode ui in fijne schijfjes
- 1 roasted sweet potato in small cubes ( to roast the potato drizzle the cubes with olive oil and roast them for 15 minutes in the oven at 200°C untill soft) / 1 geroosterde zoete aardappel in kleine blokjes (besprenkel de aardappelblokjes met wat olie en zet ze 15 minuten in de oven op 200°C tot de blokjes zacht zijn) - optioneel
Werkwijze
Peel the shrimps and cut in halves.
Pour boiling water on the shrimps and let them be for 5 minutes.
Put the drenched shrimps in a bowl with all the other ingredients except the mango, avocado and sweet potato.
Season with salt and pepper and let this marinate for at least 15 minutes.
Add the avocado, mango and sweet potato right before serving.
Pel en kuis de garnalen en snijd ze doormidden.
Overgiet ze met kokend water en laat dit 5 minuten staan.
Doe de garnalen in een kom en voeg rode ui, rode peper, limoensap, olijfolie en koriander toe. Kruid met peper en zout en laat dit minstens 15 minuten marineren.
Voeg voor het opdienen de mango, zoete aardappel en avocado toe.
Smakelijk!