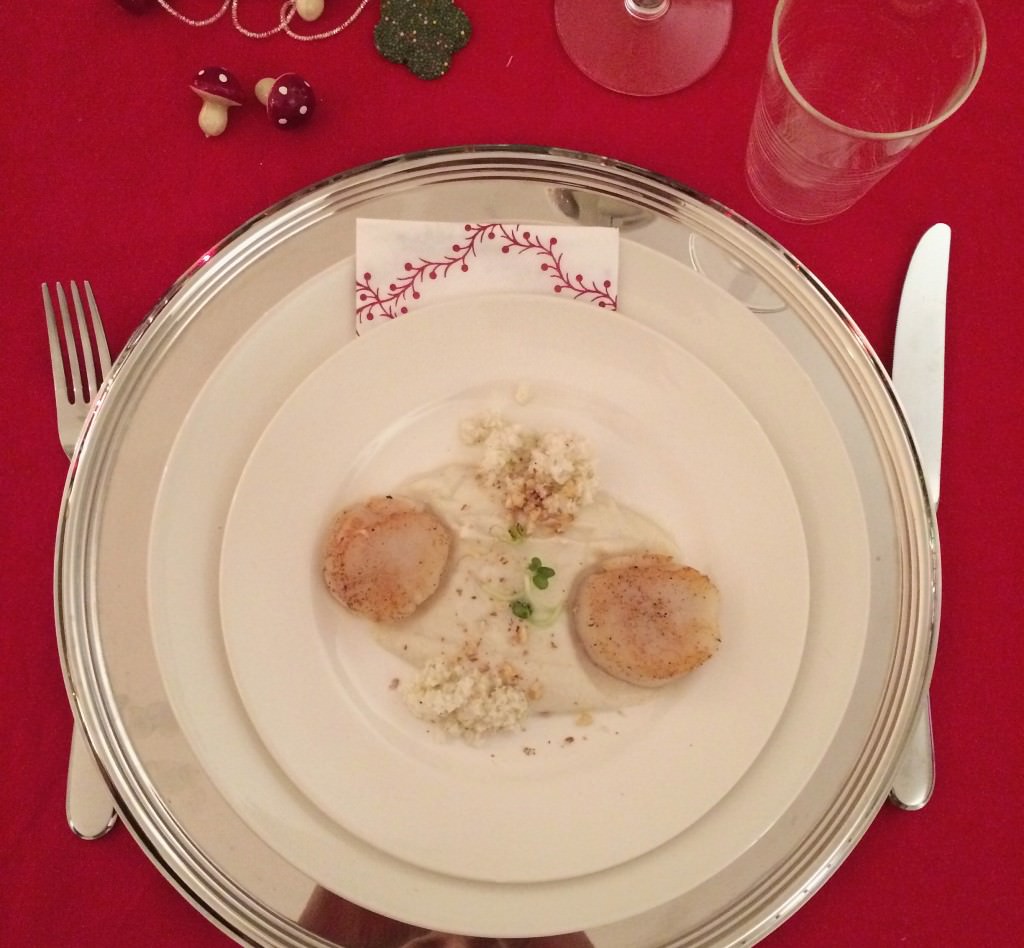 These scallops are the perfect starter for a Christmas Dinner. You can easily prepare the cauliflower a couple of hours before serving so you just need to sear the scallops. No fuzz, very easy and oh so yummie.
I had some leftover cauliflower puree and we had the same dish two days later because I just couldn't let this puree go to waste. I still tasted really good.

Seared Scallops with duo of cauliflower
Adapted from the recipe by Seppe Nobels from Graanmarkt 13
Ingredienten
12 scallops
1 cauliflower
800 ml (lactose free) milk
300 ml rice cream (or regular cream if you are not lactose intolerant) I used Rice Dream
30 gr lactose free butter (I use Valio)
1 star anise
3 bay leaves
juice of 1 lime
olive oil
watercress or other sprouts for decoration
10 hazelnuts, crunched
Werkwijze
Start with the couscous of cauliflower. Just pulse ¼ of the cauliflower in your food processor to obtain a couscous like texture. Season with lime juice, olive oil, pepper and salt and set aside.
Cook the remaining cauliflower in the milk, cream and butter with the star anise and bay leaves.
When your cauliflower is tender, drain it in the sink but keep a bit of the cooking fluids.
Take out all bay leaves and star anise and blend until you have a smooth puree. If necessary you can add some of the milk/cream cooking mixture. Season with pepper and salt and keep warm.
Pat the scallops dry with some kitchen paper and season with pepper and salt. Heat some olive oil in a large pan and sear the scallops for 2 minutes every side so they stay tender almost raw on the inside. This is how I love it best but you can easily pan sear it a bit longer.
Put some puree on a heated plate and scoop some of the couscous on either side. Finish with the scallops, watercress and hazelnuts.
Enjoy!
Sincere apologies for the picture but it wasn't easy, preparing the dish, setting the plates and then trying to take a nice picture before the scallops cool down :-).