As you all know I really love oats and oatmeal. I use it in granola, cookies, pancakes, shakes, waffles and lately even with fish.
I was very happy when Quaker asked me to be one of their ambassador's. I will be giving you some news and updates on their newest products and our collab. This weekend I invite you all to come to the Antwerp Central Station. A cute Quaker Robot will prepare two of my favorite oatmeal recipes between 7 and 10 am. So before you start your Christmas Shopping this weekend go get yourself some overnights oats or hot oatmeal. Yum!
When I was asked by Quaker to share my to favorite oatmeal recipes – one hot and one cold –the the first thing that came to mind was granola and pancakes.
They told me the preparation had to be simple and Speedy Gonzales kind of quick because the robots were supposed to prepare them. It got me thinking….
What I always seem to forget is that it doesn't have to be this complicated. I've never shared with you on this blog how we eat our breakfasts most of the days: hot oatmeal or overnight oats.
Now is the perfect time.
Sometimes I get the reaction from people as to where do you find the time to bake and prepare all these breakfasts. In the morning – most of the time – you just want to grab a cup of tea or coffee, a smoothie and something else to fill the stomach. A quick breakfast is either a slushi with granola (the kids call it like that) or hot or cold oatmeal. Waffles and pancakes are for weekends.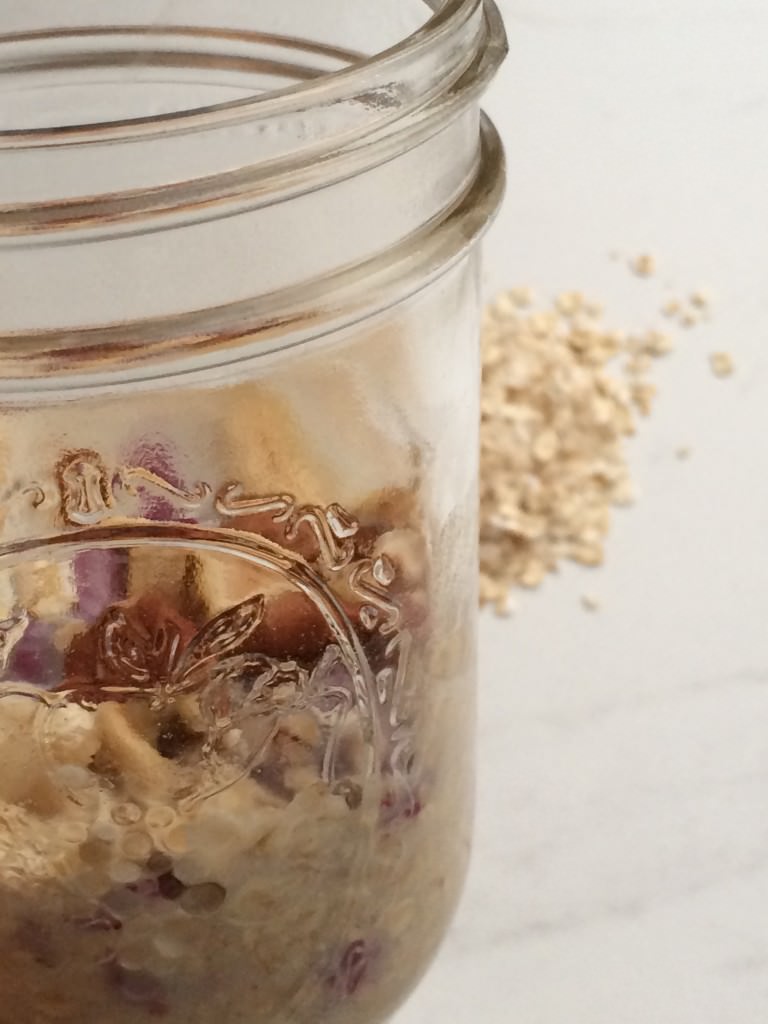 The great thing about oats and oatmeal is that you can have numerous variations. You can add cocoa, bananas, raisins, berries, nuts, seeds….you name it. It takes a bit of experimenting but I am sure you will find your perfect fit.
Here are our favorite preparations:
Hot Oatmeal à là Jérôme
I always prepare my hot oatmeal in the morning in a way I discovered a couple of years ago in New York when I was pregnant of my eldest. In the morning we would go to the closest coffeebar for a quick breakfast and other than cinnamon buns I really didn't like anything they offered until I saw this small paper jar/pot indicating it contained oatmeal. Oh boy, really? Hot oatmeal? This couldn't be…They just added hot water, put the lid back on and told me to wait for 5 minutes and presto! Topping to your linking were nuts or dried fruits and brown sugar.
Me and my boy eat our oatmeal this was almost every morning. We just put the oats in a bowl, add hot water and cover it for a couple of minutes. Jérôme loves his oatmeal with a dash of plant based milk, honey, nuts and lots of cinnamon. Just add these to the oatmeal  et voilà…his favorite breakfast. Comfort in a bowl!
1 portion of Quaker express oats
180 ml of boiling water
½ tsp ground cinnamon
2 tbsp mixed nuts – we prefer cashews, pecans and almonds
Honey to your liking to drizzle and sweeten
Optional: plant based milk – we use a mixture of almond and rice milk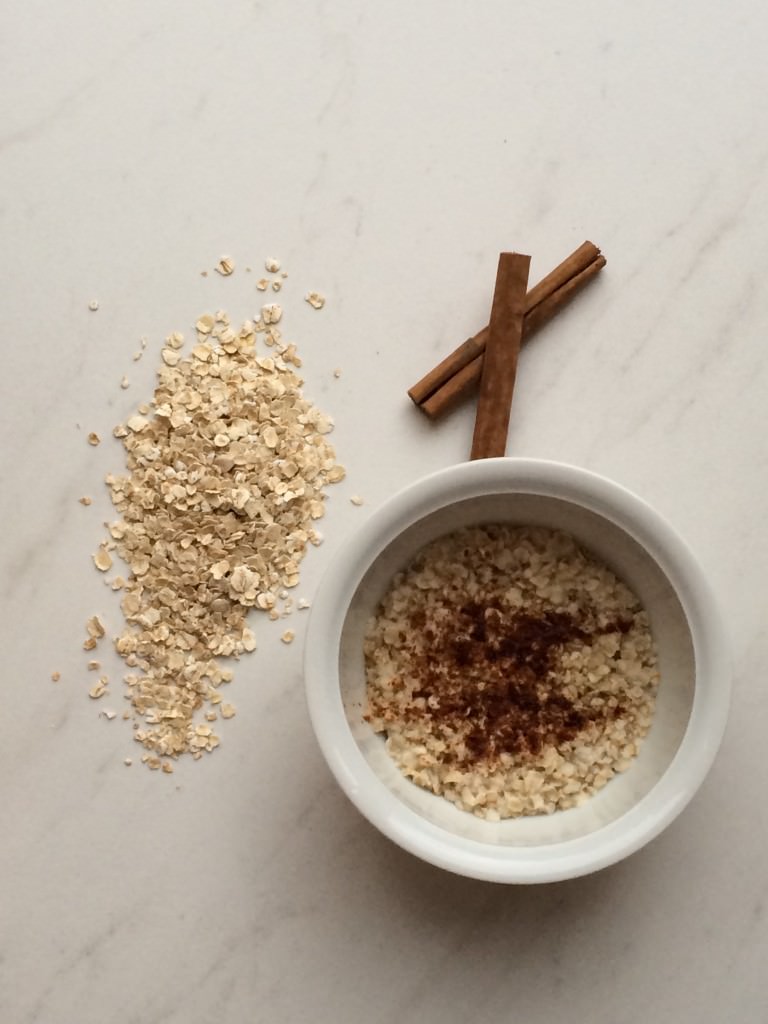 Pour the oats in a bowl and add the water. Cover and wait for 2 to 4 minutes. The water must be absorbed. If you like you can use cold water and warm the mixture in the microwave for 2 minutes.
Add the nuts, cinnamon and drizzle some honey over mixture. I you like you can add a dash of plant based milk or cream to make the mixture richer.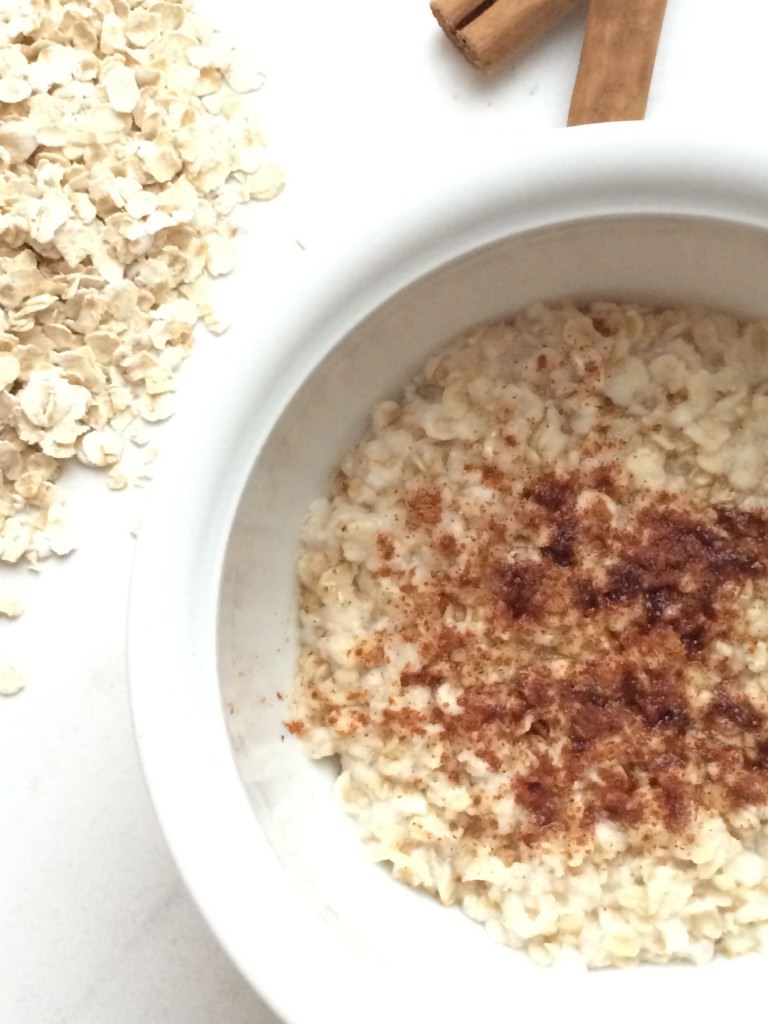 Enjoy!
Overnight Oats
I have started preparing  this type of oats while I was trying out a Bircher Muesli recipe. Where I don't like the shredded apple and the usage of yoghurt in the Bircher recipes I really love the simplicity of these overnight oats. Basically it is just oats soaked in milk or another liquid.
You  can eat them cold right out of the fridge or let them stand for a while to get the chill of. You could even make them and eat them right away but I prefer to let them soak overnight.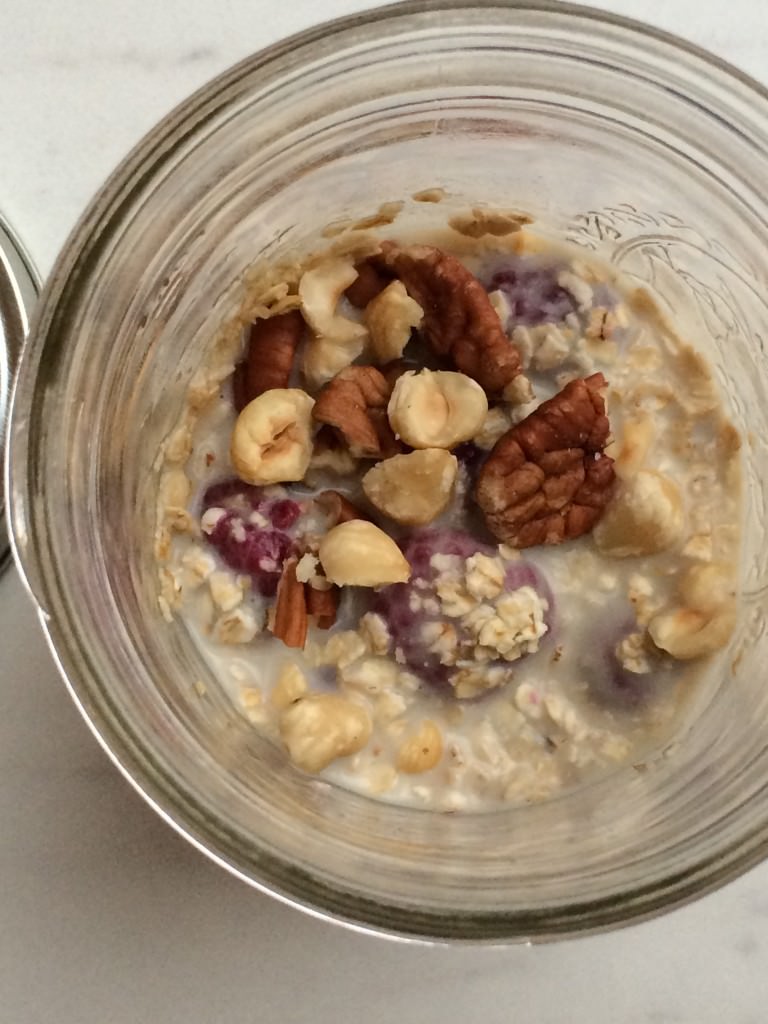 You can add whatever you like: nuts, fruits, seeds, chocolate….Just make sure that if you don't want the ingredient to get soft (like fruits) add them just before serving. Nuts tend to keep their firmness so no problem there. I like to add some chia seeds for extra texture. If you prepare these oats in a mason jar they are perfect to take with you and have breakfast on the go.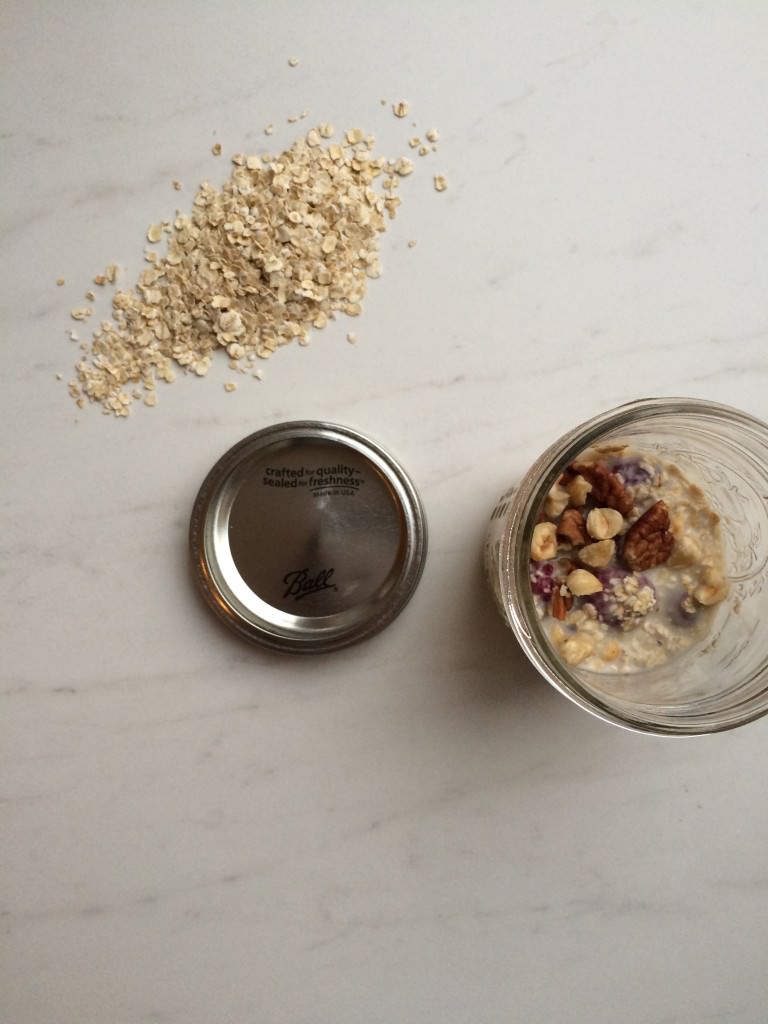 My favorite is a mixture of blueberries and coconut or raspberry almond. Since I always have frozen raspberries on hand for smoothies I will share this recipe with you:
1 portion of Quaker express oats
180 ml plant based milk – I love almond rice milk
10 frozen raspberries
1 tsp chia seeds
1 tsp line seeds
2 tsp maple syrup (or more if you want a sweeter result)
2 tbsp shredded roasted nuts
Start by pouring the oats in a bowl or mason jar. Add  seeds and then the liquids (milk and syrup) and then the frozen raspberries. Stir until everything is mixed together and covered with liquid.
Cover the mason jar and store in the fridge overnight. In the morning add the shredded nuts and maybe some more liquid if you like.
If you want to eat this right away you'll have to use fresh raspberries or another kind of fruit like blueberries. Or you can quickly defrost the raspberries in the microwave.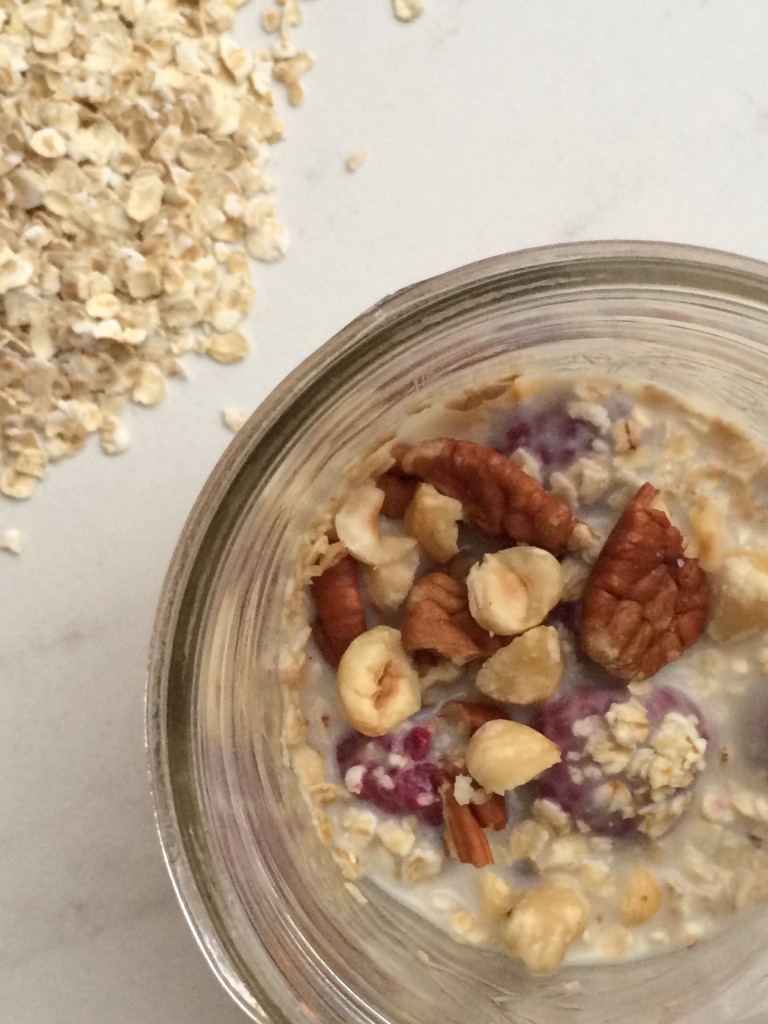 Enjoy!
Note: Quaker oats used in these recipes are not gluten free! You can find gluten free oats in specialized stores