These bars are sooooo gooood – really I can't shut up about it.
Why haven't I tried this before?
I always had a problem with the usage of dried fruits in granola bars. I just don't like dried fruits such as raisins (why o why do they always put raisins in granola), dates, prunes, and especially not in bars when there are still large chunks. Horrible.
But I have made myself some new school year resolutions …one of them being I'd start trying some of these dried 'goodies'. The goiji berries are ok now, mixed up in a smoothie or in a fruit salad and what a surprise…I kind of like raw bars with dates. Really!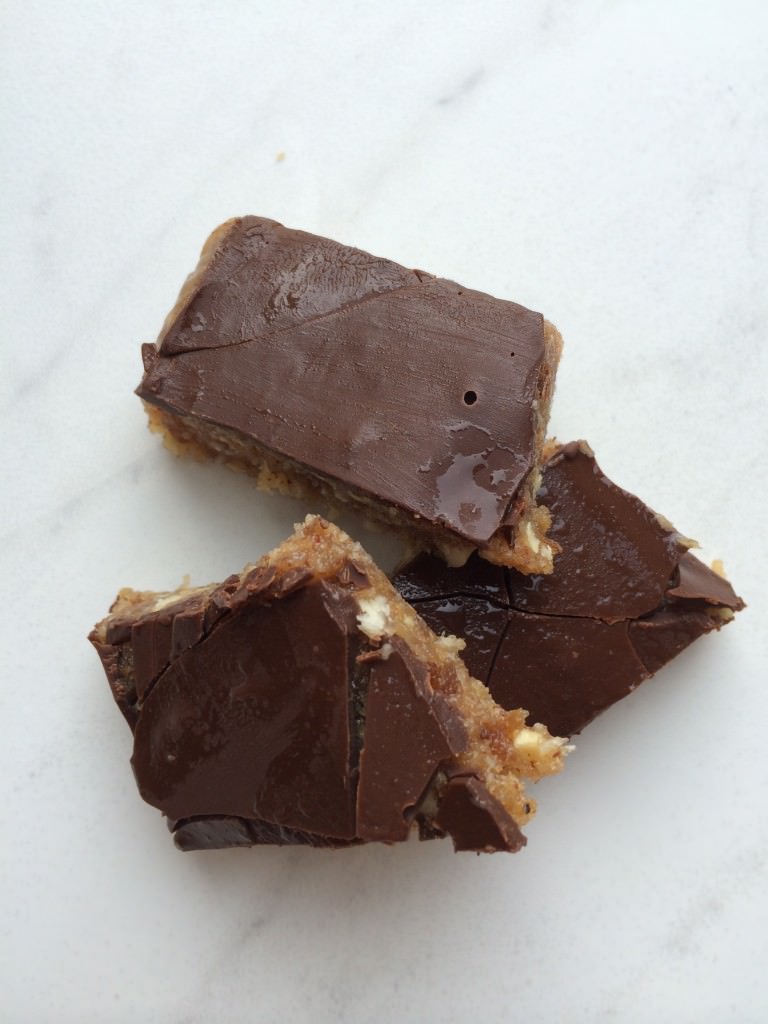 Let me share this recipe with you. When my son tried these for the first time he cried out that this was the best thing he ever tasted…so yummy! I was like – really? Even Mr Husband is a fan!
Now what is the secret?
Coconut flour? Dark chocolate? Or the fact that they are yummiest when eaten frozen?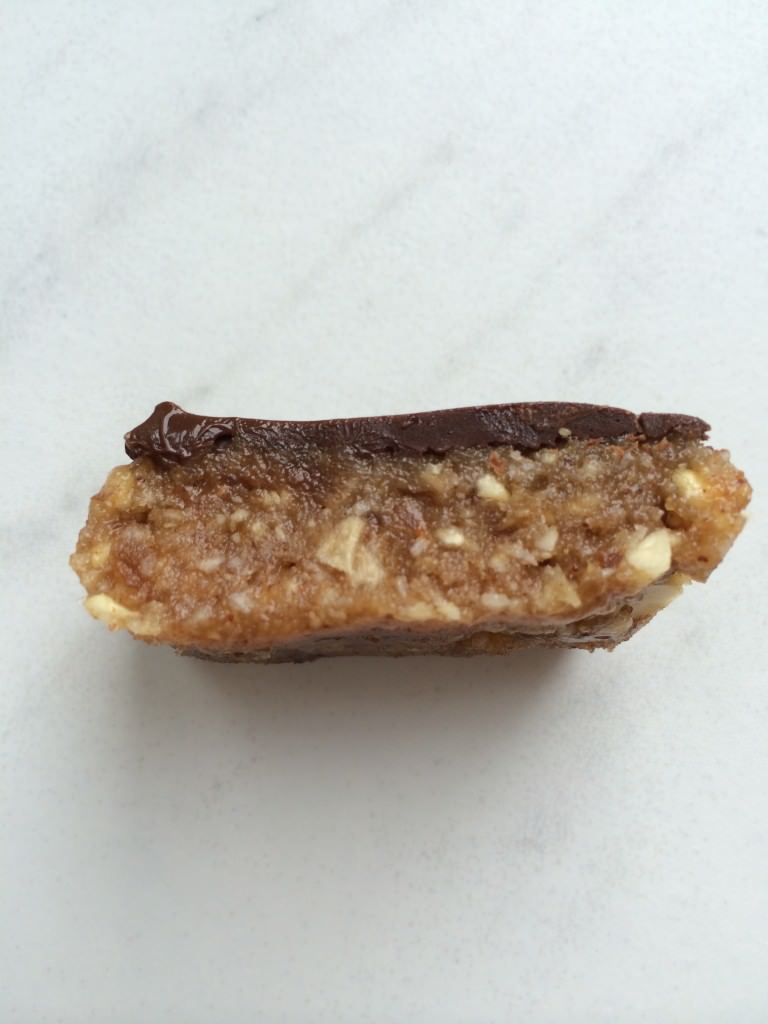 I have based this recipe on Gwyneth Paltrows candy bars but I have had some trouble with cutting the bars because the chocolate cover broke down. Maybe this is because I froze the cookies directly instead of letting them cool down and firm up in the fridge?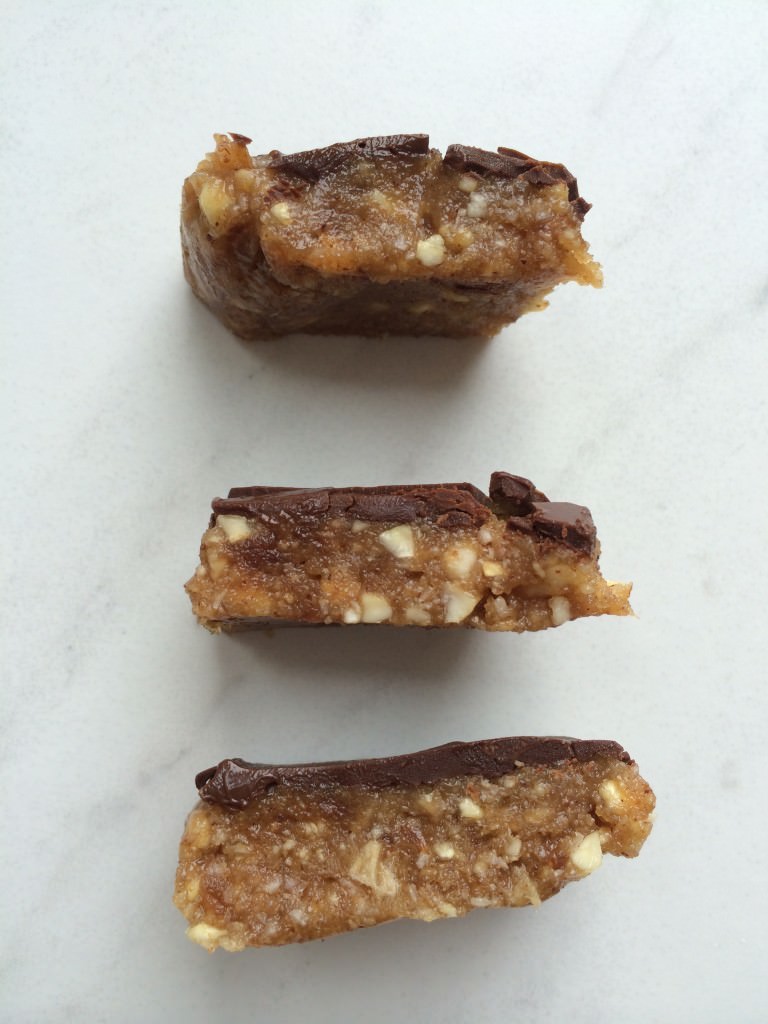 You can buy all the ingredients for these bars at a Bio Planet or Albert Heyn.

Cashew chocolate bars
This recipe is adapted from Gwyneth Paltrow's candy bar recipe.
Ingredienten
- 200 gr raw cashew nuts
- 250 gr dates, pitted and chopped
- 100 ml maple syrup
- 140 gr almond butter
- 50 gr coconut flour
- 50 shredded coconut
- 100 gr very dark chocolate (70% cacao) – chopped
- 1 ½ tbsp. coconut oil
Werkwijze
Grind the cashews to a fine meal in a food processor but make sure to leave some little chunks here and there, put them aside. Chop the dates with the food processor and then add the cashews, almond butter, maple syrup, coconut flour and shredded coconut and pulse until you have a sticky ball of dough.
I'd really advise you to use a food processor and not a blender because otherwise you need to start scraping the sticky dough all the time (which I did).
Line a small sheet pan (24 x 34 cm - by Ikea) with parchment paper and press the cashew mixture out onto the paper, making a rectangle of 2 cm deep. It helps if you put a drop of water on your hands before doing this. Refrigerate the mixture for 6 to 8 hours, until it's firm. I have put my bar in the freezer for 4 hours before pouring the chocolate over.
When your mixture is firm, combine the chocolate chips and coconut oil in a small pan and let this melt by stirring continuously. You can always do this 'au bain marie' like in the original recipe but since I am kind of lazy and hate dish washing... I just did it my way (don't you just love Frank?).
Pour the chocolate mixture over the cold cashew mixture.
Return the bar to the fridge and let it cool until the chocolate coating is set, at least 1 hour. Using the parchment, lift the bar out of the sheet pan and cut it into rectangles. I cut them into 2 by 3 cm but you can choose what size you like.
Serve at once, freeze or store in an airtight container in the fridge. I don't recommend keeping them at room temperature because they will get sticky. We prefer to eat them frozen! Yummie!