When I was contacted a while ago by Jules Destrooper  with the question to participate in a FoodPairing  contest I didn't hesitate for a minute.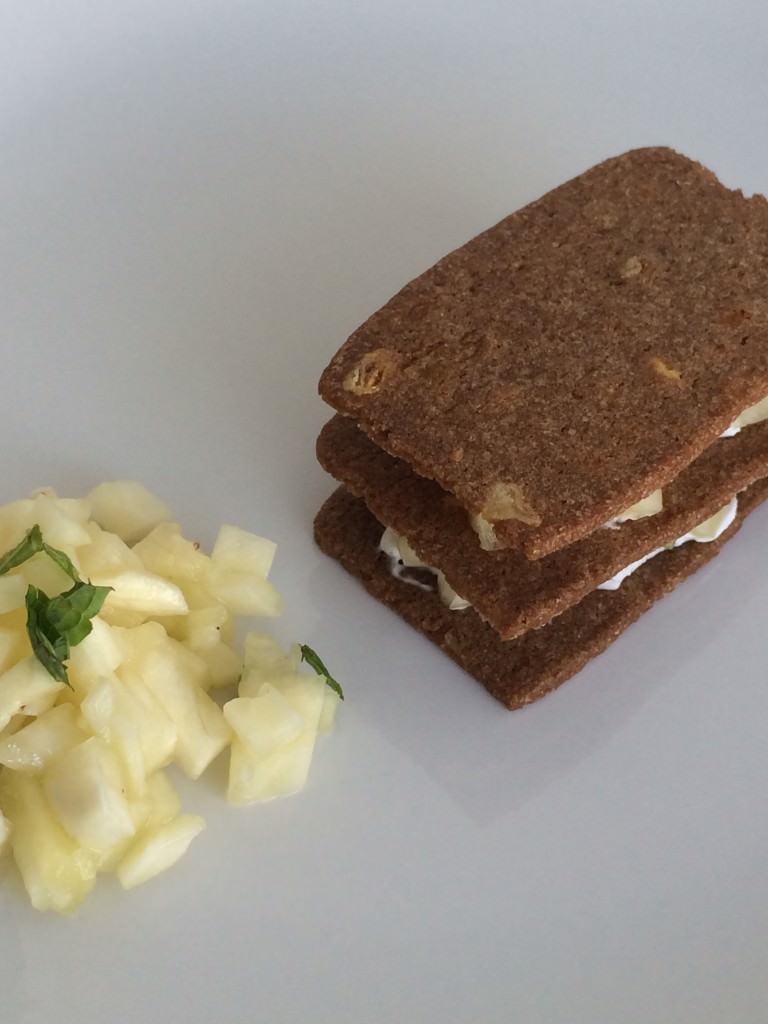 I grew up with these delicious cookies and they are part of my family -food- traditions.
The almond thins for example are forever connected to Sunday Family dinners at Al Piccolo Mondo in Brussels, the crisp butter waffles bring me back to rainy afternoons watching the latest blockbuster (Top Gun, Jurassic Park, ET, Armageddon and not to forget Dirty Dancing…), everybody seated comfortably. My dad making 'koffiemelk' – milk with a scoop of Nescafé- for us and my mom with a box of tissues at hand for crying moments.
Enough of this trip down memory lane….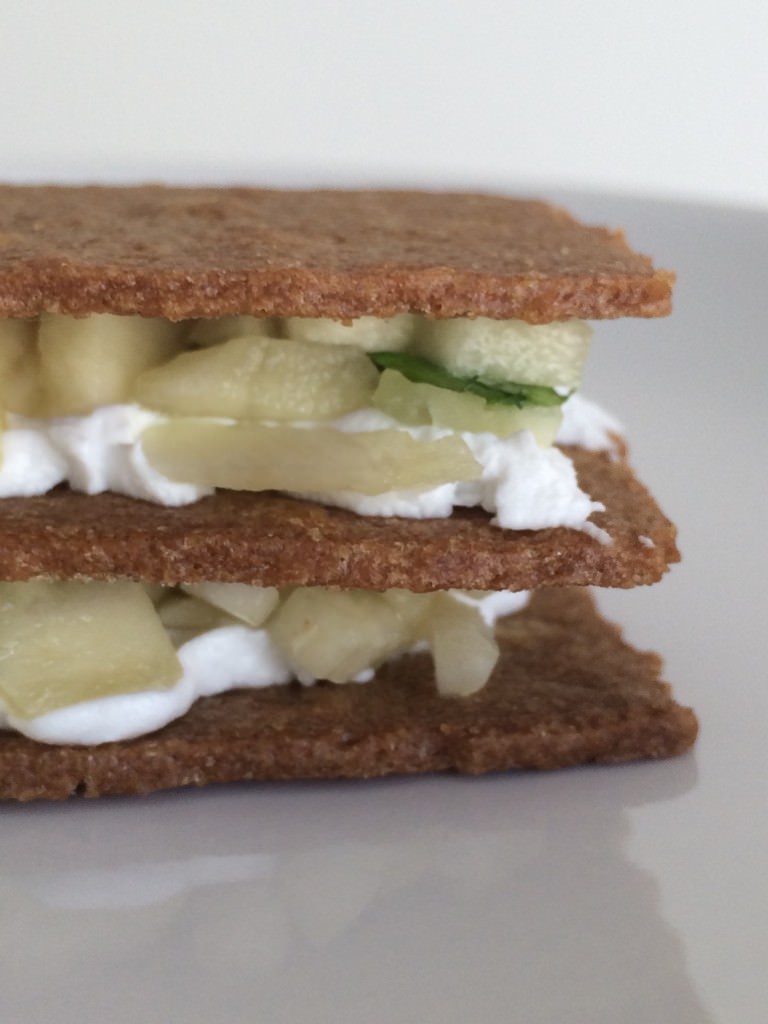 I miscalculated the time necessary to come up with original recipes and really check out and use the great Food Pairing App. Busy with work, renovating, traveling and the kids oh yes and somewhere down the list there is Must Be Yummie, healthy cooking and Pilates….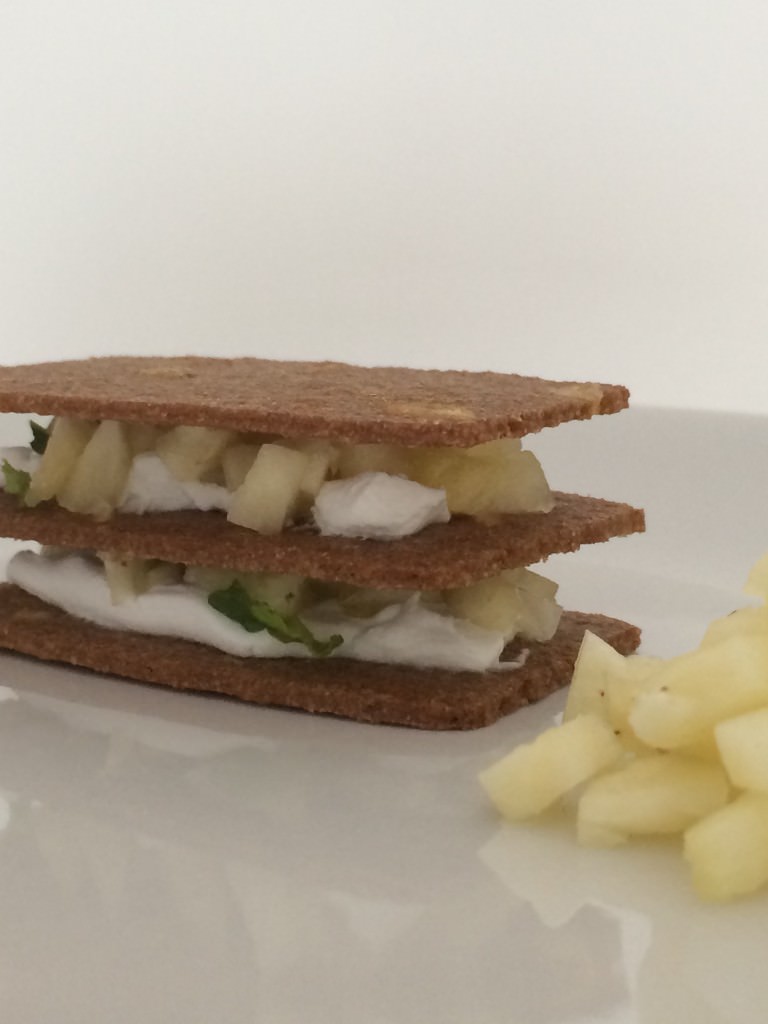 I came up with this recipe on a lazy Sunday morning when I was having a version of my signature dessert for breakfast. I decided to try this with the ginger thins and WHAM…a great (semi) healthy and easy recipe was born. For this contest I tried to stay as true as possible to my style of cooking. Healthy with no fuss and easy to prepare.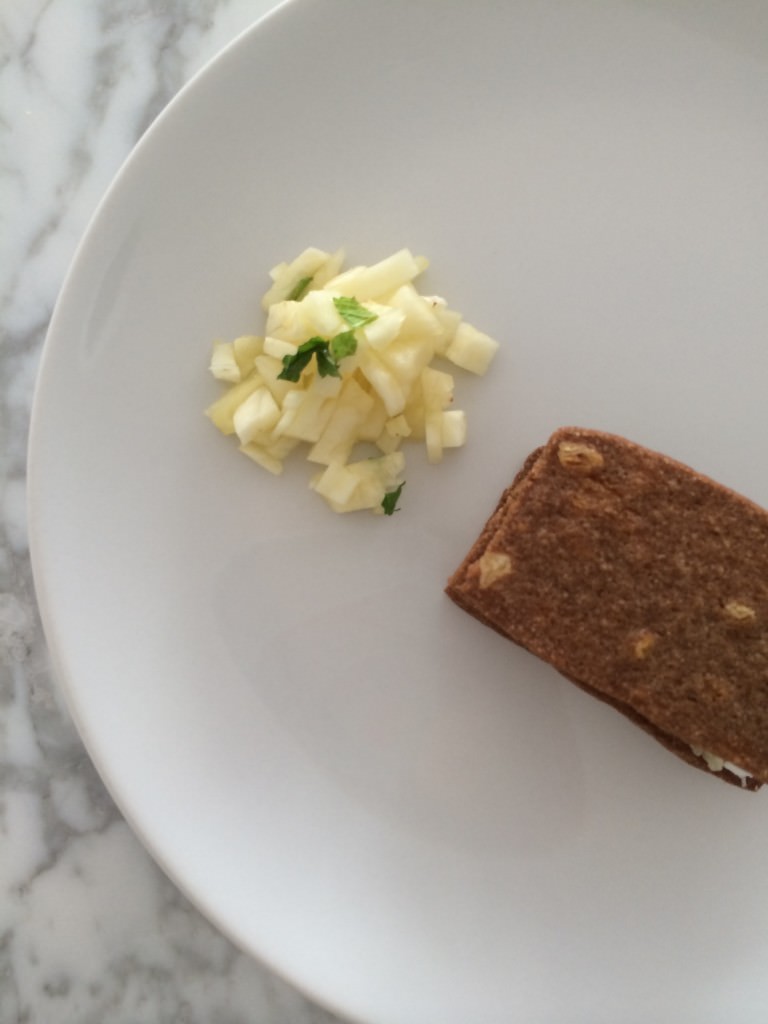 I have a great gazpacho lined up for you next week and I am still working on a third recipe. Please let me find the inspiration and time… something with duck? Fish? We'll see.
FYI Ginger thins are delicious cookies you can order online at the Jules Destrooper webshop. Really worth the effort if you like ginger. I served them to a lot of people and everybody just loved these thin cookies.

Ginger Thins Millefeuille
With the rest op the pineapple you can prepare a nice salad for breakfast or freeze the pineapple to use in smoothies. I have written this recipe for one Ginger Thin Millefeuille, if you need more, just multiply.
Ingredienten
2 tbsp finely chopped pineapple
2 shredded mint leaves
1 tsp lime juice
¼ tsp Havana Club (optional)
1 tbsp cooled and whipped coconut cream (I use the one from Delhaize because once cooled, you don't even need to whip it)
3 Jules Destrooper Ginger Thins
Werkwijze
Start by assembling the fruit salad: pineapple, mint, lime juice and rhum.
Smear the half of the coconut cream on one of the Ginger Thins and top with half of the pineapple mixture. Do this with the other Ginger Thin and put both cookies on top of each other. Finish your millefeuille with the last Ginger Thin. Serve with some extra pineapple salad and coconut cream if you wish.
Enjoy!