These little tarts are quite easy (is it ever otherwise?) to bake and they are perfect party food. You can bake them one day ahead and then finish them right before serving with some whipped cream, meringue or some fresh fruit as I did for Valentine's Pink Party. You need to brighten them up a little because serving them as they are is a little dull I think.
If you would like to bake a gluten free version of these mini tarts, I suggest to use the Victor Vanille Cookies by Generous or some other gluten free biscuits. The normal version is best with Digestive Cookies you can find at Carrefour.
This recipe might seem a lot of work but quite actually it is a very easy one to prepare. You must however take the time to let the dough stand for a while in the fridge or you will have a failure like I had the first time I have made these little tarts. They were like some kind of pudding. Not really what I was aiming for….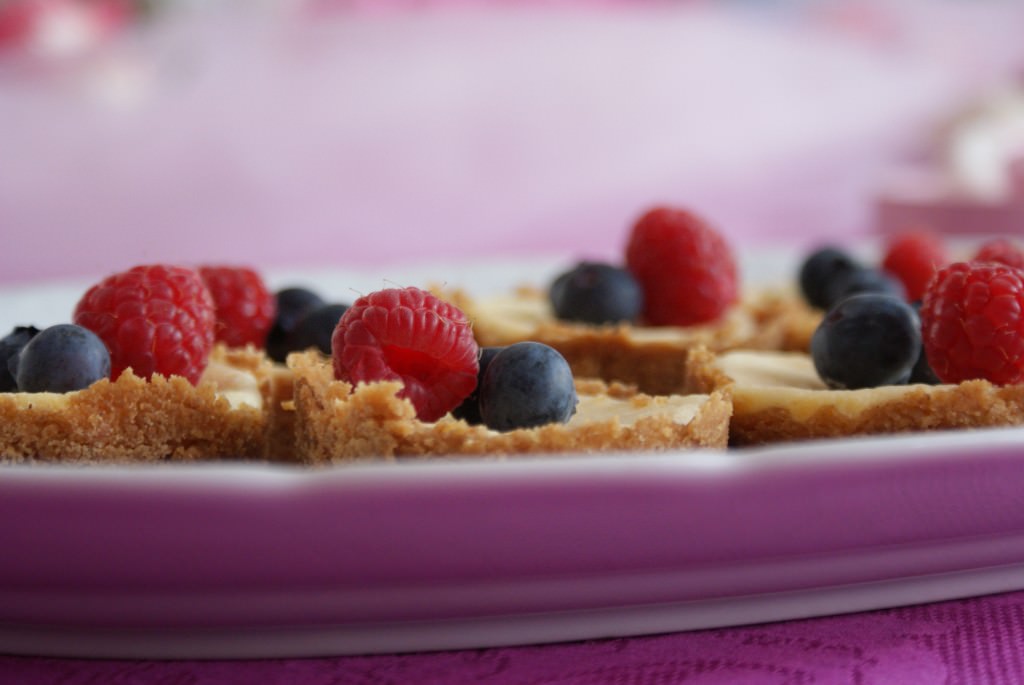 Mini Key Lime Pies
This is enough for 20 mini key lime pies.
Ingredienten
250 gr of Digestive Cookies
250 ml of condensed milk
2 eggs (white and yolks separated)
1 tsp vanilla extract
100 gr of (lactose free) butter at room temperature
Juice of 4 limes
Pinch of salt
Werkwijze
Start preparing the pastry shells because they need to stiffen for at least 30 minutes in the fridge.
Put the cookies in the food processor and mix them until you have but crumbs.
Add the butter until you have a grainy dough.
Oil two muffin tray and divide the dough evenly (+/- 1 tbsp per muffin mould) and press them with your fingers. Make sure you cover the edges well. This may take some time but after your fourth little pastry shell you will get the habit. You can't do this with a spoon so, sorry…you will need to get your fingers dirty.
Put the tray in the fridge for minimum 30 minutes.
Preheat the oven to 170°C.
Whisk the egg whites till stiff. I do this with an electric mix but if you want to train your arm muscles be my guest to whisk them by hand.
Whisk the egg yolks and vanilla essence until nearly white and a little thicker.
Mix in the condensed milk until you get a lobbed mass.
Gently pour in the lime juice and when mixed in, fold in the egg whites.
Get your baking tray out of the fridge and fill the muffin cups with the egg mixture.
Bake for 10 to 12 minutes.
Take the trays out of the oven and let cool completely.
No comes the tricky part where you will need to be carefull. Gently try to get the little tarts out of the cups with the use of a spatula or a knife. If you have used a silicone baking tray this part will be quite easy.
Finish the tarts with fruit, cream, meringue….as you like and enjoy them!