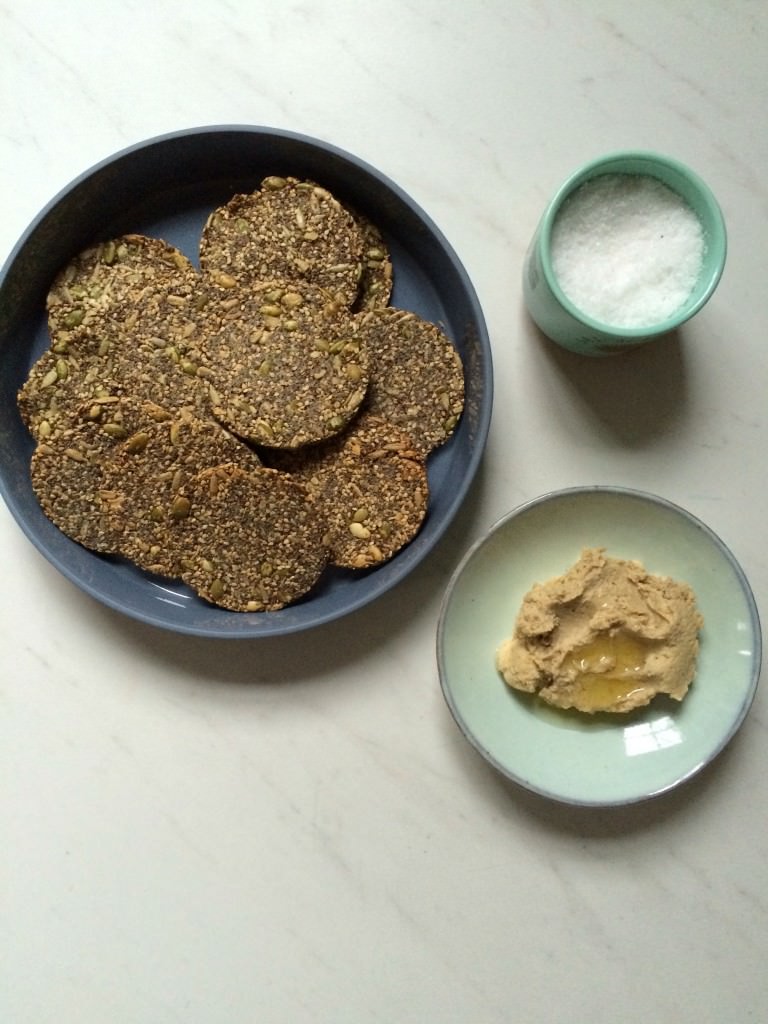 I have been reading up on the Paleo way of eating. Although I am not a die hard follower I must say we eat a lot of paleo these days. Take these paleo crackers for example. My office is in a remote (and desolate) town close to Antwerp with no healthy food outlets to grab lunch. I usually take soup or pimped oatmeal but sometimes I crave for something else. That is why I came up with this recipe. These crackers are so easy to make and really yummie. A healthy alternative for bread or other crackers.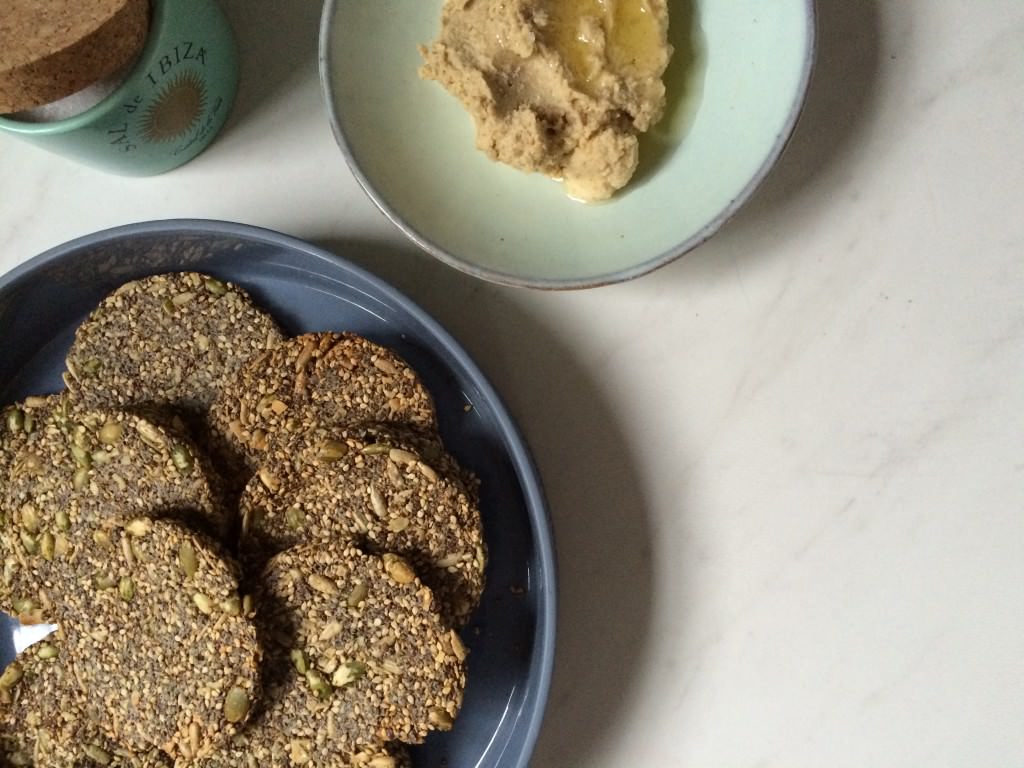 I have made a batch of them and had them with classic chickpea humus, with sliced avocado & lime and with eggs  & salmon. So easy to combine and I really like the idea that I know exactly what is in them. A lot of seeds, herbs and water…that's it.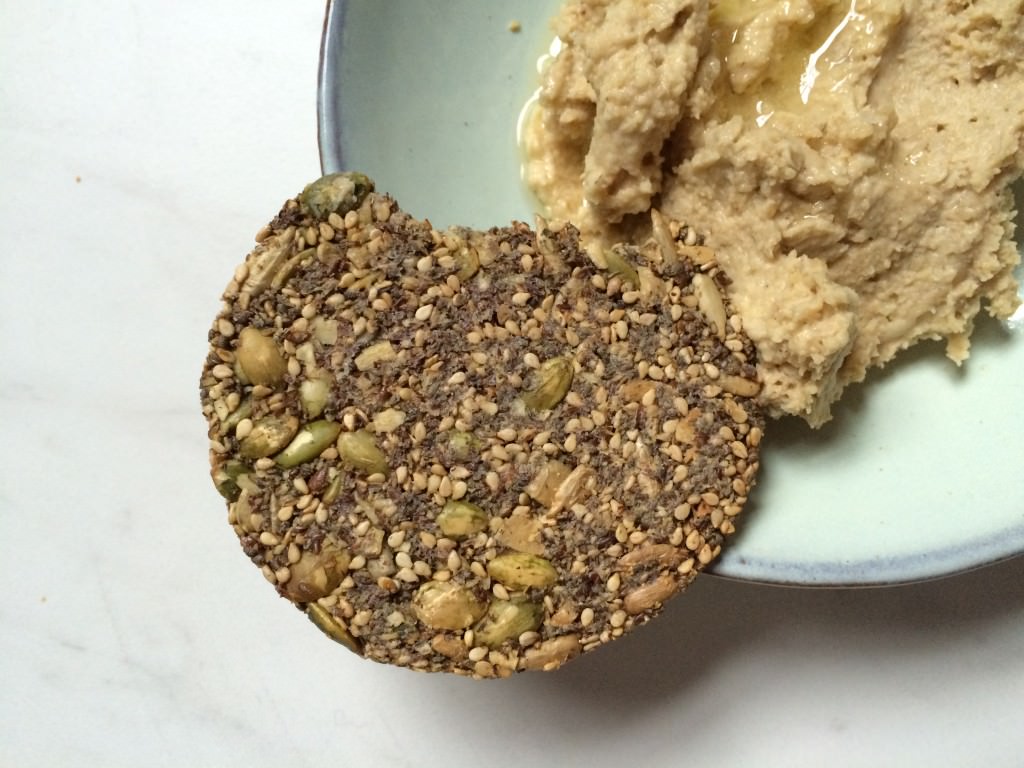 Make them on Sunday and keep them in an airtight container for your lunches, breakfasts or as a quick snack.
I used Italian spices: a mixture of oregano, thyme, rosemary and basil with garlic powder, but I think you can easily make these crackers with turmeric and curry or paprika or ground cumin and cilantro….Be inventive…just know that cumin and cilantro aren't nice to eat with tomato basil salsa if you see what I mean.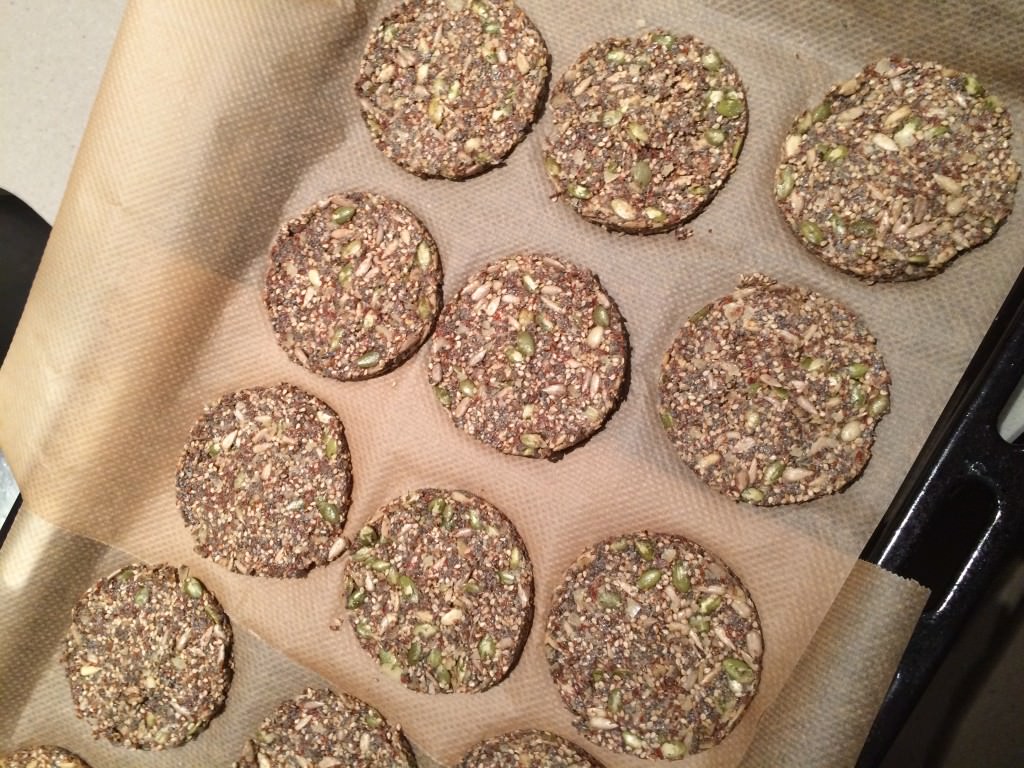 Paleo Crackers
Flaxsead meal is very easy to use but you don't find it easily. I bought mine online. If you can't find it just but the flaxseed in your blender and mix until a kind of powder forms.
Ingredienten
8 tbsp mixed flaxseeds or flaxseed meal
6 tbsp chiaseeds
6tbsp sunflower seeds
2tbsp almond meal or grounded almonds
4 tbsp sesame seeds
4tbsp pumpkin seeds
4tbsp water
2 eggs
spices and salt to your liking
Werkwijze
Mix all the dry ingredients well together.
Beat the eggs with 2 tbsp of water and add this to the dry ingredients. Mix well until you get a nice dough. Add some water if necessary.
Let the dough rest for 1à minutes and preheat your oven to 180°C.
Cover a baking tray with baking paper and start forming crackers by using a round form or just use a spoon and form small circles.
Make sure every crackers has more or less the same size and is about 0,5cm thick.
Bake the crackers for 10 minutes and then flip them and bake for 10 more minutes.
These temperatures are for round crackers with a diameter for 7 cm (rice cracker shape).
When the crackers have cooled down you can store them in an airtight container for 4 days.
This recipe makes for 20 crackers.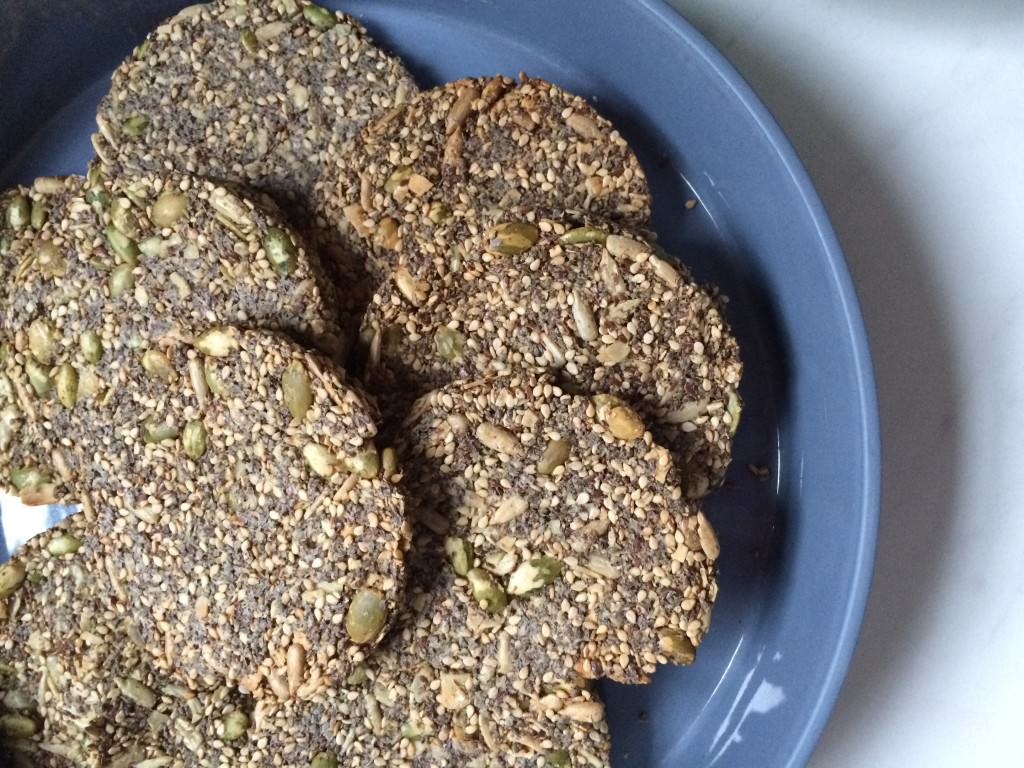 I got all my ingredients at Carrefour. They have a nice assortment of nuts and seeds now all nuts and seeds and mixes of nuts with dried fruits.