Njam sent me their last book Proef De Goesting a while ago but I have been so busy that I didn't even have time to take a look at it. The book contains the favorite recipes of 12 Njam chefs.
Browsing through the book I stumbled upon a recipe by Quyen Truong Thi. I love eating at her sisters restaurant Bùn in Antwerp.
I have prepared these chicken skewers a couple of times now and mus say they are a hit in our family. I grill them on my Cuisinart PlanchaBarbecue Power ,this gives an extra taste.
Really delicious, quick to use and so easy to clean. I am sure this recipe will be a big hit next summer on the barbecue but in the meanwhile the Cuisinart Plancha Barbecue Power gives me excellent results. If you like to eat grilled veggies and meat this is your kitchen buddy. It is a big machine but I found a nice place for it and I have used it a lot….veggies, pancakes, eggs sunny side up….Back to the skewers.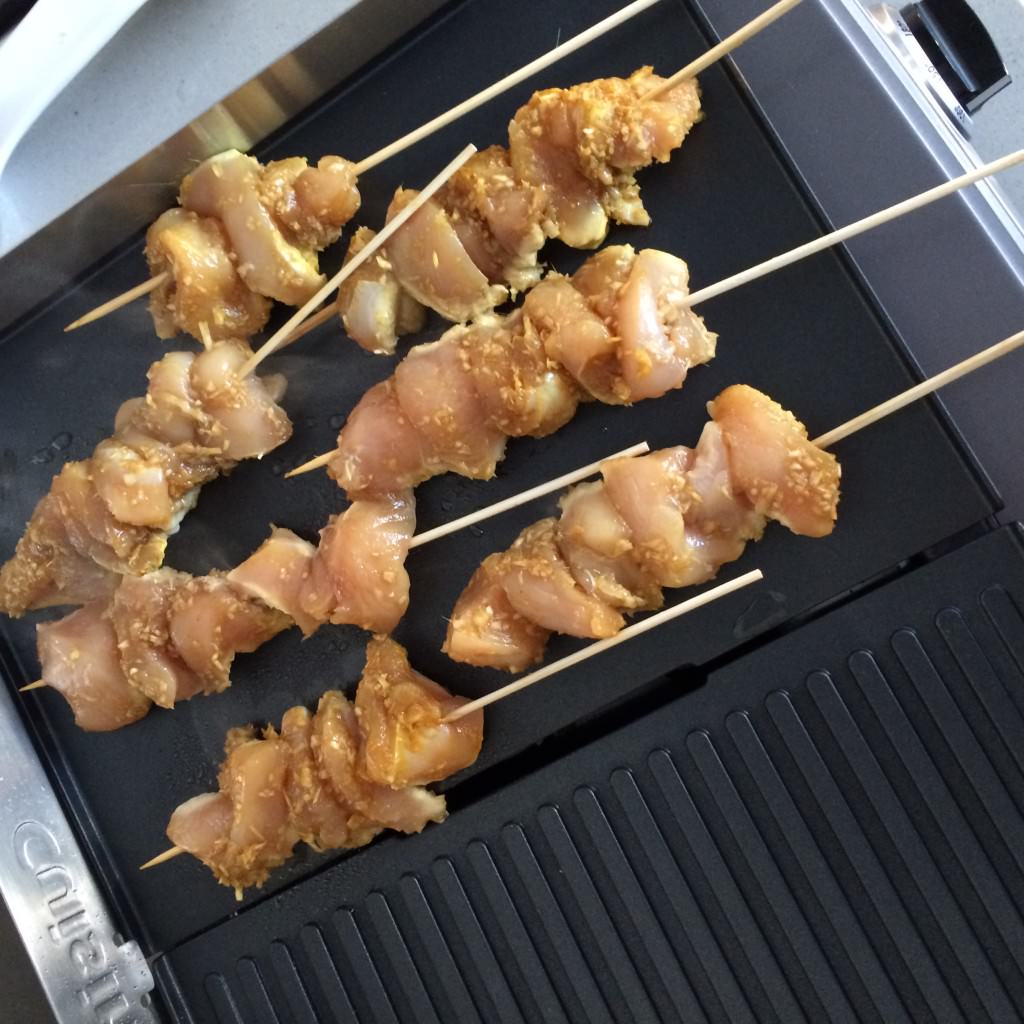 You can prepare the sauce in advance and keep it in the fridge for a couple of days. I like to make a salad with leftover chicken and add some mint leave, cucumber and carrots to the combo. Put all of this in a jar and off you go.
I served the skewers with rice and a skewer with grilled veggies.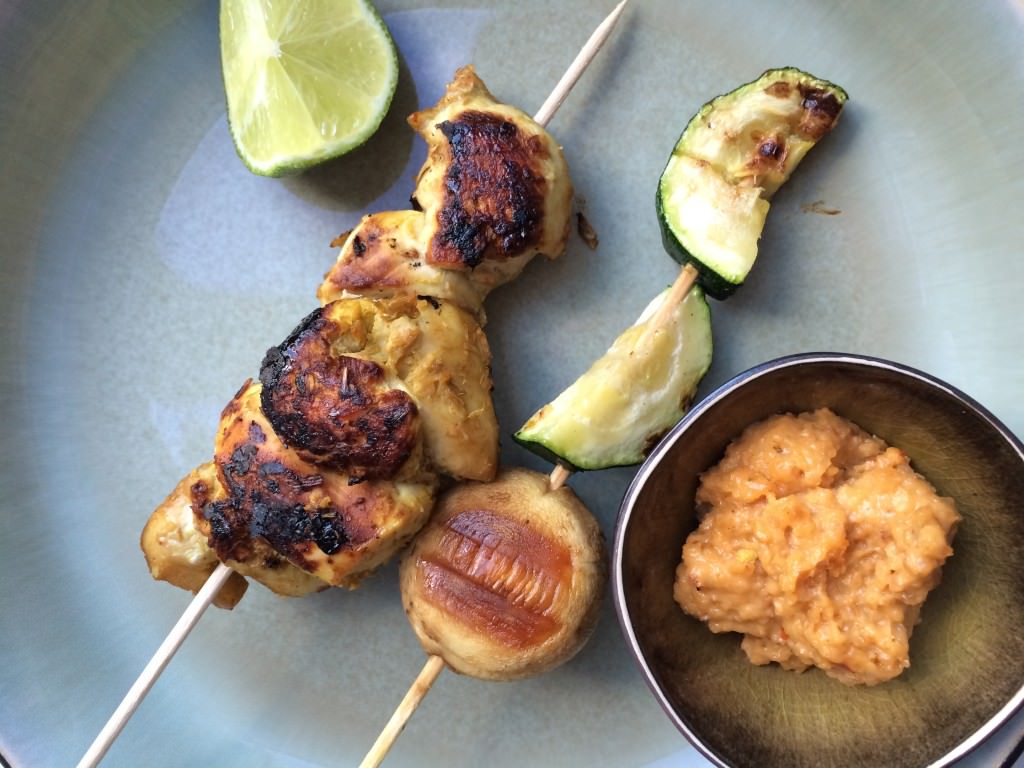 Tip: soak the skewers for 5 minutes before you start putting your ingredients on them. This makes sure they don't burn.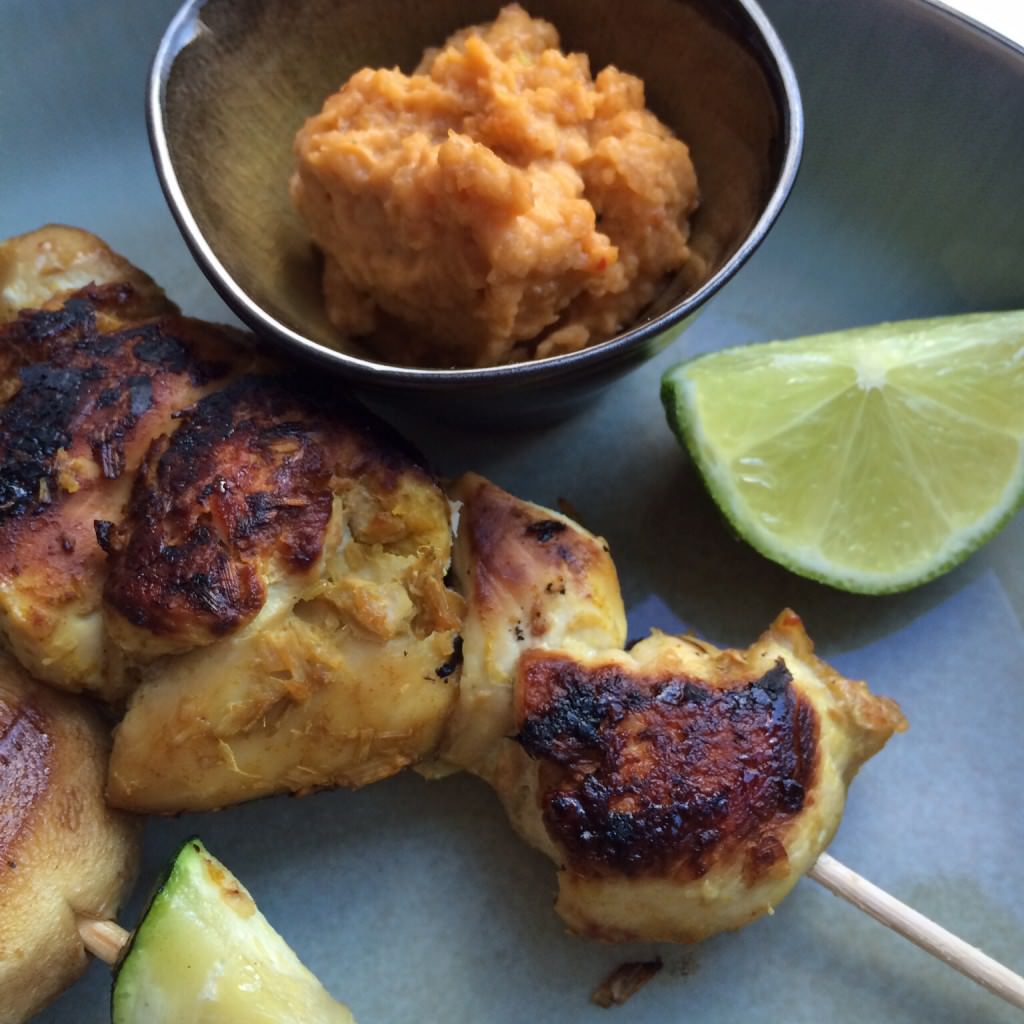 Vietnamese Chicken Skewers
Ingredienten
2 chicken breast
Marinade:
1 stem of lemon grass
1 clove garlic, peeled and chopped
1 tsp curry powder
1 tsp turmeric
1 tsp cane sugar
1 tsp fish sauce
Peanut Sauce:
4 tbsp unsalted peanuts
2 tbsp peanut oil
1 clove of garlic, peeled and chopped
2 tsp red curry paste
200 ml coconut milk
1 tsp sea salt
2 tsp sugar
ginger
Werkwijze
Chop the lemon grass and crush the lemon grass and the garlic, add the curry powder, salt and sugar. Add the fish sauce and mix this. Cut the chicken in small 2 cm pieces and put them in a plastic bag. Add the marinade and make sure the chicken is covered. Set the chicken aside for at least 30 minutes.
In the meanwhile you can start with the sauce.
Heat a pan and add the nuts and roast them for about 4 minutes. Make sure they do not burn. Use a small mixer or a mortar to chop them into small pieces. Keep some chunks if you like.
Heat the peanut oil in a large non stick pan (I use Green Pan) and add the garlic. Sear this for 1 minute and then add the red curry paste and bake this for half a minute. Add the coconut milk and season with pepper and salt. Add the nuts. Let the sauce cook until it is as thick as you like. I like a rather thick sauce.
Prick the meat onto the skewers. One per person is enough.
Heat the plancha to 180° and when heated put the chicken skewers on. Grill for about 8 to 10 minutes. You can also use a grill pan.
Serve with cooked rice, grilled veggies or a salad.
Enjoy!