Did you know 2016 was declared Year of the Bean by the United Nations? Since in 2013 they elected quinoa and this was a boost for this South American grain,  I presume we are going to eat a whole lot of beans this year. The UN doesn't use the word bean but "pulse" a more inclusive term that includes dried beans, legumes such as dried peas and lentils, chickpeas, and all seeds that are grown in a pod.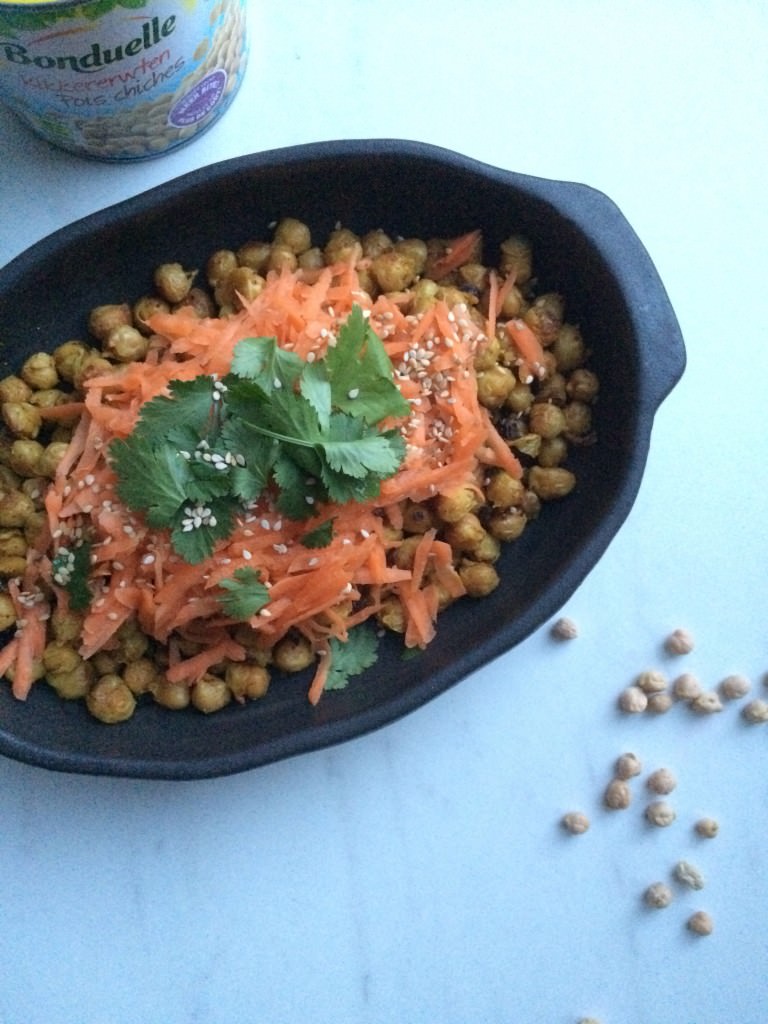 Now why did they choose beans? What is so special about them?
Pulses provide a lot of protein, more than any other plant. On top of that they deliver calcium (good for the bones), magnesium (good for the heart), potassium (for muscle health), and iron- more than meat – , necessary for healthy blood and energy. Don't forget beans are very filling and very good for your digestion because they have a lot of fibers.
When I grew up beans, lentils and chickpeas were branded by my parents as hippie food. Boy were they wrong. The last decade I have discovered a lot of great ways to use these ingredients. They are so versatile…you can make a burger, a soup, a snack, a dip, a stew, pancakes and even desserts. Check out my brownie recipe with chickpeas as a secret ingredient. Delicious.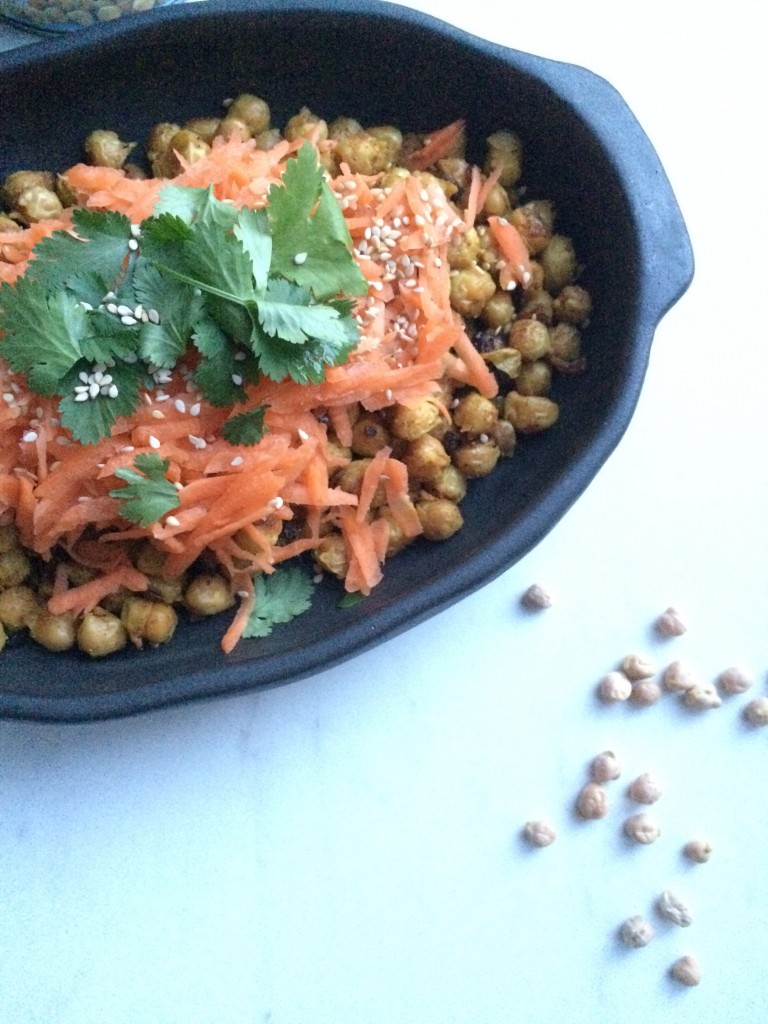 I always have some cans of Bonduelle chickpeas at hand. It is so easy to prepare a quick snack with a can of chickpeas: rinse them, roast them in the oven with some herbs and presto….a great snack.
Or just mix them with some olive oil, garlic and tahin (sesame paste) and bam…home made humus.
Y U M M I E!
Do you want to know another great plus? The kids really love it, really. Wait till you serve them chickpea brownies – ha you should see their faces when they uncover the secret ingredient.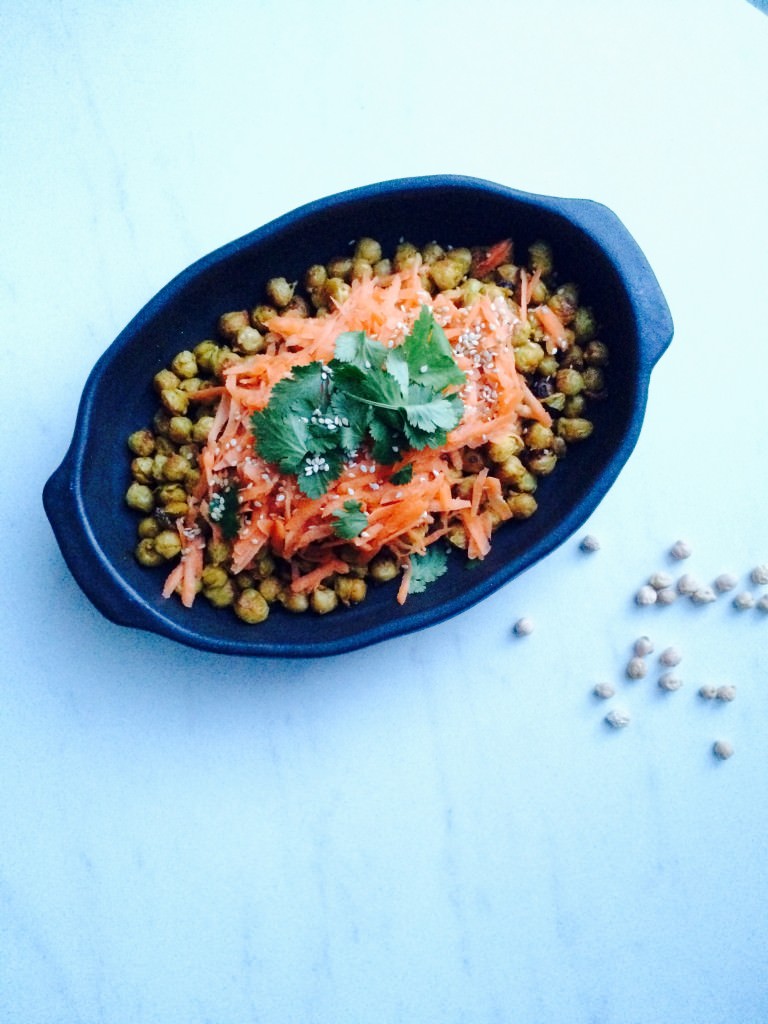 If you are a regular reader of this blog you will know I love to use chickpeas: in pancakes, in a salad, roasted…..Today I would like to share one of my favorite salads with you. I often prepare this on Sunday evening – a perfect lunch salad for me, Mr. Husband and my son. You can also serve this as a side dish with some grilled fish, delicious.

Chickpea Salad
When you use canned chickpeas you need to rinse them very well. I love the Bonduelle chickpeas because they are steamed in their can so they stay kind of crispy
Ingredienten
3 carrots
1 can Bonduelle chickpeas, rinsed and drained
1 tbsp olive oil
1 tsp ground cumin
1 tsp ground ginger
1 tsp ras el hanout
1 tsp ground paprika
1 onion, peeled and chopped
juice of 1 orange
juice of 1 lime
1 tbps sesame seeds
fresh cilantro
black pepper
sea salt
Werkwijze
Heat the oilive oil in a non stick pan and add the onion. Bake this while constantly stirring and add the ground spices. Add the chickpeas to the pan and bake them while constantly stirring until they are brown and crispy on the outside. They have to remain soft on the inside.
Let them cool down for a bit.
Shred the carrots and add the sesame seeds, orange juice, lime juice, pepper and salt.
Dress the salad....put the chickpeas on a plate, add the carrots and finish this off with the fresh cilantro.
Enjoy!
For more information on Bonduelle products check their site www.bonduelle.be