On Mother's Day I'd like to share a recipe that is very easy to prepare but looks quite fancy. Daddy's do you copy?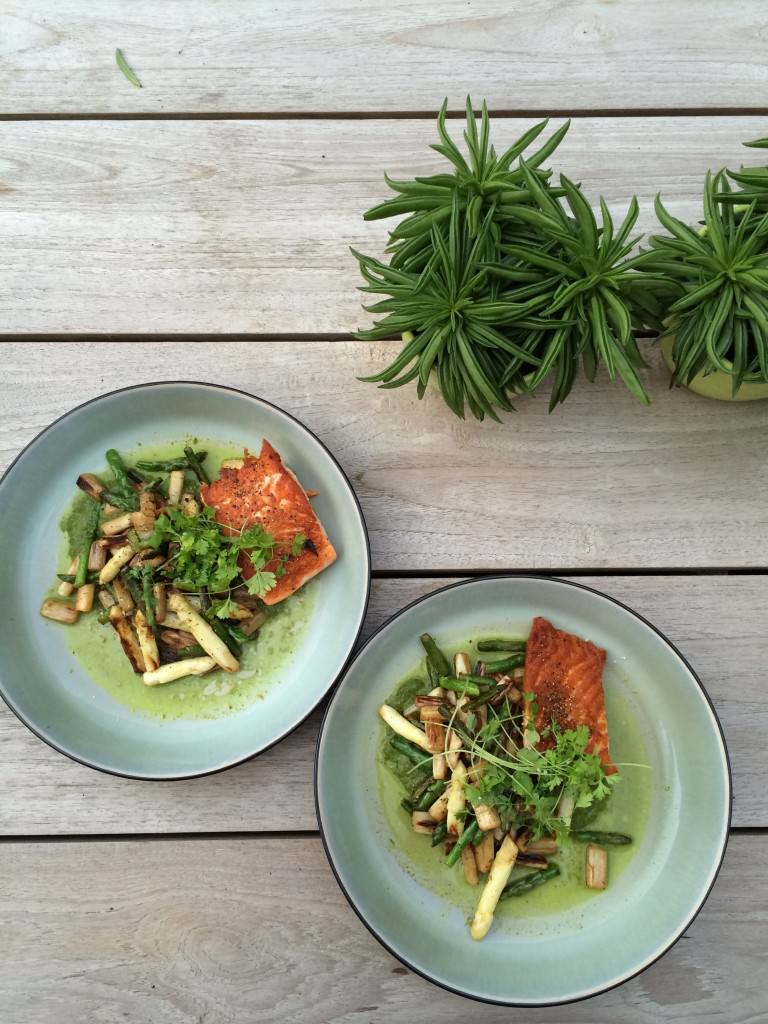 This is a very easy and healthy recipe you can prepare in 30 minutes. A combination of green and white asparagus with crispy baked salmon accompanied by a chervil coulis. Normally I only use chervil to make delicious green soups or add them to a salad. My kids really love the 'kervelsoep' as we say, it brings back memories of eating soup at the stove in my grandmothers house when I was a kid. But soup is more of a cold weather and wintery dish and since we have had some nice springs days last week I tried something else with the chervil.
At the Love Fish mussels workshop I attended a couple of months ago, chef Jo served mussels with a green herb 'coulis' and I based my recipe slightly on his coulis. Coulis is a nice French word for a thin fruit or vegetable or herbs puree that is used as a sauce. Mostly used for desserts,we have all eaten raspberry coulis and mango coulis.
It is actually very easy to prepare, you just need to put your herbs in some boiling water ( blanching them) and then drain the water from the chervil and mix it with some olive oil and lemon juice. Add pepper and sea salt and you have a great coulis you can use in different ways. I think of using this recipe but then with arugula or rucola and basil and serve it with a caprese salad, sounds good no?
Please let me know how you prepare and serve your coulis.

Baked asparagus with chervil coulis and salmon
Ingredienten
a bunch white asparagus
a bunch green asparagus
50 gr fresh chervil - keep a few sprigs aside
2 salmon steaks bio
pepper
sea salt
olive oil - 1 tbsp for the coulis and more for baking the asparagus and salmon
juice of ½ lemon
Werkwijze
Start by preparing the coulis. Put on a pot with water and bring it to boil and then cut the heat. Add the chervil and lt it stand for about 2 minutes. Drain and squeeze well so there is no excessive water. Put this in a blender and add 1 tablespoon of olive oil and 2 tablespoon of lemon juice, pepper and salt and blend well. You can add more juice to your liking. Put aside until use.
Peel the white asparagus and cut into 1,5 cm pieces - keep the tops aside.
Wash the green asparagus and cut into 1,5 cm pieces - keep the tops aside.
Season the salmon steak with pepper.
Heat some olive oil in a non stick skillet and bake the asparagus until al dente, then add the tops. Season with pepper and sea salt. The asparagus pieces need to be a little crisp, so try pricking them with a fork while baking. It took me about 9 minutes.
In the meanwhile bake your salmon steak in a very hot skillet so you get a nice crust or you can also bake it on the barbecue.
I love my salmon still a little raw on the inside.
Start dressing your plates now: first but some coulis, on top of the the asparagus and then the salmon. Finish with some of the chervil sprigs you have put aside.