As you know I have been ill last week with the flu so I didn't have time to come up with new recipes for you.
Instead of posting a recipe I would like to share some new products with you. As you might know I get a lot of products to try and test. Lately I received products from 2 Belgian companies HeBe and Xavie's Granovie and two types of plant based milk: Oat Dream and Spelt Dream. My son is crazy about the Oat Dream, he doesn't want anything else. Perfect with granola and other breakfast cereals.
Now let me tell you a bit more about HE-BE and Xavie's Granovie because as you know most of the time I make my own granola or pimp an oatmeal but I must say when we leave on holiday or when I am abroad for work it is nice to have alternatives so I don't have to bake all evening before I leave. And -in all honesty – it is nice to just 'not' bake for once and just pop open a nice bag of Granovie or HE-BE.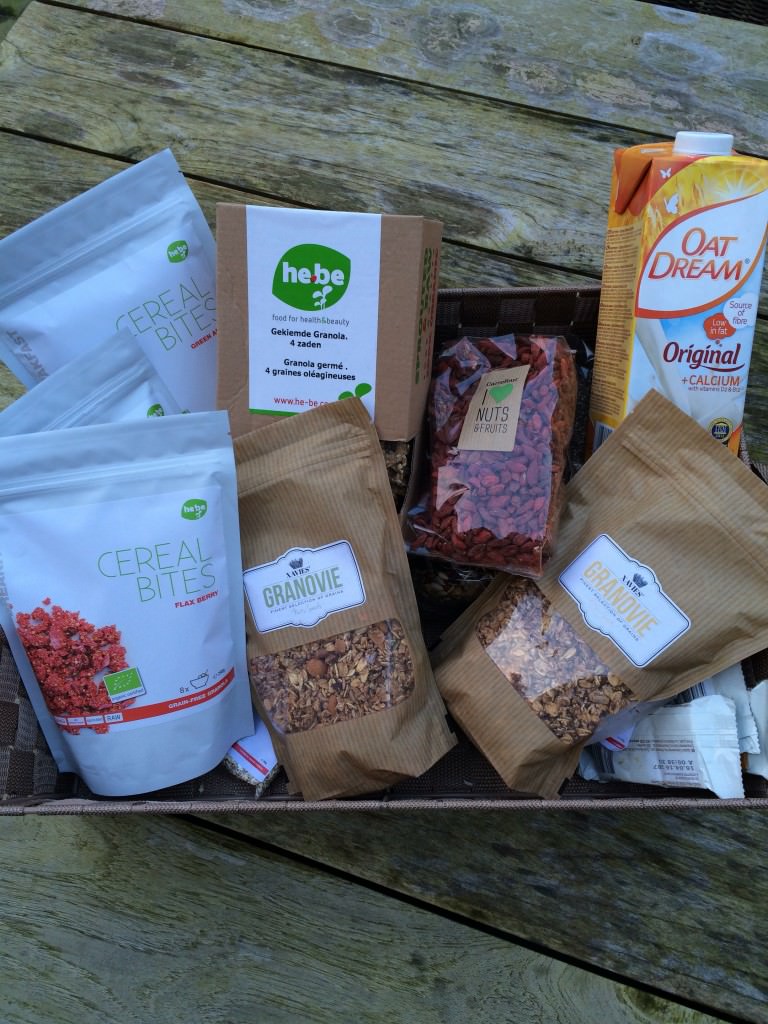 HE-BE – food for health and beauty
This brand sent me a basket of ( mainly) breakfast cereals to test. HE- BE focuses on healthy, pure and yummie products.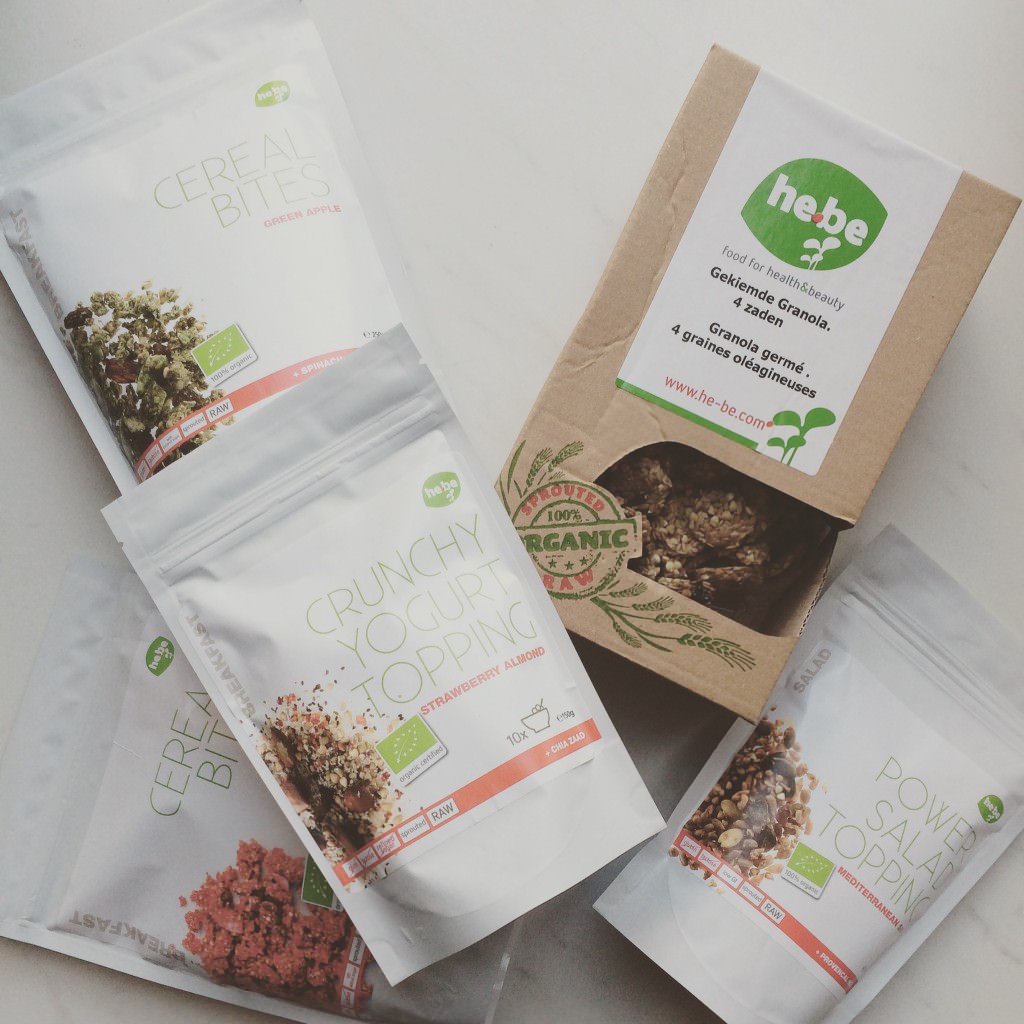 All HE-BE products are:
raw – prepared at low temperatures to keep all enzymes and vitamines
gluten and wheat free
vegan
suger free – this means without refined sugars or artificial sweeteners
easy to use – you can easily prepare and eat all products, also very handy to take on the road for a quick breakfast or snack
I tested a lot of the products:
Power Breakfast Mix – these are mixes where you just need to add milk, yoghurt or water. The mixes contain oats, seeds and superfoods.
Go oats – I just love this concept, so easy to take with me to the office for a quick snack or light lunch.
Crunchy Yoghurt Topping – the name says it all but I loved this mix sprinkled on a fresh fruit salad with some coconut milk, yum!
Cereal Bites – I really loved these bites with red fruits, dates and coco chips, loved it.
Power Salad Topping – nice mix of nuts and seeds to finish off a salad.
You can order all HE-BE products online here.
Xavies's GRANOVIE
Xavie changed her eating habits a couple of years ago and she started baking granola in her kitchen because she wanted healthy home made breakfast. As she experimented with a lot of tastes she got more and more enthusiastic reactions from friends and family and she started her own granola bakery. All Xavie's granola is sweetened with agave syrup and contains grains, seeds and nuts.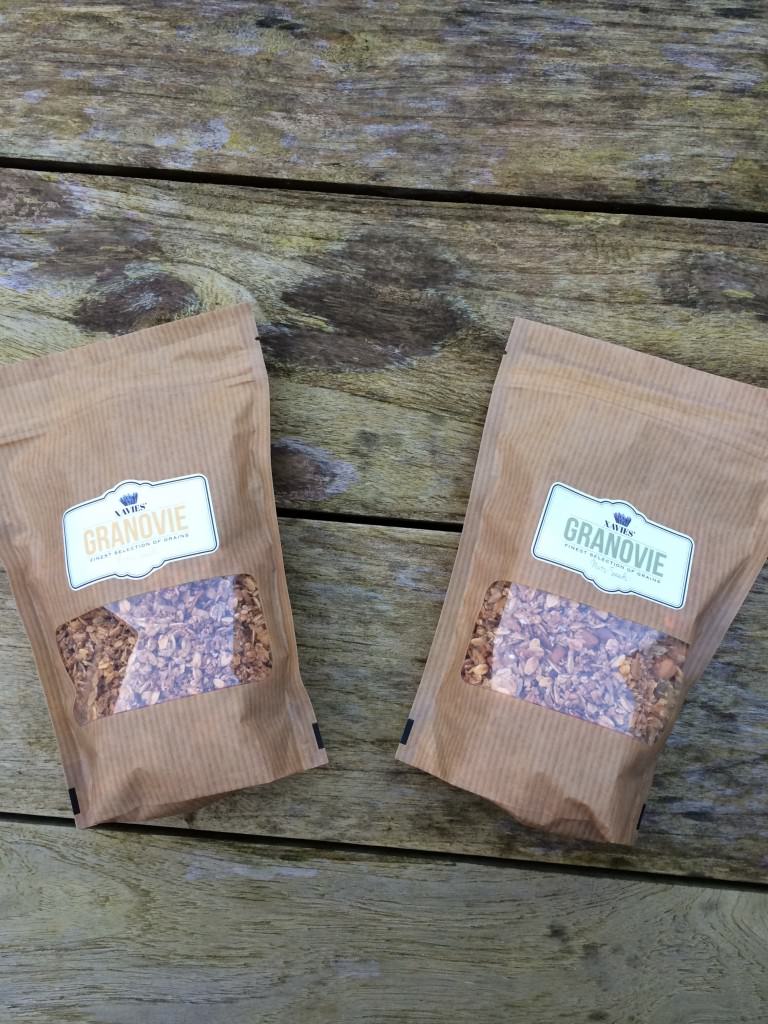 Unfortunately there is no gluten free version (yet). So none of this goodness for Mr. Husband and more for me and the kids. And believe me good it is – nom nom.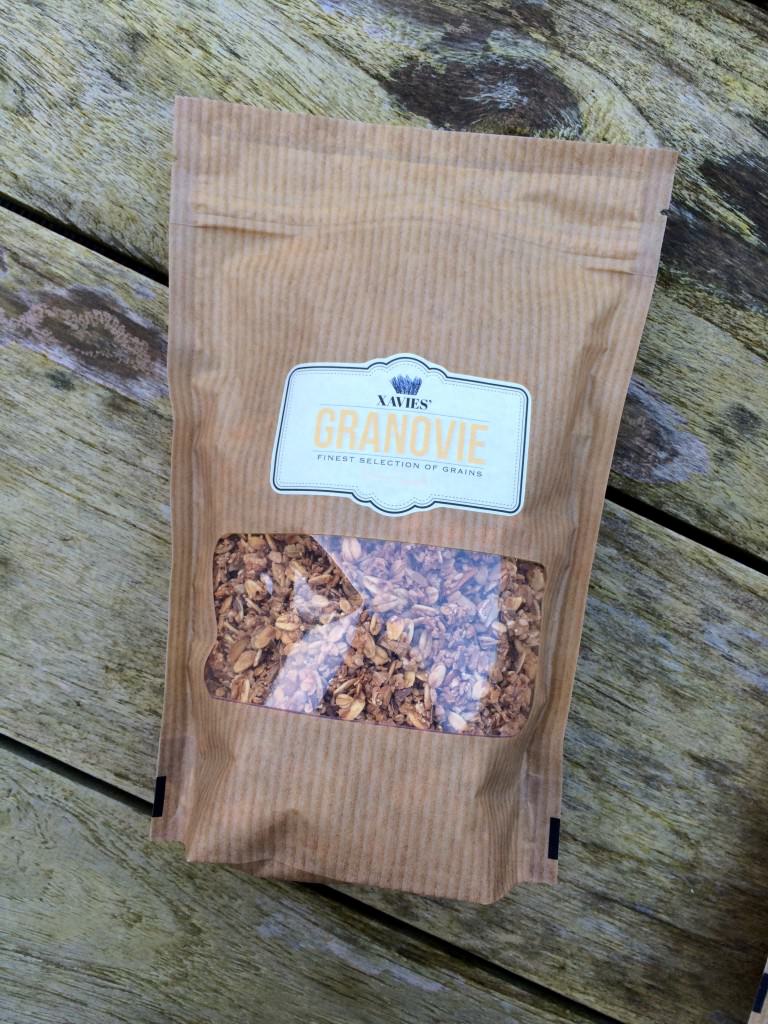 Xavie's Granovie exist in different tastes:
Extra-Seeds contains flax seed, sunflower seeds, pumpkin seeds and sesame seeds
Nuts-Seeds has extra seeds, almonds, hazelnuts and walnuts
Kokos-Kaneel my favorite with coconut and cinnamon – aaah just loved this one
Amandel-Abrikoos has a fruity taste with almonds and dries apricots
Nuts-Chocolate extra seeds, nuts and a lot of chocolate
Double-Chocolate is a combination of nuts, shredded coconut, black chocolate and cacao nibsYou can order Xavie's Granovie online by clicking here.
Do you like granola? What is you favorite type?