Ever heard of the Flemish Food Bash? No?
This is no ordinary culinary event but something quite different and original.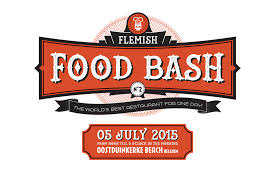 When we met Flemish chef Vincent Florizoone, of Grand Cabaret in Nieuwpoort, last February he told us all about this great event he organizes this summer in Oostduinkerke:  the second edition of the Flemish Food Bash.
This summer he aims a lot higher than with the first edition in Café D'Anvers! In Café D'Anvers over 1000 people joined a culinary fest organized by and attended by chefs, bartenders, tattoo artists, barbers, tattoo artist, brewers, and a lot of foodies. It was great, or so I heard. Yours truly was abroad at that time, but I have marked the first weekend of July in my agenda.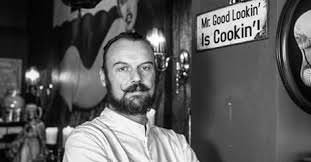 Brace yourselves because  July 5th as from 12 am 'till 6 o'clock the next morning  the Oostduinkerke beach will be invaded by 5000 chefs, bartenders, artists and foodies.
Chefs will be attending from Germany, the UK, France, Italy, Sweden, Denmark, South Africa and the Netherlands. The concept is that all chefs come to work and play. Maximum 3 hrs of working and for the rest all partying, socializing and networking. Sounds good no?
"SHARING, CARING AND ALL IN A FUN AND FUNKY ATMOSPHERE.
SO, LEAVE THE EGOS AT HOME, GET YOUR PARTY SHOES ON, GET TO THE FLEMISH FOOD BASH AND ENJOY THE UNASHAMED CELEBRATION OF SHARING FOOD IDEAS AND CREATIVITY."
Not only chefs are attending this great beach party, Florizoone also invited some pastry chefs, bakers, butchers and cheese aficionados, baristas. And off course DJ's, tattoo artists, graffiti artists, barbers and a special act.
Flemish Food Bash aims to be the world's best restaurant for a day with all that talent joined at Oostduinkerke beach it might be possible.
Some local names who confirmed their attendance: Seppe Nobels from Graanmarkt 13, Michael Yates of Carcasse, Dario Puglia for Gist, Willem Hiele, the mixologists from The Pharmacy, Paul Morel (mixologist of the Jane) and many more. Check out the complete lign up on their site.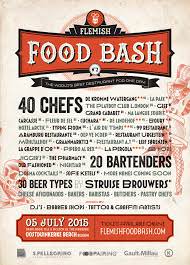 See your there?
Have you booked your tickets yet? There is no sales at the door!
You can only buy them online. 30€ for the entrance (this includes your entrance, a recipe booklet and a Flemish Food Bash fork to taste everything) – 6€  for a dish or cocktail – 3€ for a beer.