For my birthday this year I organized a girls night with bubbles and quiche.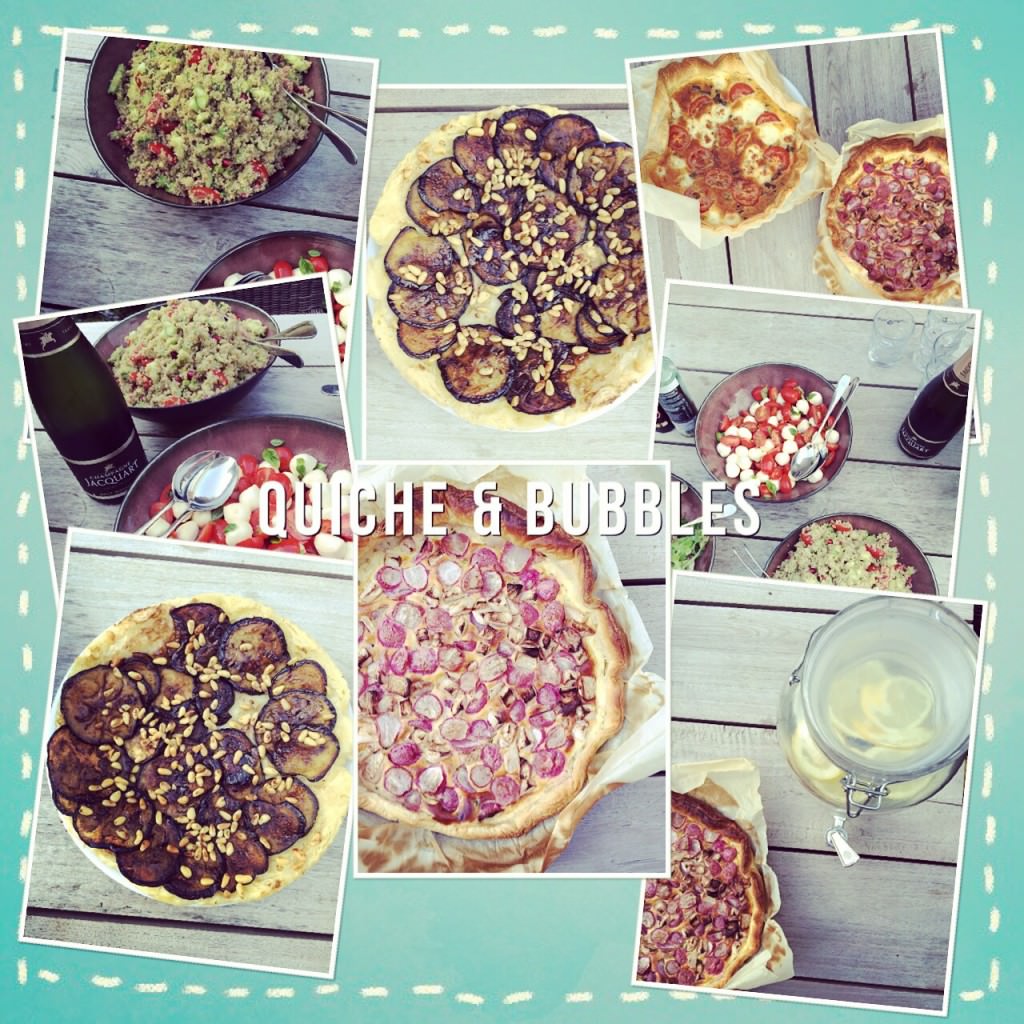 Main ingredient: friends!
Other ingredients: bubbles & good food
Shake and stir these ingredients together on a hot summer night and the result is an unforgettable night where old friends met new friends.
Since it was a really hot day it was the perfect moment for bubbles, quiche and salads and a lot of chatting, laughing and enjoying each other's company. I was so happy to have almost all my best friends together. Old friends & new friends all very dear to me. Thanks again girls for the great evening and for spoiling me with all your great gifts.
I have gotten numerous questions to share the recipes of my salads and quiches, well let's start with the quiches and I will get back to you on the quinoa salad very soon.
I have this recipe for vegetable tarte tatin with chicory I love to prepare but for my birthday I tried a version with roasted eggplant, tomatoes and pine nuts. Super yummie! Recipe will be on the blog next Sunday!
Just swap the chicory with slices off eggplant you roast in beforehand. D.E.L.I.C.I.O.U.S. (or so I was told ). Serve with a salad and enjoy!
The other quiche I prepared was a Caprese Quiche, so not for our dairy intolerant friends out there, sorry.
I had some leftover vegetables: fennel, eggplant, onion, thyme and zucchini diced and oven- roasted with some olive oil. These were a great base for a Caprese kind of quiche.
The third quiche I prepared was based upon a recipe by fellow blogger Els from Njamelicious: a quiche with ricotta, radishes and peas.
Caprese Quiche
Ingredienten
1 package of small mozzarella balls
3 eggs
250 ml of (dairy free) cream
20 cherry tomatoes or 3 Roma tomatoes sliced
Fresh basil
Pepper and salt
1 package of (gf) puff pastry
Werkwijze
Take the puff pastry 30 minutes before use out of the fridge, it will be much easier to handle.
Preheat your oven to 180°C.
Spread the puff pastry in a baking tin and use a fork to make little pinches in the dough.
Add the mozzarella, tomatoes, chopped basil and season with pepper and salt.
Whisk the eggs with the cream and add it to the quiche.
Bake for 40 minutes. Let the quiche cool down for a few minutes before taking in out of the baking tin. Serve with a green salad. Enjoy!